GOP Senators Say No More Budget Resolutions Without Defense Spending Bill for Year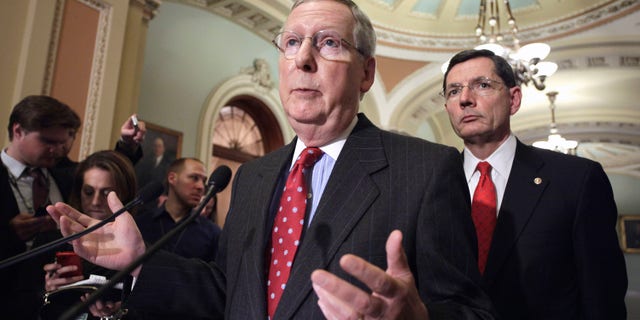 WASHINGTON -- Republican lawmakers say they want some guarantees that the Defense Department will be funded for the next six months regardless of any new temporary spending measures that may be in the works after the current one under debate expires in April.
Senate Minority Leader Mitch McConnell said Wednesday that while he'll support a three-week temporary spending measure in a vote this week, the $500 billion-plus Pentagon budget should not be subject to weekly renewal.
"The House and Senate are not going to be passing another continuing resolution without the funding for the Defense Department for the remainder of this fiscal year. ... I don't intend myself to support another continuing resolution that does not contain the full-year defense appropriation bill," McConnell, R-Ky, said from the Senate floor.
Defense Secretary Robert Gates has grown increasingly anxious for his agency's budget as a quarrel between Democrats and Republicans has led to an impasse over funding agency budgets through September.
"It is of deep concern to the secretary of defense and to this member and I'm sure many other members that we are defending this nation on a two-week to two-week basis, and it is harming our ability to defend this nation's national security," said Sen. John McCain, R-Ariz., ranking minority of the Senate Armed Services Committee.
The Republican statements may have been intended to preclude another short-term continuing resolution to follow the one expected to pass the Senate this week to fund the federal government for another three weeks.
But it also left open the suggestion that Republicans and Democrats can't agree on a plan for funding the rest of the fiscal year, which ends Sept. 30. The Democratic-led Congress last year never passed the government's 2011 annual operating budget.
On Wednesday, Senate Majority Leader Harry Reid said if Congress can't reach agreement on a a long-term budget, "another reality will be made very plain to the American people -- and will be crystal clear -- which party is willing to work toward a common goal and which party lacked the courage to compromise."