GOP Senate group deletes tweet accusing amputee Duckworth of 'not standing up' for vets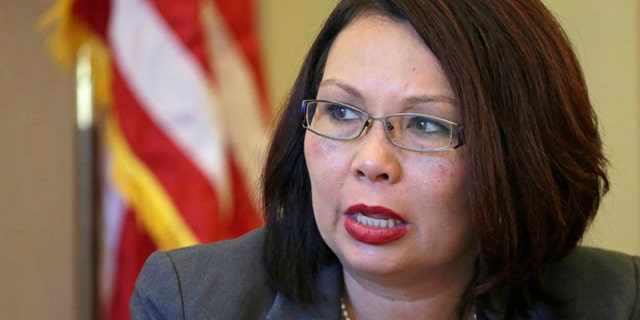 The National Republican Senatorial Committee deleted a tweet Tuesday in which it claimed Rep. Tammy Duckworth, D-Ill., a double amputee, has a "sad record of not standing up for veterans."
Duckworth, who is favorite to face incumbent GOP Sen. Mark Kirk in November, lost both her legs while serving in Iraq.
The tweet drew immediate fire from Duckworth's campaign, which called the tweet "tasteless and dishonest."
"Tasteless and dishonest, just like everything else to do with Mark Kirk's flailing campaign," campaign spokesman Matt McGrath said in a statement. "Tammy has made fighting for Veterans her life's work, and will continue to do so in the Senate."
The NRSC acknowledged the mistake and said the tweet was deleted within minutes. However, a spokeswoman for the group saw media bias at play.
"It would be great if reporters would pay as much attention to a deleted tweet as they should to Tammy Duckworth being sued by VA whistleblowers for ignoring claims of mistreatment and corruption," the spokeswoman said.
This statement was in turn criticized by the group's Democratic counterpart.
"The NRSC's deeply offensive tweet about Tammy Duckworth was wrong, and their subsequent response was somehow even more appalling," DSCC Executive Director Tom Lopach said in a statement.
"Instead of taking responsibility and apologizing to Tammy, who lost both of her legs in service to this country, Republicans blamed the media. That's unacceptable and Tammy is owed an apology," Lopach said.
FoxNews.com's Adam Shaw and Fox News' Chad Pergram contributed to this report.