GOP Rep. Blackburn announces Senate run, says failure to repeal ObamaCare a 'disgrace'
Tennessee Republican Rep. Marsha Blackburn announced her candidacy Thursday for U.S. Senate, on the heels of incumbent Bob Corker's decision to retire.
Blackburn unveiled her plans in an online video.
She called herself "a hardcore card-carrying Tennessee conservative" and cited the "totally dysfunctional" nature of the Senate as her reason for running. She leveled unsparing criticism at her would-be Senate colleagues for their inability to repeal ObamaCare.
"The fact that our Republican majority in the U.S. Senate can't overturn ObamaCare, or will not overturn ObamaCare … It's a disgrace," Blackburn said. "Too many Senate Republicans act like Democrats. Or worse. And that's what we have to change."
The Tennessean first reported Blackburn's candidacy, shortly after Tennessee Gov. Bill Haslam announced he would not enter the race.
The term-limited governor had been a focus of speculation, and his decision to step aside is a potential boost to candidates like Blackburn in 2018.
Blackburn has been an active supporter of President Trump, backing controversial policies like his call for a U.S.-Mexico border wall.
SENATOR PEYTON MANNING? CORKER EXIT OPENS UP SCRAMBLE
"The left calls me a knuckle dragging conservative. I say bring it on," Blackburn said. "I stand for the greatest country the world has ever known. I stand when our president walks in the room. And yes, I stand when I hear the Star-Spangled Banner."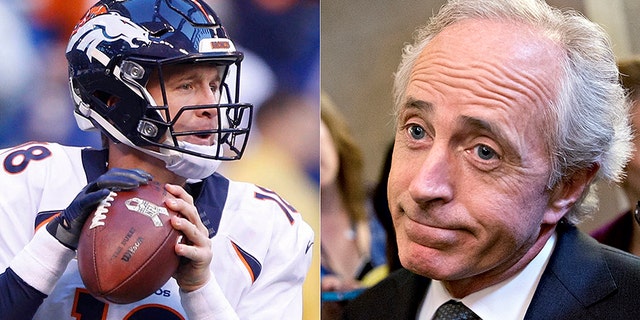 The announcement makes Blackburn a top contender for the seat, though an even bigger name – former Denver Broncos quarterback Peyton Manning – has been floated since Corker, a Republican, in late September announced his planned retirement.
Manning has brushed off the speculation.
Corker earlier told Politico that Manning would "be great in public office." He said it's "possible" he'd run -- though not necessarily likely.
"If he were to run nobody in their right mind would consider running against him," Corker told Politico, adding, "I would not be putting in the headlines today that he's going to be running for the Senate."
Currently, Republican activist Andy Ogles is the only other Republican to have entered the race, but this is expected to change.