GOP Presidential Candidates Target Cain's 9-9-9 Plan, Gingrich Takes Aim at Federal Reserve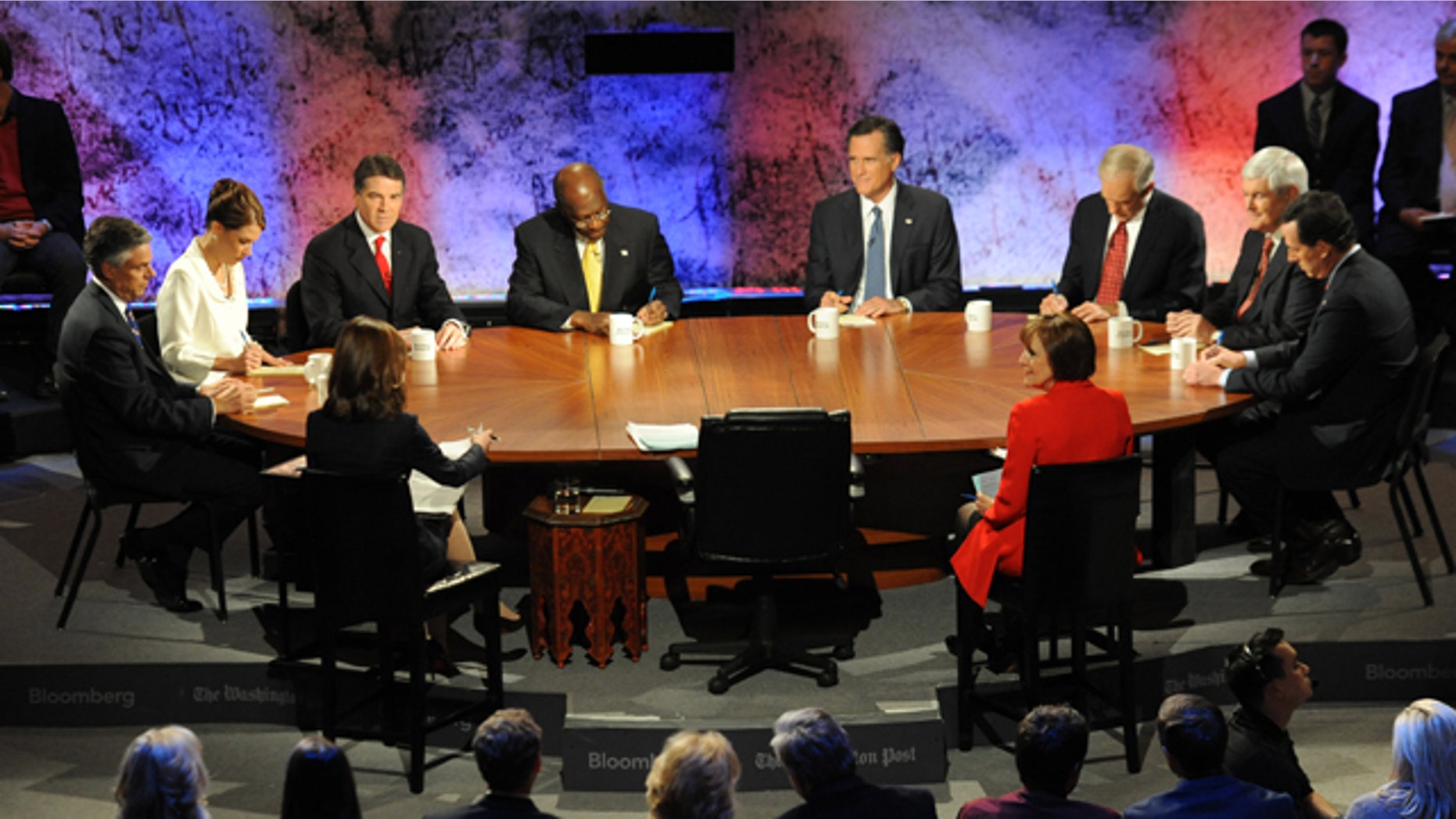 Businessman Herman Cain, rising fast in the polls, absorbed several blows from his fellow Republican presidential contenders on Tuesday, as they went on the attack over his 9-9-9 plan, which has sucked up much of the conversation about ways to restore the economy.
Most aggressive in their criticisms of the plan for a 9 percent sales tax, 9 percent income tax and 9 percent corporate tax were Minnesota Rep. Michele Bachmann and former Pennsylvania Sen. Rick Santorum, who said it will never come to pass.
"One thing I would say is, when you take the 999 plan and you turn it upside down, I think the devil is in the details," quipped Bachmann, who said the proposal is a tax plan, not a jobs plan, and dangerous because the national sales tax gives Congress "another pipeline of a revenue stream" and is a step toward a value-added tax.
Raising his arm and directing his question toward the audience, Santorum asked how many believed Congress would keep the income tax at 9 percent or who wants to pay a 9 percent sales tax.
The Bloomberg-Washington Post presidential debate at Dartmouth University in Hanover, N.H., was focused solely on economics. The eight candidates appearing in the roundtable forum also slammed President Obama's health care law, with Santorum again offering an aggressive approach for preventing it from being enforceable law.
Former House Speaker Newt Gingrich blamed Federal Reserve Chairman Ben Bernanke for adding to the recession, saying he participated in "secret spending" and has not been asked to account. But he held his most severe criticism for Democratic lawmakers who ushered in a Wall Street reform bill during the Obama administration.
"If they want to really change things, the first person to fire is Bernanke, who is a disastrous chairman of the Federal Reserve. The second person to fire is (Treasury Secretary Tim) Geithner," Gingrich said. "I think it's perfectly reasonable for people to be angry. ... And if you want to put people in jail -- I want to second what Michele said -- you ought to start with Barney Frank and Chris Dodd and let's look at the politicians who created the environment."
Separately, former Massachusetts Gov. Mitt Romney defended the 2008 bailout of Wall Street banks, saying it was essential to preserving the nation's currency and financial system from collapse.
Romney said the U.S. could have had a "complete meltdown of our entire financial system." He said "action had to be taken. Was it perfect? No."
Asked if he would support another bailout, Romney said that if he thought the entire financial system would collapse, "you take action to keep that from happening."
But he said he opposed bailing out individual companies, citing his opposition to the bailout of automaker General Motors.
Asked about his own 59-point plan, Romney said that while simplicity like the 9-9-9 plan are often helpful, they're also frequently incomplete. He noted that he wants to target a middle-class tax cut because the rich will survive and the poor have a safety net.
Romney also rebutted criticism from Texas Gov. Rick Perry, who has come out strong against Romney in recent days over the health care plan approved when Romney was governor of Massachusetts.
Romney said that his plan dealt with only the 8 percent of the state that was uninsured without impacting the 92 percent of the people who already had insurance.
"One of the problems with Obamacare is he doesn't just deal with the people without insurance. He takes over health care for everyone," Romney said. "And raising taxes is one of the big problems, something we didn't do in Massachusetts. He also cuts Medicare. ... And I'm proud of what we are able to accomplish. I'll tell you this, though. We have the lowest number of kids as a percentage uninsured of any state in America. You have the highest."
As for his own economic plan, Perry said he is introducing it shortly, but the government must open the way for more production of domestic energy. The nation must "pull back those regulations that are strangling American entrepreneurship," he said.
Also debating were Rep. Ron Paul of Texas and former Utah Gov. Jon Huntsman. In the candidate-to-candidate questions, Paul went after Cain over whether the Federal Reserve, for which Cain served on the Kansas City Board in the 1990s, should be audited.
Cain, saying that Paul is mischaracterizing his position about an audit, said he would support it. He also noted that he never would have supported the Bernanke "quantitative easing" plan had he been on the board now.
Huntsman, a former U.S. ambassador to China under Obama, cautioned against tough tactics could lead to a trade war with China, which he said would hurt small businesses. The Senate voted earlier in the evening to take action against China currency manipulation, however, the House is unlikely to act on the bill that is opposed by both House Republicans and labor unions.
Hours before the candidates met, Romney picked up New Jersey Gov. Chris Christie's endorsement, which he hopes will help cement his support among the GOP establishment and nurture an image that he's the party's inevitable nominee.