GOP Lawmakers Expand Investigation Into White House Role in Solyndra Controversy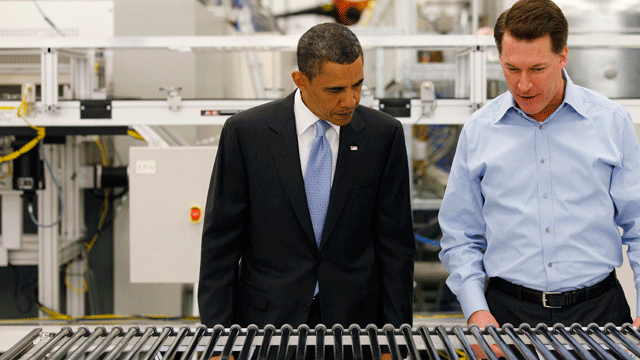 The GOP-led House committee probing Solyndra, a solar company that filed for bankruptcy last month after receiving a $528 million loan, is expanding its investigation to include all communications between the White House and Solyndra.
The committee stepped up its investigation after newly released emails showed administration officials had been concerned about the company's finances.
Reps. Fred Upton, R-Mich., chairman of the Energy and Commerce Committee, and Cliff Stearns, R-Fla., chairman of the Energy committee's Oversight and Investigations Subcommittee, are requesting all documents dating back to when President Obama took office in January 2009.
Several emails have shown that in addition to White House officials expressing concern about Solyndra's financial situation, a Democratic donor also warned the White House to be careful.
"Nearly eight months into our investigation, documents provided to the committee last Friday confirm those closest to the president – top advisers like Valerie Jarrett, Larry Summers and Ron Klain – had direct involvement in the Solyndra mess," Stearns said.
"In addition to the cast of West Wing characters with access to the Oval Office, documents reveal a startlingly cozy relationship between wealthy donors and the president's confidantes, especially in matters related to Solyndra," Stearns said.
"While the president claims 'hindsight is always 20/20' and the loan went 'through the regular review process,' the facts tell a much different story with some of the loudest alarm bells on Solyndra's viability coming from within his very own administration."
White House Press Secretary Jay Carney continued Wednesday to defend the administration's handling of Solyndra.
"Look, if you're going to do a loan guarantee program, a loan guarantee program has within it a risk," he said. "The reason why you're backing up these loans is because there's no guarantee of success. But you believe as matter of policy that these investments are worthwhile because you believe that the industries represented by these investments are essential to the economic future of the country."
The House committee released more emails this week that showed the Energy Department was considering giving Solyndra a second $469 million loan in the summer of 2010 despite the company's deteriorating financial situation.
The agency abandoned efforts to provide a loan in October 2010 when officials learned that company wouldn't be able to survive without emergency funding.
On Monday, the committee released emails that showed Steve Westly, a Silicon Valley investor and Energy Department adviser, warned the White House to be "careful" about a planned trip by Obama to the California company because of concerns that Solyndra might not "survive long-term."
Westly urged Obama to reconsider the trip, but said that if the president did visit the company, he should avoid any remarks "that could haunt him in the next 18 months if Solyndra hits the wall, files for bankruptcy etc."