GOP Group Supports Residency Path For Immigrants in Calif.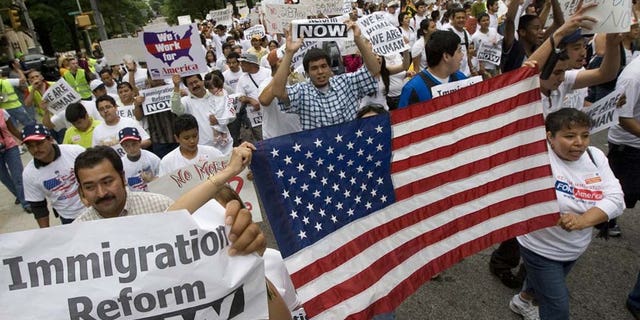 One of California's longtime Republican institutions broke rank with GOP hardliners earlier this week when it announced an immigration reform proposal that carves out an easier path to legal residency for immigrants.
With the Latino vote at an all time high, the Lincoln Club wants to initiate a political bridge between the voting group and more conservative GOP members.
Republicans have an opportunity to be leaders on this issue
"Our hope is that this provides a starting point for Republicans and Latinos to find common ground on immigration solutions that respect the rule of law, secure our borders, and afford future immigrants and those who are already here a fair pathway to legal residency," said Lincoln Club president Robert Loewen, according to The Orange County Register.
Republicans and now some immigrants are beginning to blame the Obama administration for failing to pass any comprehensive immigration reform. "Republicans have an opportunity to be leaders on this issue by replacing our antiquated, quota-driven immigration system with a 21st century one that embraces the free-market demand for jobs," Teresa Hernandez, chairwoman of the Lincoln Club Immigration Reform Subcommittee, told the local media.
The Lincoln Club, a Republican organization founded in 1962, has proposed a three point system, which includes an increase in border security, a guest worker program, and employer support.
To enforce border security, the club suggests more national guards be sent to the border and has also proposed using background checks for undocumented immigrants working in the U.S.
"We believe these three steps will put America on the path of solving the enduring political and economic problem of illegal immigration," wrote The Lincoln Club.
California, the country's largest state in terms of population, is considered over 30 percent Latino, according to the 2010 U.S. Census. While the state has avoided many of the backlashes toward immigrants that have erupted in other states such as Arizona, South Carolina and Alabama, there has still been unrest over the issue of undocumented immigrants.
Last weekend, a neo-Nazi group in Pomona, Calif. held a rally to demand an end to undocumented immigrants coming into the country.
Members of the National Socialist Movement (NSM) marched last Saturday afternoon to Pomona's City Hall in protest of the town's status as a "sanctuary" city for undocumented immigrants. Sanctuary cities are considered any town in the U.S. that – either by law or by habit - protects undocumented immigrants by not complying with federal immigration policies.
You can reach Sandra E. Garcia at: SandraEvangelinaGarcia@gmail.com or via Twitter: @S_Evangelina
Follow us on twitter.com/foxnewslatino
Like us at facebook.com/foxnewslatino