GOP Establishes Transition Offices, Dem Leaders' Futures Unclear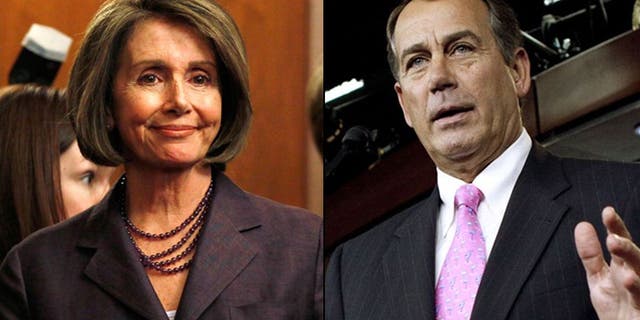 Virtually no movement on the future of House Speaker Nancy Pelosi (D-CA) or House Majority Leader Steny Hoyer (D-MD).
"It's crickets," said one senior Democratic aide about what he was hearing.
Everything is in a stasis for the time being until Pelosi decides what she wants to do.
A senior Democratic source, who asked not to be indentified, indicated to Fox that the White House will not weigh in on the matter.
Hoyer has been calling various members over the past few days to potentially shore-up support to be Minority Leader.
Meanwhile, the House GOP has been establishing transition offices
They've commandeered four offices in the basement of the Capitol to handle the majority from Democratic to Republican rule.
Each office already has an official nameplate outside.
They read:
Office of GOP TransitionChairman Greg Walden
Walden won't cite specific things they will do differently. Yet. Such as when, pre-1995, each House offices was delivered two buckets of ice per day. It was a project that cost Congress millions of dollars. Most day, the ice was left to simply melt in the hall.
"I was on staff up here when they delivered the ice," said Walden. "And it was crazy."
Walden also signaled that Republicans would give new members wide latitude to make changes to House operations.
"These freshmen will be giving us a training session," Walden said, noting they have been hearing a lot "in the heartland."
Walden says the Democratic staff has been helpful with the transition and had them up and running with offices and computers by 10:30 Wednesday morning.
Walden also wouldn't weigh-in directly as to whether they would eliminate possible panels initiated by Democrats.
For instance Pelosi created the Office of Congressional Ethics and the Select Committee on Global Warming.
Walden said that everything was on the table.
"I don't rule it out," Walden said, but noted "We've not been given a mandate to go downsize the committees."
Walden also said they would evaluate potential ways to run the House more smoothly. For instance, lawmakers are often called away from committee hearings featuring star witnesses when the bells ring throughout the Capitol, signaling votes on the floor.
"We leave them sitting at the witness table while we go around and vote on post office namings.
Walden was also asked if the Appropriations Committee, the panel that parcels out federal dollars to agencies and departments, would become an "anti-appropriations committee."
"I think that's the Budget Committee," Walden said with a laugh.