GOP convention crews scramble on tight timetable, as set design unveiled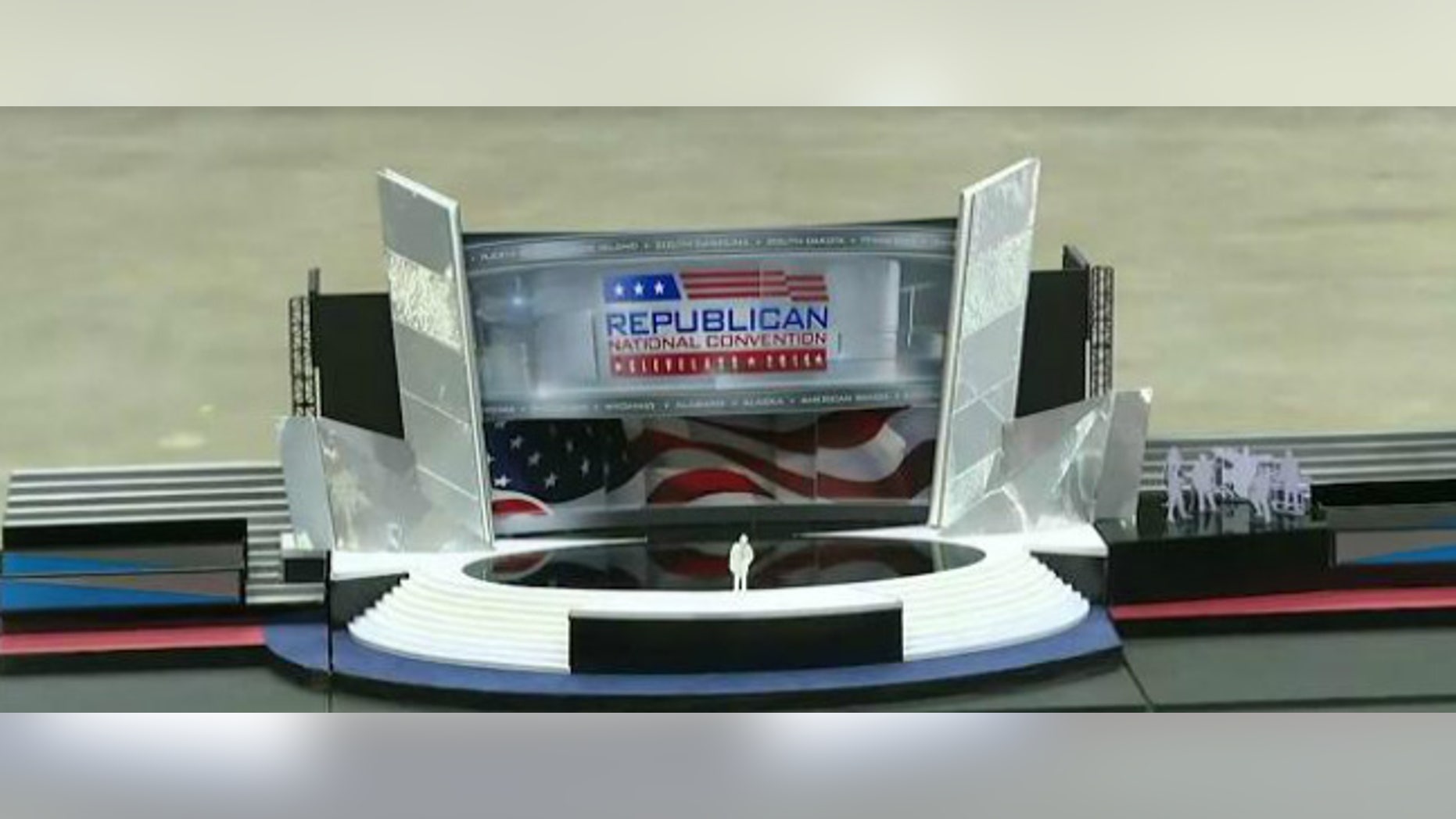 Republican National Convention crews are working essentially around the clock to get the Cleveland venue ready for the July 18 start, event organizers said Tuesday, giving a glimpse into the scramble to deliver on what Donald Trump promises will be a star-powered convention like no other.
The race to finish was on full display Tuesday, as organizers gave reporters a sneak peek at the stage design for the Quicken Loans Arena. To the backdrop of the announcement, roughly 250 workers with truckloads of equipment were setting up at a breakneck pace -- the result of the NBA finals concluding there last week.
"We've never done this in less than five weeks," Jeff Larson, the convention group's chief executive on arrangements, told Politico and other outlets. "We're doing this in just over … four weeks."
Construction started June 18, exactly one month before the convention and six days after the Cleveland Cavaliers clinched the NBA championship on their home court, popularly known as "The Q."
Crews are working to complete a grand backdrop for the nomination.
The circular stage from which Trump is expected to give his acceptance speech will be surrounded by a long, white staircase and flanked by towering, silver-colored "blades" -- designed to hide wires and lighting from the audience.
Trump, since becoming the party's presumptive presidential nominee last month, has promised an exciting event. He has ripped the 2012 convention as "extraordinarily boring" and hinted at replacing speeches from politicians with appearances from sports stars like NFL quarterbacks Tom Brady and Ben Roethlisberger.
The former reality TV star even suggested to The New York Times that he'd use a global talent management company like IMG to help make the event "smart and different."
The backdrop for the grand stage will be two large screens stacked one on top of each other.
There has been no official announcement from the Trump campaign about live entertainment – but it's probably safe to say acts like Adele and the Rolling Stones are out, considering they reportedly have asked Trump to stop playing their music at his rallies.
Trump has some high-profile supporters potentially poised for a speaking role, ranging from New Jersey Gov. Chris Christie to former House Speaker Newt Gingrich and others.
But he might have trouble filling the stage for four evenings considering other high-profile Republicans such as 2012 GOP presidential nominee Mitt Romney, former President George W. Bush, Sen. Lindsey Graham of South Carolina and others have said they won't attend.
Still, Trump plans to wait until the convention to announce his running mate, in hopes of adding some intrigue and excitement to the event.