GOP candidates run into ad trouble, resort to name-calling in final Florida stretch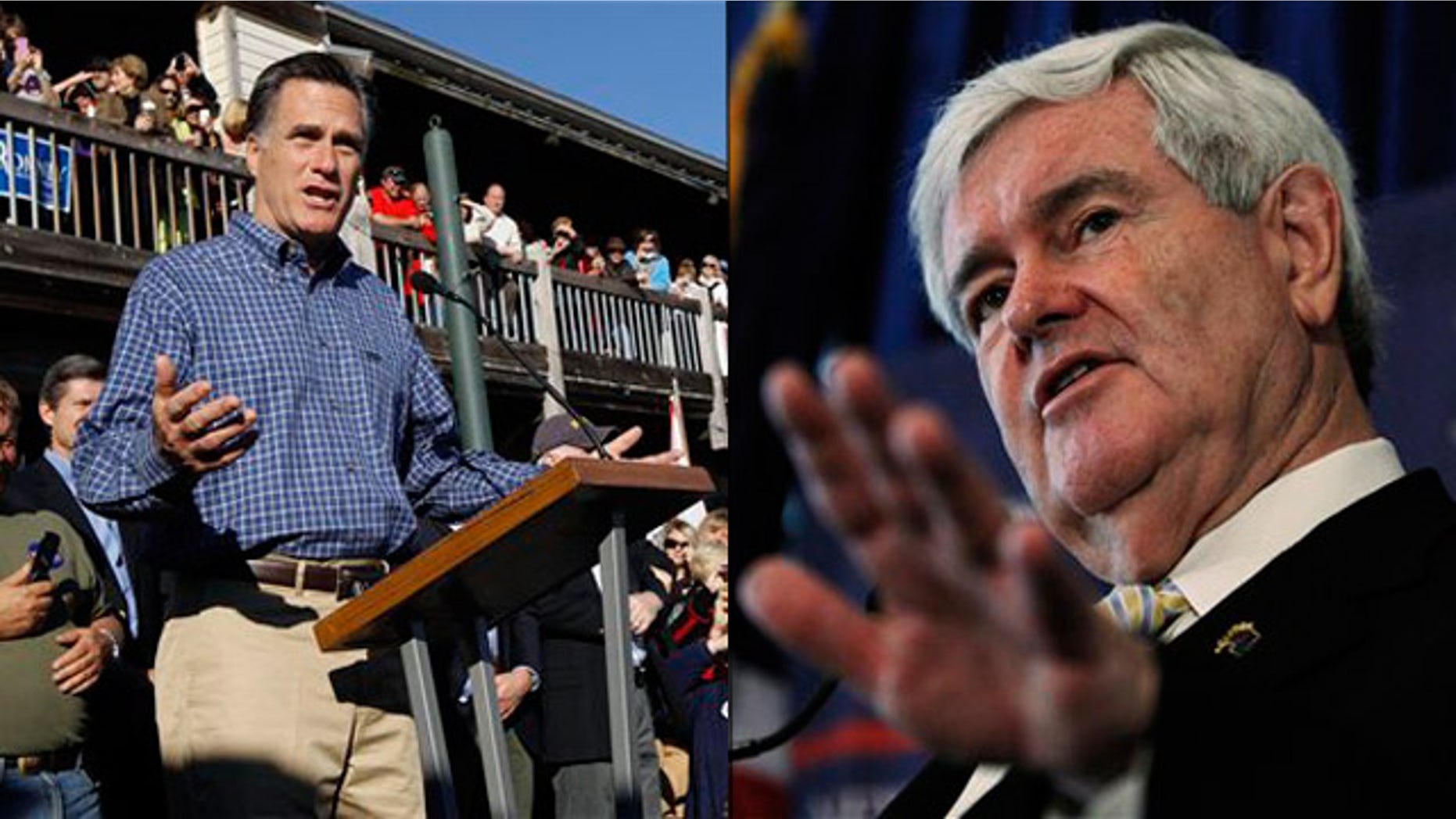 The Republican race for president began to resemble a schoolyard brawl Saturday, as Mitt Romney and Newt Gingrich achieved new levels of name-calling amid an unusual debate over the nature of debates.
The campaigns also ran into fresh trouble over the content of their latest attack ads in Florida. The twists comes as the candidates barrel into Tuesday's primary, one that will inevitably be seen as somewhat of a tie-breaker after three distinct candidates walked away with a win in the first three contests.
Gingrich is making sure, though, that nobody is counting him out despite slipping in the Florida polls.
"I will go all the way to the convention," Gingrich said Saturday.
The former House speaker, after wowing the audience at the final debate leading up to his South Carolina primary victory, by most accounts did not match the adrenaline level in back-to-back performances this past week. This might not be a concern, except Gingrich has made his debating prowess a centerpiece of his argument that he is best-equipped to beat President Obama.
On Saturday, he acknowledged he was not pleased with the last two performances. Asked why, Gingrich said his opponent simply is too "dishonest" to debate.
"You cannot debate somebody who is dishonest. You just can't. The people say I'm a good debater. I can't debate somebody who won't tell the truth. And that's just a problem because ... for me to react as intensely as their statements require breaks up the whole room. It makes it impossible to have a civil debate," Gingrich said.
"So I didn't like either debate because I watched it, a couple scenes you can go back and replay, I'm staring in amazement. I know what he's saying is untrue. And I also know that in that particular audience, it would not have worked to take him head on."
Gingrich specifically referred to a section in the debate when Romney said he never voted for a Democrat when a Republican was running. However, as Gingrich pointed out in a scorching ad earlier this week, Romney voted for a Democrat in the 1992 presidential primary -- though George H.W. Bush and Pat Buchanan were running in the GOP primary at the same time.
Gingrich's campaign has also complained about the set-up for the last two debates. Gingrich first complained that moderators kept the audience at Monday's debate muzzled; his campaign suggested after the second debate that the crowd was packed with rowdy Romney supporters.
Romney seized on that complaint, suggesting his opponent is fishing for excuses.
"This last one, Speaker Gingrich said he didn't do so well because the audience was so loud. The one before, he said he didn't do so well because the audience was too quiet. This is like Goldilocks, you know. You've got to have it just right. When I debate the president I'm not going to worry about the audience. I'm going to make sure that we take down Barack Obama," Romney said Saturday.
Gingrich scoffed at the Goldilocks charge.
"All I can say is that he's got to get new consultants -- they've got to come up with better material," Gingrich said. "I mean that's just silly."
While Gingrich accuses Romney of outright dishonesty, both candidates are now coming under fire for ads running on Florida airspace ahead of that state's primary on Tuesday.
Former presidential candidate Mike Huckabee has called on Gingrich to pull his latest Florida ad, which opens with a clip of Huckabee complaining about dishonesty.
Huckabee told Fox News the clip was from an ad that never aired and didn't mention Romney by name.
"I don't want people to think that that is an endorsement or that it is somehow a slam against Romney in this campaign," said Huckabee, who is also a Fox News host. "I've essentially said that that is really an unauthorized, disapproved use of something that was copyrighted material that was never authorized for the Gingrich campaign."
Gingrich's campaign isn't backing down. Gingrich said Saturday that the original ad was intended as an anti-Romney commercial.
"It's an historic fact. He did make that commercial, he did say those words," Gingrich said.
Meanwhile, NBC on Saturday asked Romney's campaign to pull its ad -- which uses a 1997 newscast of Tom Brokaw discussing ethics charges against Gingrich. Brokaw said he was "extremely uncomfortable" with the use of his image, according to The Associated Press.
Gingrich's campaign also objected to the ad's content, calling it "another big lie" -- since it did not include context, like the fact most of the ethics charges against him were dropped.
A Romney aide told Fox News on Saturday afternoon that they are looking at NBC's request.
"We are now reviewing the letter, but we believe it falls within fair use," the aide said.
Gingrich endured a tough week in the run-up to the Florida primary. Aside from the debates, several prominent conservatives took to the media to trash his record and fitness as a leader.
The polls, though, aren't exactly bleak for him.
While Romney has crept ahead in most recent Florida surveys, the latest national Gallup poll showed Gingrich leading Romney 32-24 percent - Romney's percentage was his lowest yet, while Gingrich's percentage was his highest.
Ron Paul pulled in 14 percent, while Rick Santorum pulled in 13 percent. The poll of 1,184 Republicans and GOP-leaning independents was taken Jan. 22-26, and had a margin of error of 4 percentage points.
"I expect to win the nomination," Gingrich told reporters on Saturday. "Why don't you ask Governor Romney what he will do if he loses since he is behind in both national polls?"
Meanwhile, both Paul and Santorum were taking a break from Florida. Paul spent Saturday campaigning in Maine ahead of that state's caucuses next month. Santorum, after returning home to Pennsylvania, had a fundraiser scheduled in northern Virginia late Saturday.