GOP campaign boss condemns Rep. Steve King: 'Must stand up against white supremacy'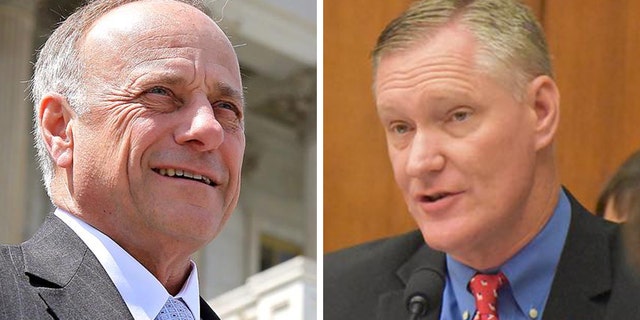 The chairman of the National Republican Congressional Committee on Tuesday condemned recent comments made by Iowa Rep. Steve King, accusing his fellow Republican of aligning with white supremacist views just days before the midterm elections.
"Congressman Steve King's recent comments, actions, and retweets are completely inappropriate," Ohio Rep. Steve Stivers tweeted Tuesday. "We must stand up against white supremacy and hate in all forms, and I strongly condemn this behavior."
Stivers was motivated to speak out against King not because of any specific comment, but rather by what he saw as an increasing volume of concerning actions from King, an aide told Fox News. Politicians on the left have long criticized King, but Stivers' comments are notable because of his prominent role in electing House Republicans this November.
The comments come as Republicans and Democrats have been speaking out against white supremacy in light of the the killing of 11 Jews at a Pittsburgh synagogue on Saturday.
King responded Tuesday to Stivers by saying, "These attacks are orchestrated by nasty, desperate and dishonest fake news. Their ultimate goal is to flip the House and impeach Donald Trump. Establishment Never Trumpers are complicit."
He added, "Americans, all created equal by God, with all our races, ethnicities, and national origins – legal immigrants & natural born citizens, make up the Shining City on the Hill."
Earlier this month, King made news for publicly endorsing a white nationalist candidate for mayor in Toronto. The candidate, Faith Goldy, has promoted books espousing anti-Semitic ideas and defending the white supremacist "14 words" slogan, according to the Toronto Star.
King also has drawn criticism for posts on Twitter, such as in 2017 when he wrote that "culture and demographics are our destiny" and said we "can't restore our civilization with somebody else's babies."
More recently, King came under renewed scrutiny after traveling to Austria and giving an interview in which he said, "If we don't defend Western Civilization, then we will become subjugated by the people who are the enemies of faith, the enemies of justice."
On Tuesday, King's Democratic opponent, J.D. Scholten, applauded Stivers.
"Last week I issued a challenge for at least one Republican elected official to condemn @SteveKingIA's recent behavior. I applaud @RepSteveStivers, Chair of the NRCC. Respect. #CountryOverParty," Scholten tweeted.
King won 61.2 percent of the vote in the 2016 election and is favored to win re-election, but there are signs that this year's race is tighter. The Cook Political Report on Tuesday changed its race ranking from "likely Republican" to "lean Republican," citing attack ads aired by Scholten.
Fox News' Mike Emanuel and Kaitlyn Schallhorn contributed to this report.