GOP bails on Colorado incumbent, bets on 'superstar' newcomer in Florida instead
Republicans are making a last minute bet that a political newcomer in Florida has a better chance to win in November than an incumbent with a decade of experience serving Colorado.
The National Republican Congressional Committee decided on Friday to stop spending money in support of Rep. Mike Coffman, R-Colo., who faces a tough re-election against democratic challenger Jason Crow.
Instead, the NRCC will pump $1.5 million into fresh advertisements in the Miami market to boost the surging Republican candidate Maria Elvira Salazar, locked in a close race against Democratic candidate Donna Shalala, in the district represented by the retiring Rep. Ileana Ros-Lehtinen, R-Fla.
MIAMI HOUSE RACE ONCE SEEN AS EASY DEM PICKUP TIGHTENS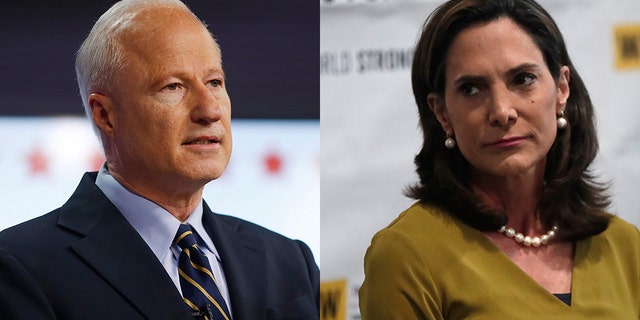 "Salazar is going to be a superstar and she is going to win that race," Matt Gorman, the NRCC communications director said. "We are constantly evaluating the best way we can spend our limited resources with the goal of keeping our majority."
In recent days, Salazar has drawn upon her experience as a correspondent at Telemundo and bureau chief at Univision to put her perspective on immigration policy into perspective.
"I am a Republican and I believe that we need to have a very strict border security, but you also have to understand that our neighbors are desperate," Salazar said Friday on 'Fox and Friends'. "The people that are coming, I'm sure that 'El Chapo' is sending a lot of drugs. I'm sure coyotes are smuggling a lot of people but overwhelming majority of the people are facing death. They're under the threat of death. What would you do?"
Immigration, and what to do about the large group of central American migrants making their way towards the southern U.S. border, is emerging as a major factor in a midterm campaign cycle that has recently focused more on Justice Brett Kavanaugh's confirmation to the Supreme Court.
At a rally in Missoula, Montana, the President proclaimed these midterms will be the "election of the caravan."
Salazar's opponent has deep roots to the Democratic party's establishment: she served as president of the Bill, Hillary, and Chelsea Clinton Foundation and served as HHS Secretary under President Clinton.
A Spanish-language ad produced by the Democratic Congressional Campaign committee attacks Salazar for her support of President Trump, and concludes with an on-screen message: "#ConTrumpNoConMiami," which translates to "with Trump, not with Miami".