GOP and Trump hope Dems won't notch historic Ohio upset as races wind down in 5 states
Republicans and President Trump faced a series of major tests on Tuesday, as voters in five states headed to the polls in races that Democrats hoped would serve as an energizing prelude to a liberal takeover of Congress in November.
Kansas, Ohio, Missouri, Michigan and Washington are the battlegrounds, and in the run-up to Tuesday, they have seen no shortage of drama -- ranging from insurgent socialist-backed candidates to last-minute, all-in presidential endorsements and attention-getting ads featuring a Jeep equipped with a replica machine gun.
Perhaps the most-watched contest is in Ohio, where a special election is being held to determine who will replace retired Rep. Pat Tiberi. Republicans have controlled the 12th Congressional District for more than 35 years, but polls have shown the two candidates in the race, upstart Democrat Danny O'Connor, 31, and two-term Republican State Senator Troy Balderson, 57, in an effective tie.
Regardless of who wins on Tuesday to fill Tiberi's seat, the two candidates will square off again in November's general election.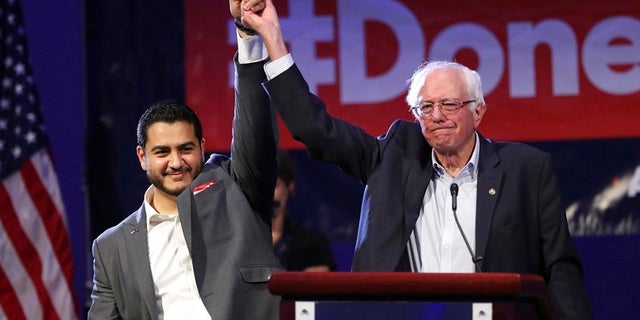 Still, the race is widely seen as a bellwether for the upcoming midterms; Trump carried the district by double-digits in 2016.
In an effort to tap into that enthusiasm, Trump shook up the Ohio contest by staging a freewheeling rally in suburban Columbus on Saturday night. In a sweltering auditorium, Trump said House Minority Leader Nancy Pelosi, D-Calif., "controls Danny O'Connor, whoever the hell that is."
Trump renewed that line of attack on Twitter as voters headed to the polls on Tuesday, saying O'Connor is "weak on Crime" and promising that Balderson would be a "great Congressman."
Trump hoped to have a similar 11th-hour effect in Kansas, where less than 24 hours before polls opened, he stunned the party establishment by endorsing Secretary of State Kris Kobach, who had supported the president and worked with him closely.
The endorsement was a major blow to Gov. Jeff Colyer, who had the backing of the National Rifle Association and Kansas political legend Bob Dole. It also alarmed some Republicans, who fear that Kobach's hard-line conservative views will alienate voters in the general election and give Democrats an opening.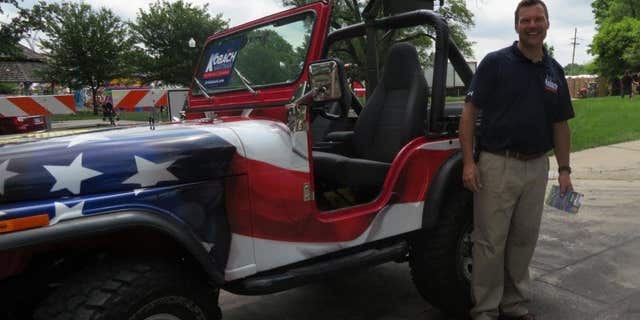 WATCH: WHY IS KOBACH SO CONTROVERSIAL IN KANSAS?
Like Trump, Kobach promises a direct rhetorical style, telling voters repeatedly: "I don't back down. I double down." His use of a Jeep with a replica gun mounted on top (and an American flag paint scheme) during campaign stops this summer prompted backlash. Kobach called his critics "snowflakes" and continued to use the Jeep.
Kobach told Fox News' "America's Newsroom" on Tuesday that he is an "insurgent conservative" primarily concerned with cutting taxes and stopping illegal immigration. He added that Trump's endorsement "helps a great deal."
Other races on Tuesday will set the stage for potentially key races in November that could determine which party controls Congress.
In Washington, Sen. Maria Cantwell, a Democrat, is running for her fourth term in the U.S. Senate — but not without a fight from nearly 30 challengers. That group includes: 13 Republicans, four Democrats, five independents and one Libertarian, among others.
WILL WASHINGTON CONGRESSIONAL CANDIDATE PULL OFF AN OCASIO-CORTEZ STYLE UPSET?
Former Washington GOP chairwoman Susan Hutchison has emerged as the leading Republican contender to take on Cantwell. Although Fox News rates the Senate race as likely to break Democratic, Hutchison told The Seattle Times, "We wouldn't have this crowded ballot if Maria Cantwell wasn't vulnerable."
Also in Washington, 30-year-old Sarah Smith – the progressive challenger to Washington Democratic Rep. Adam Smith in Tuesday's 9th Congressional District primary -- is hoping to replicate the unexpected success of 28-year-old socialist Alexandria Ocasio-Cortez. Smith has frequently compared herself to Cortez on the campaign trail, and her platform shares many similarities to Cortez's.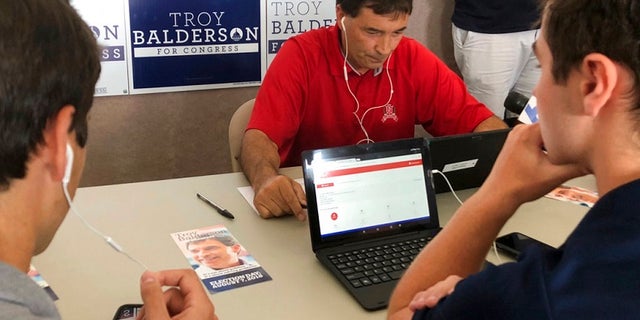 In Missouri,  Republicans are set to pick their candidate to take on Sen. Claire McCaskill, a Democrat, in the fall. McCaskill has represented Missouri in the Senate since 2007, but Fox News has her bid for re-election rated as a toss-up.
Out of a crowded field of Republican candidates, Missouri Attorney General Josh Hawley has emerged as a favorite, even securing Trump's endorsement months before the primary election.
And in Michigan, two Republicans are hoping to secure the GOP nomination to take on incumbent Sen. Debbie Stabenow, a Democrat. African-American business executive and Iraq War pilot John E. James, who has Trump's endorsement, is taking on Sandy Pensler, a detergent manufacturer.
The state is also home to an electric gubernatorial showdown, as both parties vie to replace term-limited Gov. Rick Snyder, a Republican. Michigan Attorney General Bill Schuette, who was endorsed by Trump, is up against Lt. Gov. Brian Calley, state Sen. Pat Colbeck and Dr. Jim Hines for the GOP nod.
For the Democrats, Abdul El-Sayed, Shri Thanedar and Gretchen Whitmer are battling for the nomination. Whitmer, a former county prosecutor and member of the state legislature, has emerged as the establishment favorite. El-Sayed, on the other hand, has campaigned as a more progressive choice with Sen. Bernie Sanders and Alexandria Ocasio-Cortez both lending their support to the man hoping to become Michigan's first Muslim governor.
Fox News' Kaitlyn Schallhorn and The Associated Press contributed to this report.