GOP Alabama Rep. Fights to Hold Onto Seat After Party Switch Last Year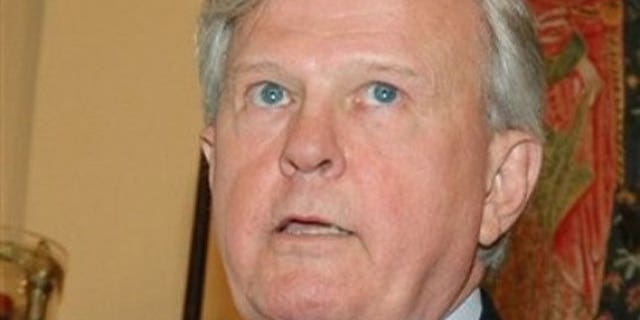 Could Parker Griffith become the next Arlen Specter?
That's the question voters in Alabama are deciding Tuesday as the freshman congressman fights to hold onto his seat in the face of bitter opposition after switching to the Republican Party late last year.
Griffith has the GOP's official backing in Tuesday's primary race but has faced growing criticism from grassroots groups in Alabama, including some tea party factions that claim the former "Blue Dog" Democrat isn't a true conservative.
The situation is comparable to party-switching Pennsylvania Sen. Arlen Specter, who was defeated by Democratic challenger Rep. Joe Sestak in the hotly contested May 18 primary. Many of the complaints around Specter's run is that he spent years as a Republican, but was promoted as the standard-bearer by the Washington establishment that coaxed him into changing parties.
Griffith, who represents Alabama's 5th District, is being challenged by Madison County Commissioner Mo Brooks and Madison restaurant owner Les Phillip in the GOP primary race. Griffith switched parties on Dec. 22, 2009, citing differences with Democratic policies, including increased government spending and the controversial health care legislation, which he voted against.
"I have become increasingly concerned that the bills and policies pushed by the current Democratic leadership are not good for north Alabama or our nation," Griffith said at the time. "Our nation is at a crossroads and I can no longer align myself with a party that continues to pursue legislation that is bad for our country, hurts our economy, and drives us further and further into debt."
The party switch, however, has created a double-edged sword for Griffith, who's become a target for both Democrats and Republicans in Tuesday's race. Griffith received the backing from the National Rifle Association as well as House Minority leader John Boehner, but has been blasted by local groups, like the Huntsville Tea Party, who question his commitment to conservative values.
"We are sending a message to the national Republican establishment: stay out of our primary," Christie Carden, founder of the Huntsville Tea Party, said in a press release following Boehner's endorsement. "We also want to support the true conservative candidates that Tea Party activists and the local GOP have gotten behind, Les Phillip and Mo Brooks."
"Mr. Boehner's support of Parker Griffith proves he has a blatant disregard for what the voters in Alabama's 5th congressional district want," added Deborah King, founder of the Athens-Limestone Tea Party Patriots.
Griffith, a retired oncologist and businessman, succeeded former Democratic Rep. Bud Cramer, who retired in 2009 in a contest for the northern Alabama seat. Griffith kept the seat in Democratic hands in 2008 with a hard-fought victory over Republican Wayne Parker.
Four Democrats -- lawyers Mitchell Howie, Steve Raby, Taze Shepard and scientist David Maker -- are running for the nomination to challenge the GOP nominee, but the seat is likely to remain in Republican hands in November.