Gingrich says "Disgraceful" Obama Stimulus Joke Example of "Out of Touch" Economic Policy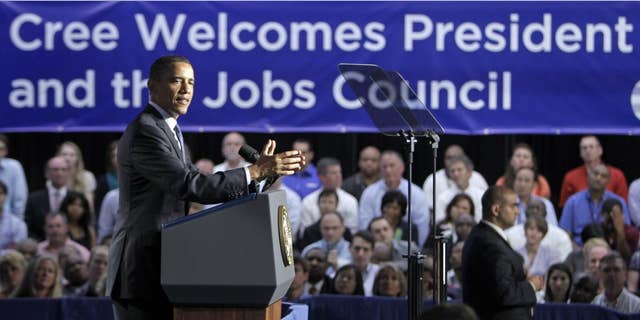 NEWYou can now listen to Fox News articles!
Republican presidential candidate Newt Gingrich blasted President Obama Wednesday morning for a joke about "shovel-ready" stimulus projects the president made at a jobs forum Monday.
"Every American who is unemployed-14 million-and every American whose home is currently worth less than their mortgage-one out of every four Americans-should be enraged that the President of the United States, in the middle of the ... Obama depression, is so insensitive, so uncaring that he doesn't realize the failure of his policies is causing pain to millions of human beings in this country," Gingrich said in an appearance on "Fox & Friends" Wednesday morning.
"I think it is frankly a disgraceful comment on how out of touch with reality Obama is, that he could joke about the failure of his policies," the former House speaker continued.
Gingrich's comments are some of the most forceful yet from Republicans, who for two days have railed against Obama's economic agenda, citing remarks in which the president, chuckling, admitted some stimulus projects were "not as shovel-ready as we expected."
Senate Minority Leader Mitch McConnell, R-Ky., echoed Gingrich's sentiment on the Senate floor Wednesday.
"I don't think the 14 million Americans who are looking for jobs right now and can't find them find any of this very funny," McConnell said.
"I don't think recent college graduates out there who are burdened with tens of thousands of dollars in student loan debt and who can't find a job are amused that the Stimulus bill turned out to be a failure," he added.
Texas Gov. Rick Perry, who pundits say may jump into the 2012 GOP race, weighed in at a New York Republican dinner Tuesday night, saying the president's record on stimulating the economy amounts to "abysmal leadership."
"You can parrot all you want about job creation, but it is clear that this administration considers profit to be a dirty word and they think wealth needs to be spread around, or in their reference, redistributed," Perry said.