Gingrich prepares for Romney showdown amid questions on conservative record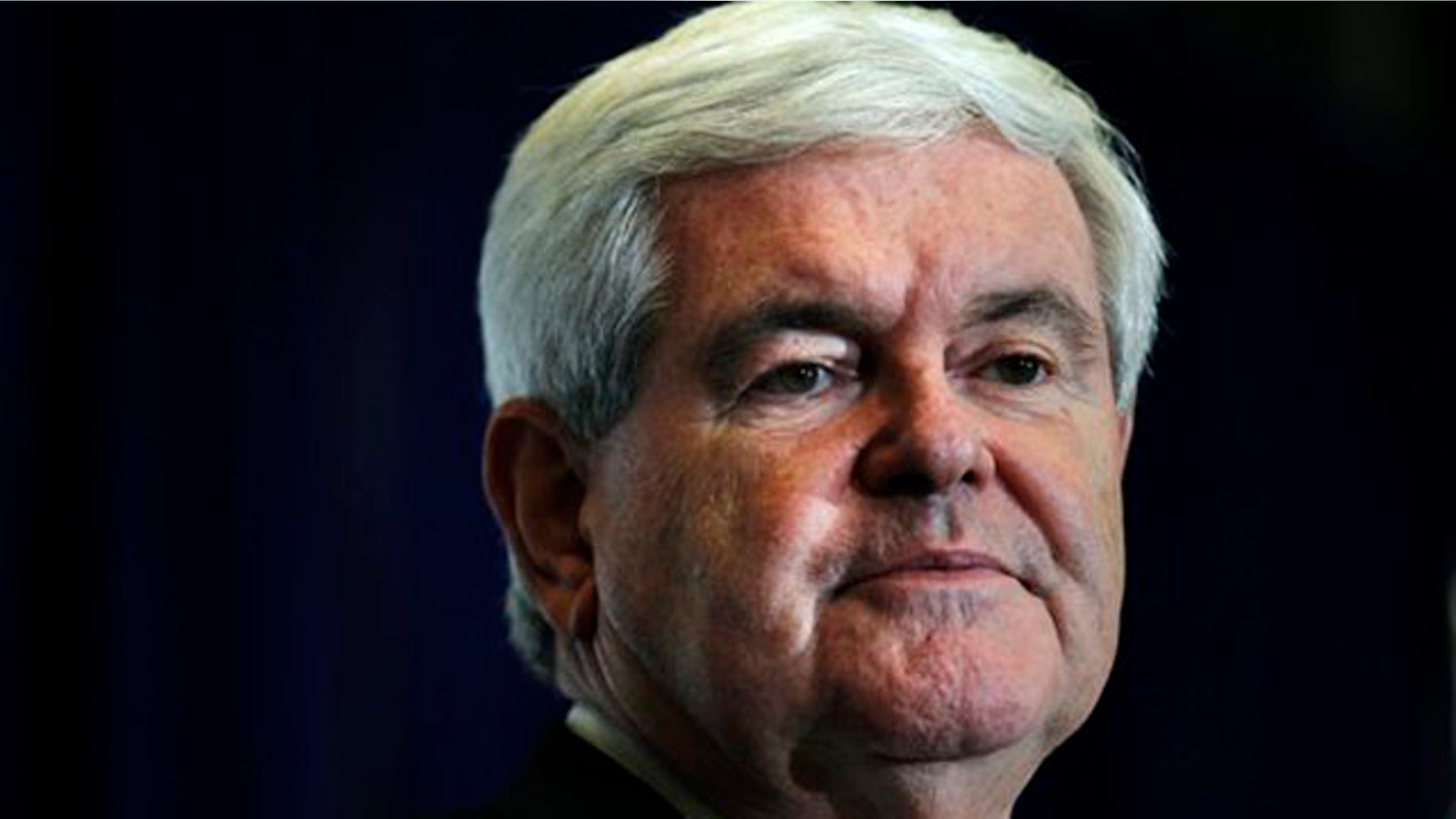 Newt Gingrich hinted Thursday that he's gearing up for a more aggressive defense of his record, on the campaign trail and the debate stage, as his poll numbers slip in Florida amid a barrage of negative ads.
Several new polls show Mitt Romney pulling ahead of Gingrich in the Sunshine State, after a brief bump for the former House speaker following his South Carolina primary victory.
Gingrich has endured a string of attacks on his record as a conservative, with some going so far as to question his relationship with Ronald Reagan -- the late president whom Gingrich repeatedly invokes on the campaign trail.
Romney and his supporters have meanwhile spent an estimated $14 million on commercials in Florida.
Ahead of a debate Thursday night, Gingrich called the ads "junk," and admitted they are now getting under his skin.
"I am angry. But I think I'm angry and every American should be angry. How can somebody run a campaign this dishonest and think he's going to have any credibility running for president?," Gingrich said Thursday.
Romney, meanwhile, cast his opponent as a Washington insider, "someone who has been part of the culture of Washington for the last 35 years."
But he kept his focus on President Obama, calling his administration a "Groundhog Day" presidency in which nothing gets better.
The debate Thursday is the last one before Tuesday's Florida primary. Gingrich had a relatively subdued performance at Monday's debate, but could be looking for another game-changing moment with his numbers slipping.
A new Rasmussen poll out Thursday has Romney retaking the lead with 39 percent over 31 percent for Gingrich. Rick Santorum had 12 percent and Ron Paul was taking 9 percent of the vote among the 750 likely GOP voters polled.
A Time magazine/CNN poll out Wednesday had the race in a virtual tie between Romney and Gingrich, 36-34 percent among 369 registered Republicans who are likely to vote in the Florida presidential primary. The survey was taken between Jan. 22-24. Santorum had 11 percent and Paul was taking 9 percent of the vote.
The latter two candidates are far back in Florida, in part because they have been concentrating on other states.
According to the latest American Research Group poll of 600 likely GOP primary voters, Romney leads his rivals with 41 percent followed by Gingrich with 34 percent, Santorum with 9 percent and Paul with 7 percent.
With the race tight, Romney's campaign may be benefiting from a decision to concentrate on early voting. The ARG poll found 17 percent of likely primary voters said they had already voted absentee or early. Among this group, Romney was leading Gingrich 51-39 percent. For those who haven't voted yet, the race was 39-33 percent Romney to Gingrich.
The Florida Republican Party told Fox News that as of Thursday morning, 501,316 absentees ballots had been requested and 254,485 had been returned. Florida, which allows early voting, has also had 151,678 early votes in the polls so far. Early voting ends Saturday.
The winner of Tuesday's primary will score something no one has yet claimed in a tumultuous primary season: a second victory. The first three nominating contest have gone to three different candidates; only Paul has not topped a primary or caucus vote but he has been accumulating delegates for what he calls his "cause."
Sharp exchanges Wednesday highlighted the stakes in the battle to determine Obama's challenger. Gingrich tried to paint Romney as out-of-touch by noting his Swiss bank account and another in the Cayman Islands.
A new report in the Los Angeles Times said some of the Romneys' investments, like the Swiss account which has since been closed, were not fully disclosed in his financial statement.
The Romney campaign said it would be "putting together some minor technical amendments," but that they wouldn't change the "overall picture" of his finances.
"The inescapable fact is that by releasing over 600 pages of information regarding his finances, Mitt Romney is clearly coming down on the side of disclosure," Romney spokeswoman Andrea Saul said.
The Associated Press contributed to this report.