Giffords Able to Stand on Own, Working to Improve Movement in Rehab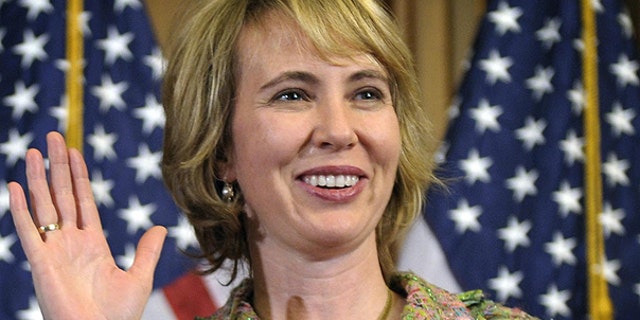 NEWYou can now listen to Fox News articles!
Rep. Gabrielle Giffords can stand and is using a bowling ball and grocery cart to assist her rehabilitation. She struggles to form long sentences. But, she told her nurse, she wants to return home and "walk a mountain."
These were among the glimpses into Giffords' recovery detailed in a lengthy article Sunday in The Arizona Republic. Based on interviews with friends, family and doctors, the Republic described the slow-but-steady progress Giffords has made since she was shot, along with 18 others, in early January in Tucson.
The Republic reported that Giffords is able to stand without assistance and can walk a bit. However, the bullet wound on the left side of her brain has limited movement in her right arm and leg. She is working on those muscles in therapy at Houston's TIRR Memorial Hermann, pushing a grocery cart and performing other simple tasks. The injuries have forced her to become left-handed, at least for now.
Though the article described a gradual recovery, the doctor in charge said she ranked in the top 5 percent of patients dealing with these kinds of injuries. According to the Republic, Giffords can speak in sentences once she first forms them in her mind, but most often uses brief phrases to communicate.
Her chief of staff told the newspaper that, save for a thin scar on her forehead and shorter hair, she looks almost the same as she did before the shooting.
Giffords also has not yet learned the full scope of the shooting Jan. 8. She grieved for weeks after learning six were killed in the massacre, according to the article. But Giffords' husband, Mark Kelly, has not told his wife that a federal judge, one of her aides and a 9-year-old girl were among the dead.
Click here to read the full story in The Arizona Republic.