Georgia's Tough New Immigration Law Drives Undocumented Immigrants to Leave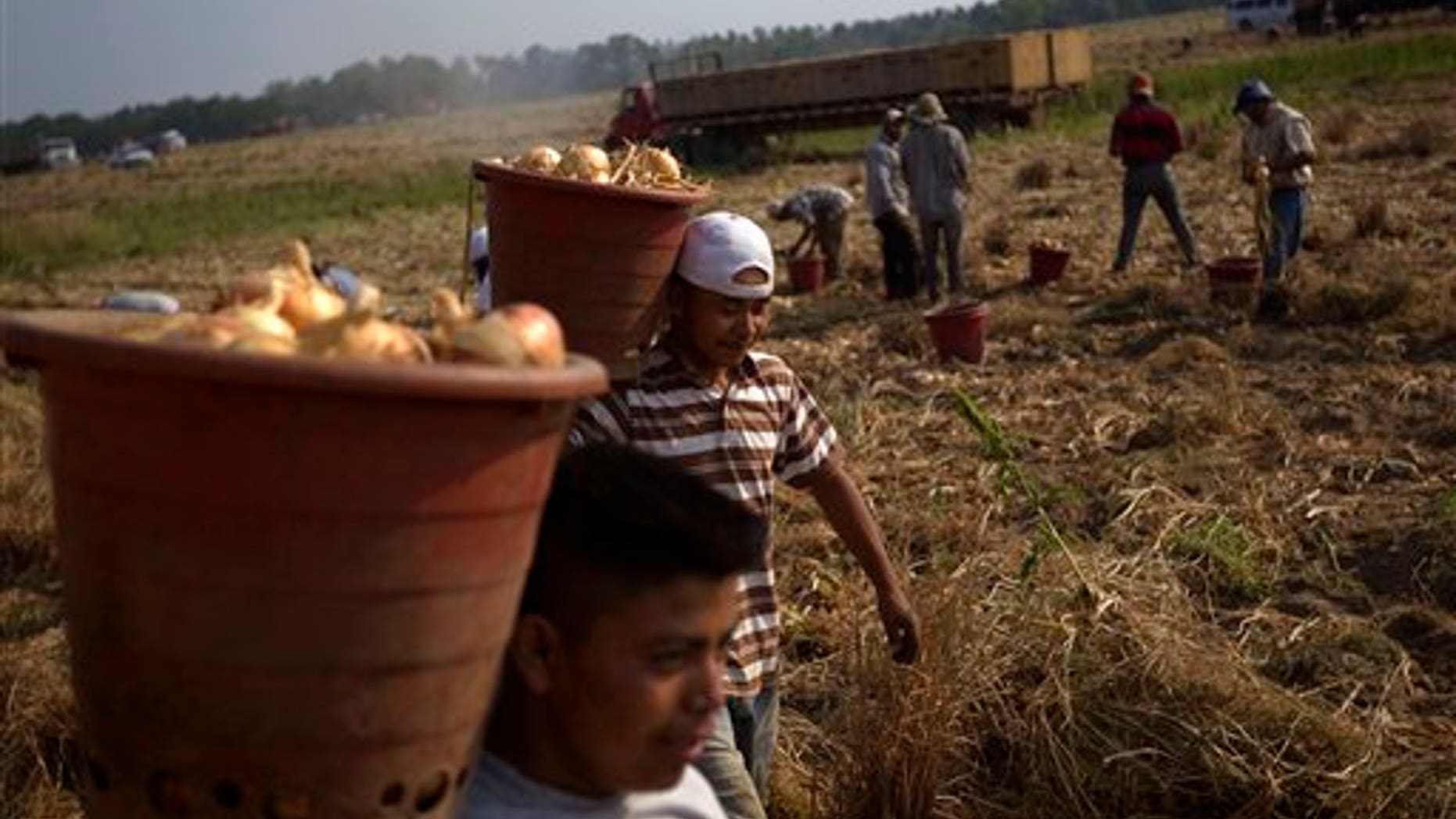 On the heels of the Georgia legislature's passage of an immigration law that seeks to make life significantly tougher for undocumented immigrants, many who fear deportation are leaving -- or considering leaving -- the Peach State.
Those who are looking to go elsewhere include undocumented immigrants and their families who harvest the state's famous sweet onions.
The new law -- the toughest state measure on immigration in the nation -- penalizes people who harbor or transport undocumented immigrants in some situations and allows law enforcement officers to check the immigration status of suspects who can't show an approved form of identification. Using false documents to get a job -- a common practice among undocumented immigrants -- will be a felony once the law goes into effect in July.
Fliers on a Mexican storefront advertise free transportation for workers willing to pick jalapenos and banana peppers in Florida and blueberries in the Carolinas. Buying an outbound bus ticket now requires reservations.
While most states rejected immigration crackdowns this year, conservative Georgia and Utah are the only states where comprehensive bills have passed.
With the ink barely dry on Georgia's law, among the toughest in the country, the divisions between suburban voters and those in the countryside are once again laid bare when it comes to immigration, even among people who line up on many other issues.
Sandra Almanza, 20, cried behind the counter of her mother's store, La Michoacana, at the thought of leaving to protect her husband, an undocumented immigrant from Mexico City and the father of her unborn daughter. The couple was finishing the nursery.
"We just finished painting her room, but we don't know how long we'll stay there," said Almanza, a U.S. citizen whose parents originally came to Lyons years ago to work in the onion fields. Their store sells phone cards to migrant laborers and wires their money back home. "We really don't have that many options."
The crackdown proved popular in suburban Atlanta, where Spanish-only signs proliferate and the Latino population has risen dramatically over the past few decades.
Residents complain that undocumented immigrants take their jobs and strain public resources.
"The citizens of Georgia demanded action," said Republican Rep. Matt Ramsey, the bill's sponsor, who lives about 30 miles southwest of Atlanta. "They let their legislators know that this was an issue they wanted to see addressed."
Under the new law, private employers with more than 10 workers must eventually use a federal database called E-Verify to check the immigration status of new hires. That doesn't sit well with farmers or many of their undocumented laborers.
Drive three hours from Atlanta into vegetable country — also a right-leaning region — and many oppose the law out of fear it will drive out the workers, legal and undocumented, who stoop to pull up the Vidalia onions and other produce that make Georgia farming famous.
There's no easy way to harvest an onion.
Mechanized threshers and reapers can pluck cotton, peanuts, corn and wheat from the earth. Machines shake pecans from trees and sweep them up. But easily bruised fruits and vegetables require hands-and-knees labor for planting and harvesting.
On a dusty field near Lyons, clusters of Latino fieldworkers hunched over onion beds, snipping green stalks from onion bulbs in 90-degree heat. They placed the bulbs in a red plastic bucket. Each full bucket tipped into a truck earns workers 38 cents.
A good worker might fill 300 buckets daily, earning just more than $100. Legal workers brought in on temporary work visas get better pay.
They sweat through long-sleeve shirts, jeans, bandannas and hats worn to shield them from the sun. A thin layer of gray-brown dust kicked up from the field quickly settles in the nostrils and sticks to the skin.
Alfredo Perez said he arrived illegally from Mexico three years ago. He travels between Florida, Michigan and Georgia picking crops.
"I think this law is difficult because they don't want to let us work here. We're not delinquents," he said. "We usually come here during onion season, but because of the law, we're going to have to think about whether or not we'll come back."
Authorities face a decision on how strictly to enforce parts of the law.
Toombs County Sheriff Alvie Lee Kight Jr. knows the dilemma well. He's responsible for patrolling the area. His family also grows Vidalia onions. Prominent farmers want him to show leniency. An elected official, he may well face pressure from voters to target undocumented immigrants.
He's sympathetic to many sides of the debate. Kight said his family farm has at times been unable to get visas for temporary field workers, forcing it to hire local labor. That comes with the risk of employing undocumented immigrants. As long as workers present what appear to be legitimate documents, employers cannot delve deeper into their immigration status.
He supports tightening border security to stanch the flow of undocumented immigrants. Then, Kight said, the country must address the undocumented immigrants already here.
He didn't know how to solve the problem, but he felt the country could ease the barriers to bringing in legal workers.
"We shouldn't have illegals here," he said. "But I also think it should be a workable solution. We need them here to work, but we want them to be legal."
Onion farmers fear losing their workers, legal or not.
Delbert Bland owns Bland Farms, one of the biggest sweet onion growers in the country. He and his father started with five acres in 1983. The international operation is now approaching $100 million in sales.
Rather than rely on local hires, Bland's farm has enrolled in a federal guest worker program and brings in as many as 350 workers from Mexico for the spring onion harvest. The company must pay for their travel, housing and utilities, and pay above-market wages. Bland considers it worth the cost when compared to the losses he could suffer if there's a labor shortage during the harvest from April to June.
If local police step up enforcement, Bland predicted it could have a chilling effect on all immigrant workers.
He recently called the local sheriff's office to complain about a motorcyclist who had repeatedly sped past his plant. When deputies arrived to stake out the speeder, it triggered a panic among the workers, one of whom came to talk to him.
"He comes in here and he's as white as a ghost. And he says, 'Mr. Delbert, there's somebody out there, the police is out there. What are we going to do?' And the guy's legal," Bland said.
Bland's chief operating officer, Michael Hively, called the immigration crackdown a political distraction.
"It took the focus off a lot of issues that are more important," Hively said.
Farmer R.T. Stanley Jr. of Stanley Farms grows roughly 1,200 acres of onions. Some of his workers arrive with temporary agriculture visas, while others are hired locally.
While those workers must present paperwork showing they are here legally, Stanley acknowledged some of it could be fake.
He scoffs at the idea of U.S. citizens doing the work.
"I hire locals usually the first of the season," he said. "They come out and act like they really want to work. You know how long they stay? Two hours. They say this work's too hard."
When immigrant workers arrive in town, they often knock at the door of the Southeast Georgia Communities Project in Lyons, which operates a food bank, distributes clothing and hosts English classes. Its executive director, Andrea Hinojosa, serves as a go-between for Spanish-speaking migrants and the English-speaking world around them.
She said it's popular for whites to say they want undocumented immigrants gone. Yet they also profit from their presence. Acting on Hinojosa's advice, the local Wal-Mart stocked up on beef tongue and tripe to increase sales to Latino workers.
"They leave thousands and thousands of dollars locally," she said of the workers.
Hinojosa gets phone calls from whites seeking cheap labor, for example, for help with yard work or cleaning.
"These are people who, I know, would not vote for some type of work visas," she said.
Few are certain what will happen to the area once the law fully takes effect, but some consequences are already being felt. Almanza predicts her mother's store will close if its Latino clientele leaves. Having lived most of her life in a town of roughly 4,000 people, she rules out going to Mexico City to protect her husband.
"You don't know anybody," she said. "It's a large city, you could easily get lost and, you know, I don't think I could stay there."
Stanley said that if the E-Verify system disqualifies large parts of his workforce, it could spell disaster for the business.
"It could shut me down, I don't know," Stanley said. "Got to wait and see."
This is based on a story by The Associated Press.
Follow us on twitter.com/foxnewslatino
Like us at facebook.com/foxnewslatino