Georgia governor's race: State once solidly red is now in play
ATLANTA – The duel for the governor's office in Georgia is a tale of two anti-establishment candidates, riddled with controversy and poised to make history. This once solidly red state is now considered to be in play.
Meet the players
On the right is Georgia's top election official, two-term Secretary of State Brian Kemp, who captured President Trump's attention and endorsement in the primary with his provocative campaign ads. The self-identified "everyman" is running on the premise of putting Georgians first.
His opponent, the state's former House Minority Leader Stacey Abrams, has already stamped the race historic – running as the first black female major party candidate for governor.
A recent poll from the AJC/Channel 2 puts the candidates within two points of each other, reinforcing many political analysts' prediction of the Peach State turning purple. The last Democratic governor was Roy Barnes, elected in 1998.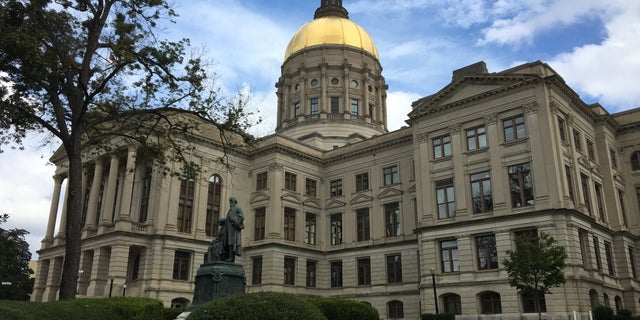 Georgia's purple horizon
Robert Howard, a political science professor at Georgia State University, said it's not a matter of if but when Georgia sees a blue wave, considering its dramatic demographic changes.
The metro Atlanta area's nonwhite population nearly doubled from 1970 to 2015, according to a Georgia State University study.
"If it's not quite a bellwether state, it is moving towards that column," Howard added, noting the stronghold the Democratic Party has on minority voters across the country.
This October rang in a record number of registered voters for Georgia at nearly 7 million. Kemp touted this as an achievement of his office, while Abrams credited her campaign's approach.
She believes the key to flipping Georgia blue is appealing to new voters.
Flanked by fans waving signs at a campaign stop in Augusta, Ga., Abrams emphasized the importance of galvanizing everyone: "I need you to call people you like, people you don't like that much, people you broke up with, people you owe money to."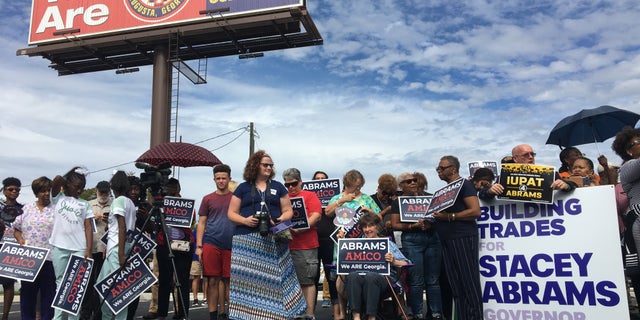 A race slung with controversy
Between excited call and responses, Abrams has thrown jabs at her opponent, citing numerous alleged attempts by Kemp "to suppress the vote."
Most recently, her campaign team called on Kemp to resign from his post in response to an Associated Press report that revealed tens of thousands of voter registration applications "pending" due to the state's exact match system.
Under the law, an application could be held up because of errors, including a dropped hyphen in a last name.
Court documents show the overwhelming majority of those "pending" applications belong to minority residents.
"He is making it harder for Georgians to cast their ballots unnecessarily because he is tilting the playing field in his direction, that's wrong for Georgia and that's wrong for America," Abrams said in a media gaggle this week.
Kemp now faces a lawsuit filed by numerous voting rights advocacy groups; he called it outrageous and fabricated.
He assured that those residents can still vote as long as they verify their information at a county registrar or polling location.
"[Abrams is] blaming me for a problem she created, and she's not telling people the truth," Kemp said in a one-on-one interview with Fox News at his home in Athens, Ga.
Kemp fired back with "troubling" aspects of Abrams' candidacy, including her $200,000 of credit card, student loan and tax debt.
In an op-ed in Fortune, the tax attorney used her personal finances as a point of relatability and method to point out systemic issues minorities and women face.
Kemp called it inexcusable. "She elected to put her campaign ahead of her taxes like other hardworking Georgians have to do," Kemp said.
Her biggest critics also call her a radical. Numerous television campaign ads end with, "Abrams, too extreme for Georgia."
In a Facebook video on Kemp's page, a cartoon of Massachusetts Sen. Elizabeth Warren (D), who endorsed Abrams, parachutes beneath text reading, "Out of state radicals are dropping into Georgia to sway the vote."
Kemp said Abrams' health care plan, which most prominently pushes for Medicaid expansion, "is the idea of people like Bernie Sanders, I mean literally that's what the socialists want."
Health care is considered a leading issue for voters this year, and like many Democrats across the country, Abrams put the topic on the forefront of her agenda.
Her platform lists broadband-enabled telemedicine, medical apprenticeships, Medicaid expansion and protection of the Affordable Care Act as solutions to the state's rural health crisis.
A Georgia Democrat campaign ad mocks Kemp's plan, saying: "Seven – that's how many words are devoted to health care on Brian Kemp's website."
"She could win for losing"
Howard said if he had to bet on the race's outcome, he would choose Kemp, who consistently polls ahead of Abrams.
He caveated his prediction saying, "Stacey Abrams' hope lies in the fact that there are many people who will come out and vote…who those likely voter models are not capturing," Howard told Fox News. "If that happens, she can win."
Now with statewide name recognition, Howard said the potentially first black, female governor will walk away with a win regardless of the outcome on election night.
"There are many candidates who lose an election and come back to win the next election," he added. "If the party can build on her voter registration efforts, I think they can continue to move the state towards that purple column."