Georgetown faculty already clashing with Sessions ahead of free-speech address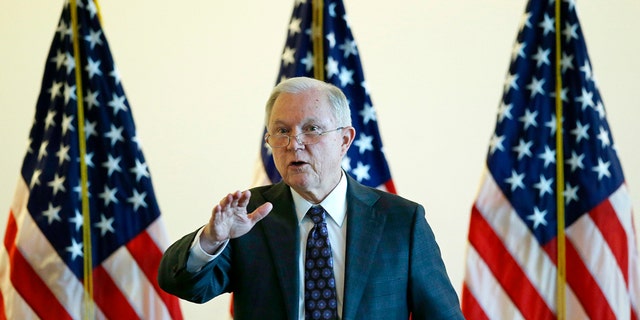 The faculty at Georgetown University Law Center already are clashing with Attorney General Jeff Sessions ahead of his Tuesday address where he plans to assail political correctness and declare free speech "under attack" on college campuses.
The attorney general is set to speak at the Georgetown Law campus at noon ET on Tuesday.
Ahead of the address, a group of more than 30 Georgetown law professors signed onto a letter condemning what they called "the hypocrisy" of Sessions' appearance. They cited President Trump's ongoing feud with NFL players who kneel during the anthem and other complaints about Sessions' DOJ.
"Attorney General Jeff Sessions is a key cabinet member in an administration headed by a President who spent last weekend denouncing athletes engaged in free expression and calling for them to be fired," the professors wrote Monday night.
The professors went on to cite other examples of why they think Sessions is unfit to deliver this address, including his department's prosecution of a protester who disrupted his confirmation hearings.
"A man who fails to recognize paradigmatic violations of the First Amendment is a poor choice to speak about free speech on campuses," the professors wrote. The letter also slammed Sessions' position on civil rights as "troubling."
SESSIONS TO DECLARE FREE SPEECH 'UNDER ATTACK' ON CAMPUS, IN BROADSIDE AT POLITICAL CORRECTNESS
The protest letter is a taste of what the attorney general could face as he arrives Tuesday to speak out on the crackdown on certain -- largely conservative -- speakers on campuses across the country.
"Freedom of thought and speech on the American campus are under attack," Sessions plans to say, according to excerpts obtained in advance by Fox News. "Whereas the American University was once the center of academic freedom—a place of robust debate, a forum for the competition of ideas—it is transforming into an echo chamber of political correctness and homogenous thought, a shelter for fragile egos."
Sessions' remarks come amid a tense climate on college campuses.
The University of California Berkeley, the epicenter of this debate, just cancelled its "Free Speech Week" after protests surrounding conservative speakers including the event's co-organizer, right-wing provocateur Milo Yiannopoulos. Yiannopoulos also attempted to speak at Berkeley in February, but it was shut down by masked protesters who rioted on campus.
Sessions was invited to speak at the Georgetown Center for the Constitution by Professor Randy Barnett, who leads the department.
The attorney general is expected to be greeted at Georgetown by protests from both faculty and students.
"We have designated protest areas for high profile speaker events," a Georgetown University Law Center spokesperson told Fox News.
The Georgetown spokesperson also said the protest letter circulated overnight was not an official statement of the university, but rather the more than 30 signatories.
"We are committed to upholding the values of academic freedom and serving as a forum for the free exchange of ideas, even when those ideas may be difficult, controversial or objectionable to some," the spokesperson said.
The professors noted that they "acknowledge" their colleague's right to invite Sessions, but said "we will not be fooled."
"Adhering to the First Amendment requires more than rhetoric," they said. "It requires adherence through action, applied equally and equitably, by the head of the Department of Justice."
Sessions is currently at the center of several other political firestorms—from the DOJ's crackdown on sanctuary cities to the reversal of the Obama-era Deferred Action for Childhood Arrivals program. Sessions' entry into the free speech debate could signal a broader focus by his department on such First Amendment issues.
"The right of free speech does not exist to protect the speech we all want to agree on. It exists to protect the very speech that we don't want to hear," Sessions plans to say Tuesday.