George P. Bush Among Other Latinos Vying For Top Political Posts In TX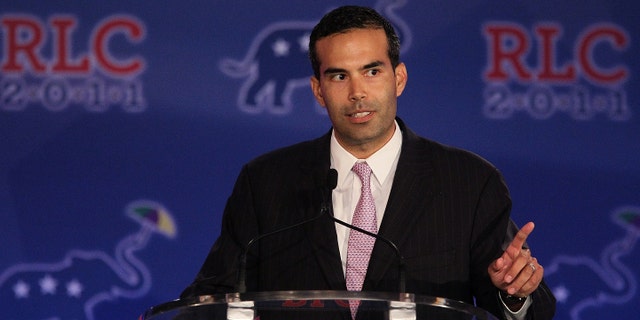 Three Latinos are vying for some of the top currently open Texas political seats.
With the March primary six months away, and Labor Day behind them, it's time for one of the most wide-open elections in a decade to begin picking up steam in the Lone Star State, at least for Republicans. Only one Democrat has announced for statewide office.
For these top posts, all the candidates have lengthy experience in Texas politics, but the other races offer some fresh faces, the most high-profile being George P. Bush, nephew of former President George W. Bush, making his first bid for elected office for land commissioner.
George P. Bush is the son of former Florida Gov. Jeb Bush and is widely considered a rising Hispanic star for the GOP.
Tea party activist Debra Medina and former Corpus Christ State Rep. Raul Torres are among four Republican candidates for state comptroller, the state's top revenue and disbursement officer. The four -- who also include State Sen. Glenn Hegar and state Rep. Harvey Hilderbran -- have all promised to bring conservative innovations to the office.
But in a red state like Texas, where no Democrat has won statewide in 20 years, the Republican primary is where the action is.
So far Attorney General Greg Abbott has only one challenger for the governor's mansion: Tom Pauken, a Vietnam veteran, former Reagan administration official and until recently the Texas Workforce commissioner. Abbott is well in the lead in the money race with more than $20 million to Pauken's roughly $100,000.
Abbott isn't taking any chances, though, making public appearances across the state to meet with the Republican mainstream and tea party activists alike. He's also raising more money, since political operatives say the minimum buy-in for the general election is $40 million between now and Nov. 4, 2014.
The races farther down the ticket are far more competitive, and therefore potentially more dramatic.
Lt. Gov. David Dewhurst goes into his re-election bid weakened by a 2012 election loss to U.S. Sen. Ted Cruz and the alleged embezzlement of $2.3 million by a former campaign manager of donated money.
The former CIA officer also got into hot water when he called a suburban police department to see if he could get his step-niece released after she was arrested for shoplifting.
Cruz identified Dewhurst's vulnerable right flank, prompting state Sen. Dan Patrick, Land Commissioner Jerry Patterson and Agriculture Commissioner Todd Staples to jump into the race to prove they are the most conservative. Dewhurst has attempted to win favor by hiring tea party veterans to help with his campaign and making sure anti-abortion restriction became law. But that's not enough for those who insist he should no longer preside over the Texas Senate.
Based on reporting by The Associated Press.
Follow us on twitter.com/foxnewslatino
Like us at facebook.com/foxnewslatino