George H.W. Bush hospitalized in Maine after experiencing low blood pressure, fatigue, spokesman says
Former President George H.W. Bush was taken to the hospital in Maine on Sunday after he experienced low blood pressure and fatigue, his spokesman said.
Bush, 93, who is in Maine to spend the summer at his Kennebunkport house, was taken to Southern Maine Health Care and will remain there for a few days for observation, spokesman Jim McGrath said.
"The former president is awake and alert, and not in any discomfort," McGrath tweeted.
The 41st president was hospitalized in late April — a day after the funeral for his wife, former first lady Barbara Bush — and treated for an infection that spread to his blood. He was released earlier this month and was "happy to return home," McGrath said.
GEORGE H.W. BUSH ARRIVES IN MAINE FOR THE SUMMER, FAMILY SAYS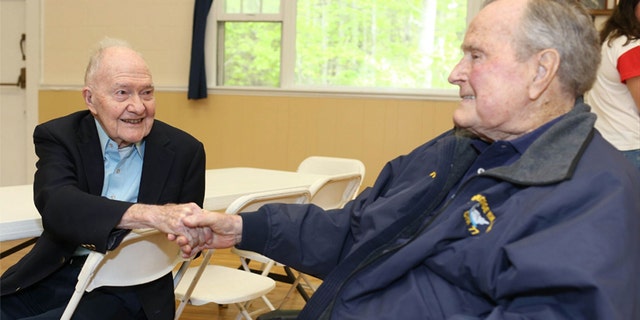 On Saturday, Bush was also pictured meeting with veterans for a pancake breakfast at American Legion Post 159. He posted several photos from the event of him smiling on Twitter.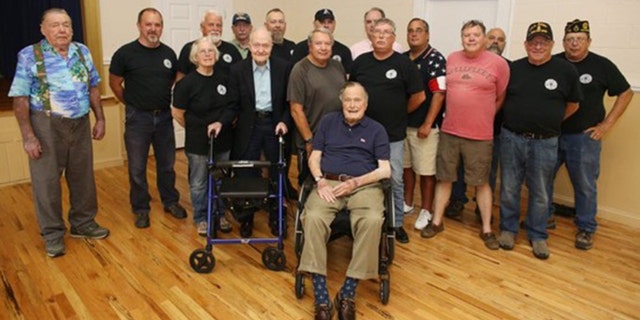 "Delighted to join the veterans, including my dear friend Gen. Brent Scowcroft, at the @AmericanLegion Post 159 monthly pancake breakfast in Kennebunkport today," Bush wrote. "This weekend we remember, and thank, all who have given their lives for our great country."
GEORGE H.W. BUSH SAYS HE MET WITH VETERANS AT PANCAKE BREAKFAST IN MAINE
The former president arrived in Maine last week. Bush has spent part of every summer in Kennebunkport since his childhood, except while serving as a naval aviator during World War II. Friends of the 41st president have said he'd been eager to get to Maine after Barbara Bush's death.
Fox News' Elizabeth Zwirz contributed to this report.