Gates Warns Against Hollowing Out The Force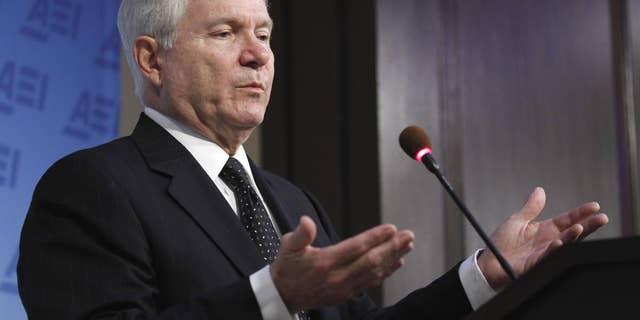 The White House has made clear that the post-9/11 days of unquestioned Pentagon spending are over. Outgoing Defense Sec. Robert Gates has signed on to the president's plan to cut $400 billion from the national security budget over 12 years, but he says it could have a dramatic effect on the size of the U.S. military as well as our role on the world stage.
Given the current state of the U.S. economy, the Pentagon cannot be immune from cuts aimed at reducing the deficit, Gates said while speaking in Washington D.C. Tuesday. He called it a "political reality" and a matter of "simple arithmetic." The Pentagon can't save this much money in efficiencies alone, he said, and that means the U.S. will have to make "real choices."
Gates stopped short of laying out a new spending plan for his successor, CIA chief Leon Panetta, but offered a vision of what the military may look like in the future. "The overarching goal will be to preserve a U.S. Military capable of meeting crucial national security priorities even if fiscal pressure requires deductions in that force's size," Gates said. "I've said repeatedly that I'd rather have a smaller, superbly capable military than a larger, hollow, less capable one."
But Gates also warned against "salami slicing" the force, as was done in the 1970s after Vietnam. There are some things, Gates said, the Pentagon simply can't live without.
"We must build a new [aerial refueling] tanker. The ones we have are twice as old as some of the pilots who fly them. We must field a next generation strike fighter - the F-35 - and at a cost that permits large enough numbers to replace the current fighter inventory and maintain a healthy margin of superiority over the Russians and Chinese."
New Navy surface ships and a replacement fleet of ballistic submarines also made his list of expensive projects the Pentagon can't afford to cut if it wants to maintain global military superiority.
It was likely his last major policy speech as Defense Secretary before he leaves on June 30th, and he made a point to warn against the ballooning costs of weapons programs. The Pentagon should avoid "requirements creep," Gates said - "the kind of indiscipline that leads to $25 million howitzers, $500 million helicopters, $2 billion bombers, and $7 billion submarines."
Sec. Gates will likely be remembered for cutting 30 programs in the past two years -- cuts that he says would have cost the taxpayer $300 billion if completed. But, he said, these new cuts go much deeper and will inevitably lead to a smaller military.
A smaller military, Gates said, "no matter how superb will be able to go fewer places and be able to do fewer things."