Gates, Mullen Blast WikiLeaks for Disclosures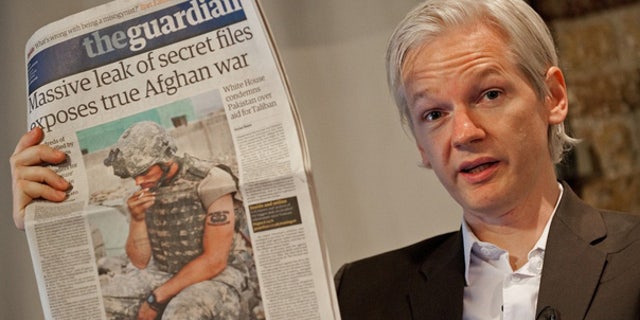 Top Pentagon officials assailed WikiLeaks on Thursday for its release of thousands of pages of leaked documents covering the war in Afghanistan -- at one point even accusing the man behind the whistle-blower website of having "blood ... on his hands."
Defense Secretary Robert Gates and Joint Chiefs of Staff Chairman Adm. Mike Mullen issued some of their harshest criticisms yet of the leak, which appeared to include the names of Afghans enlisted as classified U.S. military informants.
WikiLeaks founder Julian Assange has defended the release, but Mullen dismissed his arguments.
"Mr. Assange can say whatever he likes about the greater good he thinks he and his source are doing, but the truth is they might already have on their hands the blood of some young soldier or that of an Afghan family," Mullen said.
Gates said he called FBI Director Robert Mueller seeking assistance in the ongoing investigation into the leak of the documents, though Gates wouldn't comment on reports that the leak was the work of Pvt. Bradley Manning, an Army intelligence analyst already under suspicion in an earlier leak of classified materials to WikiLeaks.
The criminal investigation into the leak could go beyond the military, Gates said, and he did not rule out that Assange could be a target.
"The investigation should go wherever it needs to go," Gates said.
He would not be more specific, waving off questions about whether Assange or media outlets that used the WikiLeaks material could be subjects of the criminal probe. But he noted that he has asked the FBI to help in the investigation "to ensure that it can go wherever it needs to go."
Gates and Mullen called the release of the documents that WikiLeaks calls its "Afghan War Diary" deeply damaging and potentially life-threatening for Afghan informants or others who have taken risks to help the U.S. and NATO war effort.
Theirs was the most sober assessment of the ramifications of the leak Sunday of raw intelligence reports and other material dating to 2004.
The Army is leading an inquiry inside the Defense Department into who downloaded some 91,000 secret documents and passed the material to WikiLeaks, an online archive that describes itself as a public service organization for whistleblowers, journalists and activists.
The FBI would presumably handle aspects of the investigation that involve civilians outside the Defense Department, and the Justice Department could bring charges in federal court.
Assange agreed Tuesday that the files offered insight into U.S. tactics.
But he said that was none of his concern, and seemed irritated when a questioner in London pressed him on whether he believed there were ever any legitimate national security concerns that would prevent him from publishing a leaked document.
"It is not our role to play sides for states. States have national security concerns, we do not have national security concerns," he said.
Gates said that the Pentagon is tightening rules for handling classified material in war zones as a result of the leak. He did not mention Manning by name, and Pentagon officials caution that Manning may not be the sole target of the Army inquiry.
Manning was stationed at a small post outside Baghdad. If he was the source of the Afghan war logs, he would have been amassing material he had little if any reason to see.
"If the kind of breach involved in the downloading of these thousands of documents had occurred at a rear headquarters or here in the U.S., there's a very high likelihood we would have detected it," Gates said.
Fox News' Pat Summers and the Associated Press contributed to this report.