Gates Calls for Patience on Afghanistan as 'War-Weary' Republicans Get Fidgety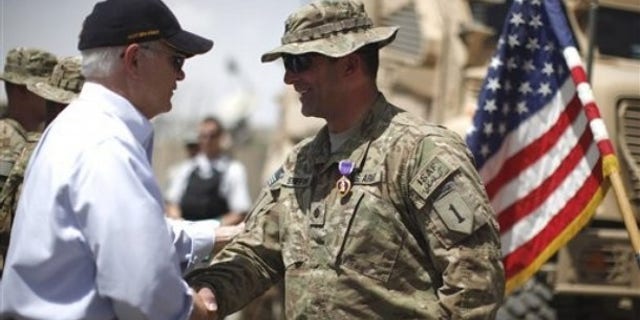 Outgoing Defense Secretary Robert Gates says U.S. forces are doing a great job in Afghanistan, and people need to be patient and "consider the consequences of failure" if the U.S. were to pull out prematurely.
Gates returned last week from an overseas trip in which he bade farewell to troops ahead of his departure from his post at the end of the month. CIA Director Leon Panetta is expected to be confirmed this week as Gates' replacement.
Describing 2012 as a decisive year to come in the war in Afghanistan, Gates summarized the success of 2011 as one in which the United States "not only held on to everything we took from the Taliban last year," but expanded security and further disrupted infiltrations from Pakistan. He said combat troops will wrap up their role by the end of 2014.
"We have had a lot of success over the last 15 months in Afghanistan. The conditions on the ground are far better than they were a year ago," Gates told "Fox News Sunday."
Calling President Obama "analytical" and "decisive," Gates would not get into what recommendations he has offered the president on plans to withdraw troops beginning next month. However, that drawdown appears to be under way already. Last week, Gates confirmed that at least 800 troops will leave Afghanistan next month and won't be replaced.
The 2009 surge approved by Obama put 33,000 more troops into Afghanistan on top of 100,000 American forces already there.
But with the cost piling up and Americans growing tired of a 10-year war, many Republicans are beginning to join Democrats who oppose keeping American forces in the East Asian nation.
Gates said he recognizes the Republican turnaround from the typically more hawkish stance on war policy, attributing it to "war weariness" that is taking its toll on U.S. nerves and patience. But he said those tired of war must look toward the horizon.
"This country has been engaged in two wars every day in the four and a half years I've been secretary of defense. So, I fully appreciate that. Believe me, there's nobody more war-weary (than the Pentagon) at this point," he said. "But the president's responsibility ... is to look out for the long-term national security interest of the United States. He has to have a longer view."
Sen. John McCain, R-Ariz., who ran against Obama in 2008, went further in criticizing his party than Gates. McCain said Republicans calling for the removal of U.S. troops from conflicts in Afghanistan and Libya, which the U.S. began strikes against 90 days ago, have lost their way from the core philosophy of the party.
"This is isolationism. There's always been an isolation strain -- isolation strain in the Republican Party, the Pat Buchanan wing of our party. But now it seems to have moved more center stage, so to speak," McCain said on ABC's "This Week."
Suggesting that President Ronald Reagan would not recognize the GOP today, McCain said the United States abandoned Afghanistan once before and paid a very heavy price for it years later on Sept. 11, 2001.
With the U.S. taking "significant control of the southern part of the country," it is now succeeding in tackling the challenge on the eastern side of the country, McCain said, adding that just as the public grew tired of the Iraq war in 2007, it is critical to "stay the course."
"For us to abandon Afghanistan to the tender mercies of the Taliban and radical Islamic extremists I think would be repeating mistakes we made before," he said.
As Republicans begin calls to withdraw from Afghanistan, Illinois Sen. Dick Durbin, the No. 2 Democrat in the Senate who voted in 2001 to send in troops to ferret out Al Qaeda, said he and more than a dozen others have urged President Obama to begin a significant withdrawal.
"I didn't vote for the longest war in American history, I didn't vote for 100,000 troops 10 years later in Afghanistan and the notion that somehow we're going to build this nation into a democracy," Durbin said on NBC's "Meet the Press." "Bring these troops home and let the Afghans deal with the future of this country."