Gang Terrorizes Immigrants In Connecticut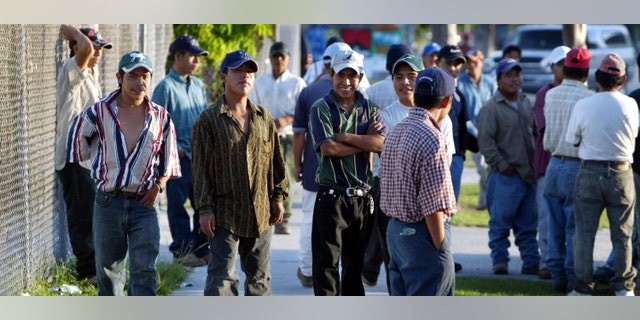 A gang is terrorizing immigrants in Stamford, Conn., police say, assaulting and robbing them and making the community fearful of being outside.
Four immigrant assaults over the past month, including one that led to the arrest this week of a 12-year-old boy, are believed to have been carried out by the same loosely knit gang that is "terrorizing" Hispanics, Stamford Police Lt. Diedrich Hohn said.
The assailants view the immigrants as vulnerable – unlikely to turn to police when they have been victimized, police said.
"Unfortunately these are easy targets," Hohn said. "They work late. They're coming home by themselves. They have cash on them. A lot of these guys don't report it."
It is the kind of crime many police departments in areas around the country have had to grapple with as immigrant populations grow and become targets for criminals.
Unfortunately these are easy targets. They work late. They're coming home by themselves. They have cash on them. A lot of these guys don't report it.
Restaurant managers on Stamford's west side say some of their foreign-born customers are scared to go out at night, and employees have started leaving in groups at the end of their shifts for safety.
Stamford, a city of 125,000 people, has a fast-growing Hispanic community that represents about 24 percent of the population, up from 16 percent a decade ago.
Armando Valle, who manages The Maya restaurant on the west side where the assaults have occurred, said one of his workers was held up at knifepoint a month ago. He said the neighborhood has always been tough but his workers have started walking in groups for safety.
"Now everybody is leaving together," said Valle, who caters to a largely Guatemalan clientele.
Jessie Leon, manager of the Reyes Bar and Restaurant, said many of her customers are going home earlier since robberies have become more frequent.
"Sometimes they get scared," she said. "They're immigrants. They think if they fight back, the police are going to take the immigrants, and not the young kids."
In a New Jersey town several years ago, teenagers were traveling there from New York to prey upon immigrants, beating them up and mugging them on a regular basis. Some police officers filed complaints on behalf of the immigrants when the victims expressed a reluctance to do it themselves because of fear of deportation.
In the case of the boy who was arrested, Hohn said he and four other young assaults beat the immigrant on June 1, leaving him with severe facial injuries and broken ribs. The middle-school student, whose name was not released, was charged with second-degree robbery and second-degree assault. Hohn said the boy's mother would not allow police to speak with him.
The arrest was first reported by The Advocate of Stamford.
Other robberies of immigrants may not have been reported because the victims fear they will be deported because of their residency status. Hohn said police learned of one recent on an immigrant only because they found the victim's wallet.
The Associated Press contributed to this report.
Follow us on twitter.com/foxnewslatino
Like us at facebook.com/foxnewslatino