Franken's Senate replacement expected to be named Wednesday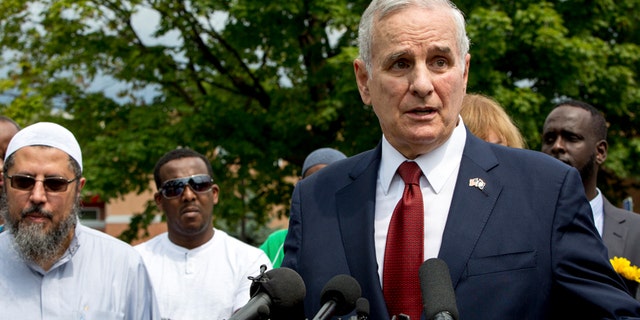 Minnesota Gov. Mark Dayton was set to reveal his choice Wednesday to replace Al Franken in the U.S. Senate, with the top contender seen as his longtime adviser, Lt. Gov. Tina Smith.
Dayton has declined to answer questions about the appointment since Franken announced his resignation plans last week following allegations of sexual misconduct.
In making the appointment, Dayton was weighing a short-term replacement against pressure from top Democrats in Washington to name someone who would run in 2018 in a special election to complete Franken's term ending in 2020.
A Democratic official said last week that Dayton was ready to choose Smith as a placeholder before being pressured to appoint someone who could leverage the appointment into a 2018 run.
Smith, 59, a native of Albuquerque, N.M., arrived in Minnesota in 1984 to take a marketing job with General Mills. She grew more politically active in the 1990s, founding her own marketing and political consulting firm and eventually managing Walter Mondale's unsuccessful 2002 Senate run as well as his son Ted Mondale's 1998 governor for candidate — also unsuccessful.
She also served as a vice president of external affairs for Planned Parenthood Minnesota, North Dakota and South Dakota, from 2003 to 2006. After that, she served as chief of staff to Minneapolis Mayor R.T. Rybak before taking the same job with Dayton.
The Associated Press contributed to this report.