Fox News Reporting: Voter Revolt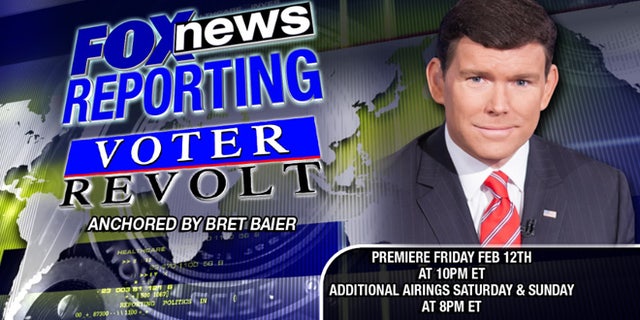 Fox News Reporting: Voter Revolt
Anchored by Bret Baier
Premiere on Fox News Friday 10PM ET. Also Saturday and Sunday, 8PM ET
The pundits laughed when Donald Trump announced he was running for President. Even after he polled well, they figured he was a flavor of the month who'd disappear as soon as the voters got serious.
The pundits laughed again when anyone questioned Hillary Clinton's easy path to the Democratic nomination. No one could stop her. Certainly not an old, socialist Senator from Vermont named Bernie Sanders.
They're not laughing any more. Trump is now the clear frontrunner in a crowded GOP field, and Sanders just walloped Clinton in New Hampshire in what's become a two-person race for the Democrats' nod.
Why is this happening? Because political experts don't get to decide these things, the voters do. And in 2016, it looks like we're in the midst of a voter revolt. Tired of being taken for granted, the electorate, more than ever, is telling the establishment to step aside while they decide the fate of the country.
Fox News Reporting: Voter Revolt premieres 10pm ET and will investigate this phenomenon. We travel across the country to talk to voters who are doing things their way:
? A man in New Hampshire who offers his customers free tattoos of "The Donald"
? Students at Columbia University who used to support Hillary but were turned on by Sanders' unapologetic socialism
? A police officer in New Jersey who doesn't want to have a beer with Ted Cruz, but does want him to be President
? A small business owner in Los Angeles who discovered it was easier to come out as a gay man than as a Trump supporter
In addition, Fox News Reporting: Voter Revolt examines formerly faithful blocs of voters who are threatening to look elsewhere this November.
Among Democrats, there is no more loyal group than African-American voters, but there are rumblings of dissatisfaction. The organization Black Lives Matter, protesting alleged police abuse, has already disrupted events staged by Bernie Sanders and Hillary Clinton. We talk to Marissa Johnson, co-founder of Seattle's Black Lives Matter, to find out what she feels Democrats have to do to prove their support. So far she's not impressed with what either candidate has done, and says it may be time to start looking outside the system for a solution.
Then there is a mainstay among Republican voters--evangelicals. However, Franklin Graham, a leading evangelical, has become so fed up with the GOP that he recently made the stunning announcement he's quitting the party. He feels evangelicals helped win the House and Senate for the Republicans, and so far have gotten very little in return. We talk to him during his tour through all 50 state capitals, holding rallies and advising the faithful only to vote for politicians who truly support Christian values.
Stories like these and more point to a wild race for the White House this year. And nothing tells that tale better than Fox News Reporting: Voter Revolt.
Fox News Reporting - Voter Revolt anchored by Bret Baier. Premieres this Friday, February 12th, at 10pm ET. With Additional airings at 8pm ET Saturday and Sunday.