Fox News Reporting -- Takeover -- The Trump Convention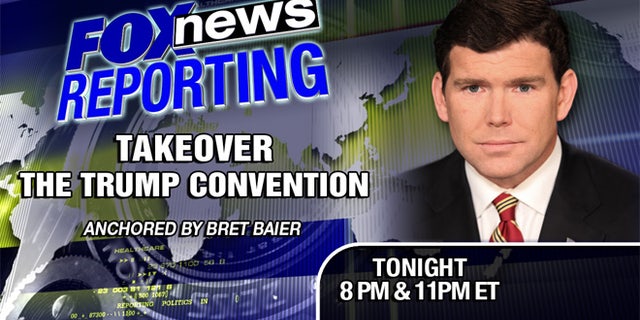 NEWYou can now listen to Fox News articles!
The Republican National Convention, at the Quicken Loans Arena in Cleveland, is upon us. And it promises to be anything but conventional.
In Donald Trump, the GOP has an unprecedented candidate -- a man who's never held office and who shoots from the hip. And when you have an unprecedented candidate, you're sure to have an unforgettable convention.
Fox News Reporting -- Takeover -- The Trump Convention (Airs Saturday at 8PM ET and again at 11PM ET and 2AM ET) investigates this momentous event -- who will be there, how it will be run, what it means for the party, what it means for the country.
One thing about Trump -- he provokes strong feelings. We talk to his devotees, including Chris Cox, a chainsaw sculptor who founded Bikers for Trump.
On the flip side is party regular Kendal Unruh, a convention delegate whose distain for Trump is so intense that she is tried to block his nomination.
We ask tough questions of top Republicans -- Senate Majority Leader Mitch McConnell, former Mississippi Gov. Haley Barbour and RNC Chairman Reince Priebus -- about Trump and the party.
Does he represent a new Republican Party -- one that Ronald Reagan might not recognize? Is he a true conservative? Will he accommodate the GOP, or will they accommodate him? And, above all, can he unify the party in Cleveland, something that would seem necessary if he's to become the next president.
Then there's the threat of violence hanging over the convention. Trump events have turned violent, and Cleveland could become the mother of all such confrontations.
Many left-wing groups plan to protest. We talk to Jeff Mixon, founder of a local branch of Black Lives Matter. Though he says the group has no plans to resort to violence, he knows people arming themselves for protection. And we talk to local businesses, eager to show off their city, while bracing for potential trouble.
And, we take a peek behind the scenes at the arena to show the massive preparations.
The setting of the historic event has been in the works for years but was almost knocked off schedule when the Cleveland Cavaliers reached the NBA championship series, forcing the builders and planners to start the mammoth project a couple weeks later than planned.
On top of all this, we deliver the nominee himself. Donald Trump gives host Bret Baier an exclusive interview on the eve of his nomination.
For the GOP and the country, much is riding on what happens in Cleveland.
And there's no better way to find out what it all means than to watch Fox News Reporting -- Takeover -- The Trump Convention. Anchored by Bret Baier it premieres July 16th at 8PM ET and airs again at 11PM ET and 2AM ET.