Fox News Poll: Voters spread the blame for government shutdown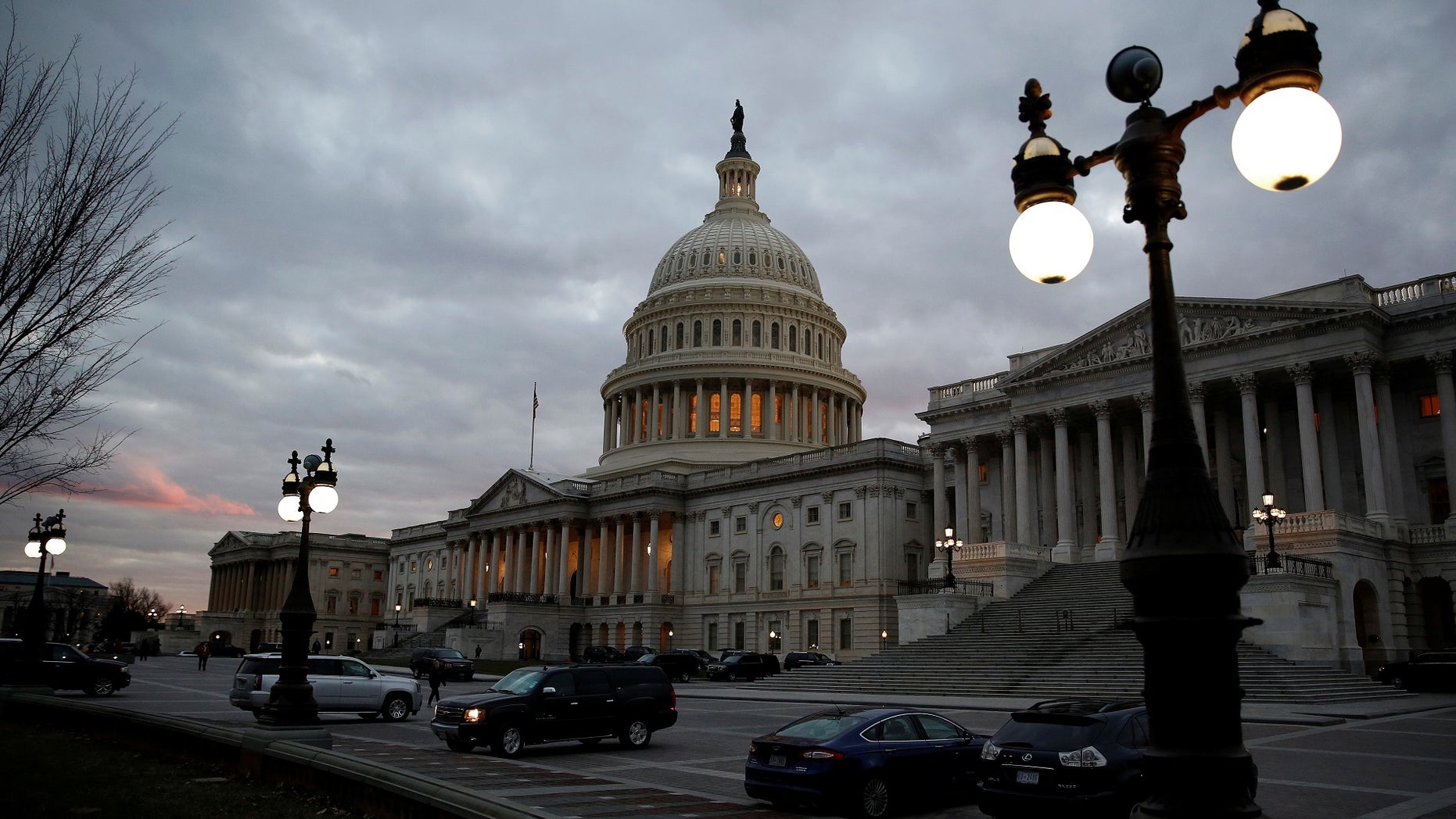 Voters love to hate Congress.
The latest Fox News Poll shows only 15 percent approve of the job Congress is doing.  That's close to the record low 9 percent recorded in October 2013.  A year ago, 17 percent of voters approved (January 2017).
READ THE COMPLETE POLL RESULTS.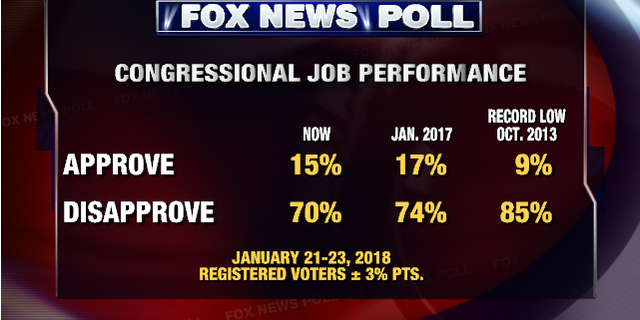 The new poll, released Wednesday, was taken Sunday through Tuesday.  The three-day government shutdown started Saturday and ended Monday evening after both houses of Congress passed a short-term spending bill that will fund the government through February 8.
Democrats (32 percent) are the top pick for blame for the government shutdown, however slightly more voters blame either Republicans (24 percent) or President Trump (13 percent).  Another 24 percent point the finger at both Democrats and Republicans equally for causing the shutdown.
Voters are decidedly more negative than positive when it comes to the individual shutdown players.  The least popular are Senate Majority Leader Mitch McConnell (25 percent favorable vs. 45 percent unfavorable) and House Minority Leader Nancy Pelosi (31-51 percent).
Senate Minority Leader Chuck Schumer (31-39 percent) and House Speaker Paul Ryan (40-44 percent) also have net negative ratings.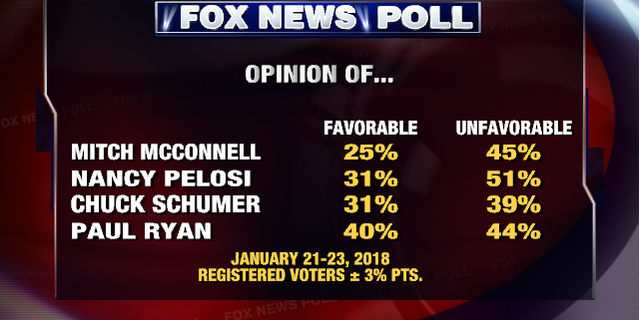 As tough as it might be to believe, these ratings represent an improvement since last August for Ryan (was 35 percent favorable), McConnell (was 20 percent favorable), and Schumer (was 27 percent favorable).
Currently, 45 percent of voters have a favorable opinion of President Donald Trump, while 53 percent have a negative view.  That's an improvement since October, when it was 39 percent favorable and 59 percent unfavorable.
When it comes to this year's congressional elections, 44 percent want Democrats to win, while 38 percent want Republicans to win.  Nine percent offer a "neither" response, and 9 percent are unsure.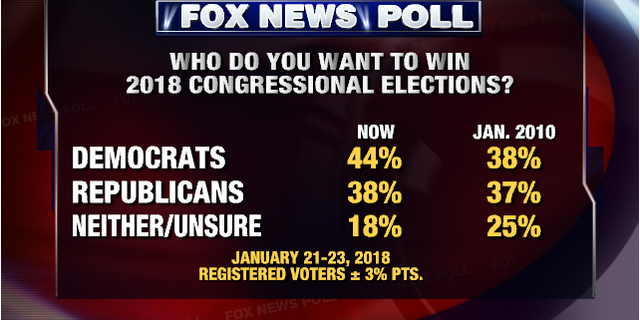 For comparison, at the one-year mark in Barack Obama's presidency, 38 percent of voters wanted Democrats to win the 2010 congressional elections and 37 percent wanted Republicans.  Republicans picked up 63 seats in the 2010 elections, regaining control of the House.
Among the small subgroup of independents, 26 percent want Democrats to win and 16 percent say Republicans -- but over half say "neither" (28 percent) or have no opinion (30 percent).
Party loyalty is fairly even:  89 percent of Democrats want Democrats to win, and 85 percent of Republicans want the GOP to retain control.
Among Clinton voters, 86 percent want Democrats to win, while 80 percent of Trump voters prefer Republicans in 2018.
Maybe it's a good thing the midterm election is 10 months away, because right now everybody's tired of politics.
The poll asks voters how they are feeling about politics these days. Are you energized and want to be more involved?  Or tired of politics and want it to go away?  Both Democrats (by a 25-point margin) and Republicans (by 21 points) are more likely to say they are tired of politics.
Meanwhile, "political divisions within the country" is second only to health care when voters are asked about their concerns.
Fully 82 percent are extremely or very concerned about health care. Next, it's political divisions within the country (74 percent concerned) and the opioid addiction crisis (72 percent).
Political divisiveness also tops concern about the nation's infrastructure (71 percent concerned), the economy (71 percent), a war with North Korea (70 percent), race relations (70 percent), taxes (68 percent), attacks by Islamic terrorists (65 percent), sexual harassment in society (65 percent), illegal immigration (64 percent), and climate change (57 percent).
"There is a great deal of evidence suggesting voters are not nearly as polarized as are our political elites," says Republican pollster Daron Shaw, who conducts the Fox News Poll along with Democratic counterpart Chris Anderson. "Voters seem increasingly resentful of Republican and Democratic office-holders who prefer conflict over accomplishment."
Pollpourri
A majority of voters, 56 percent, have a positive view of Oprah Winfrey (32 percent negative).  While that gives her the best ratings of the individuals included on the poll, it's quite a drop from the 77 percent favorable rating she received when her name was first asked on a Fox News Poll in 1998.  Her all-time low favorable was 53 percent in June 2008.
Oprah's favorable rating among women is 22 points higher than Trump's (63 vs. 41 percent), and among women under age 45 it is 32 points higher (65 vs. 33 percent).
Sen. Kirsten Gillibrand (D-NY), who like Winfrey is a potential 2020 presidential hopeful, is mostly unknown to voters nationally.  Eighteen percent have a favorable opinion of her, 17 percent unfavorable, and 19 percent can't say.  The largest number, 46 percent, say they've never heard of her.  Among just Democrats, it's 26 percent favorable, 16 percent unfavorable, 18 percent can't say, and 40 percent never heard of her.
The Fox News poll is based on landline and cellphone interviews with 1,002 randomly chosen registered voters nationwide and was conducted under the joint direction of Anderson Robbins Research (D) and Shaw & Company Research (R) from January 21-23, 2018.  The poll has a margin of sampling error of plus or minus three percentage points for all registered voters.