Fox News Poll: Voters frustrated with tax system, Democrats ahead in ballot test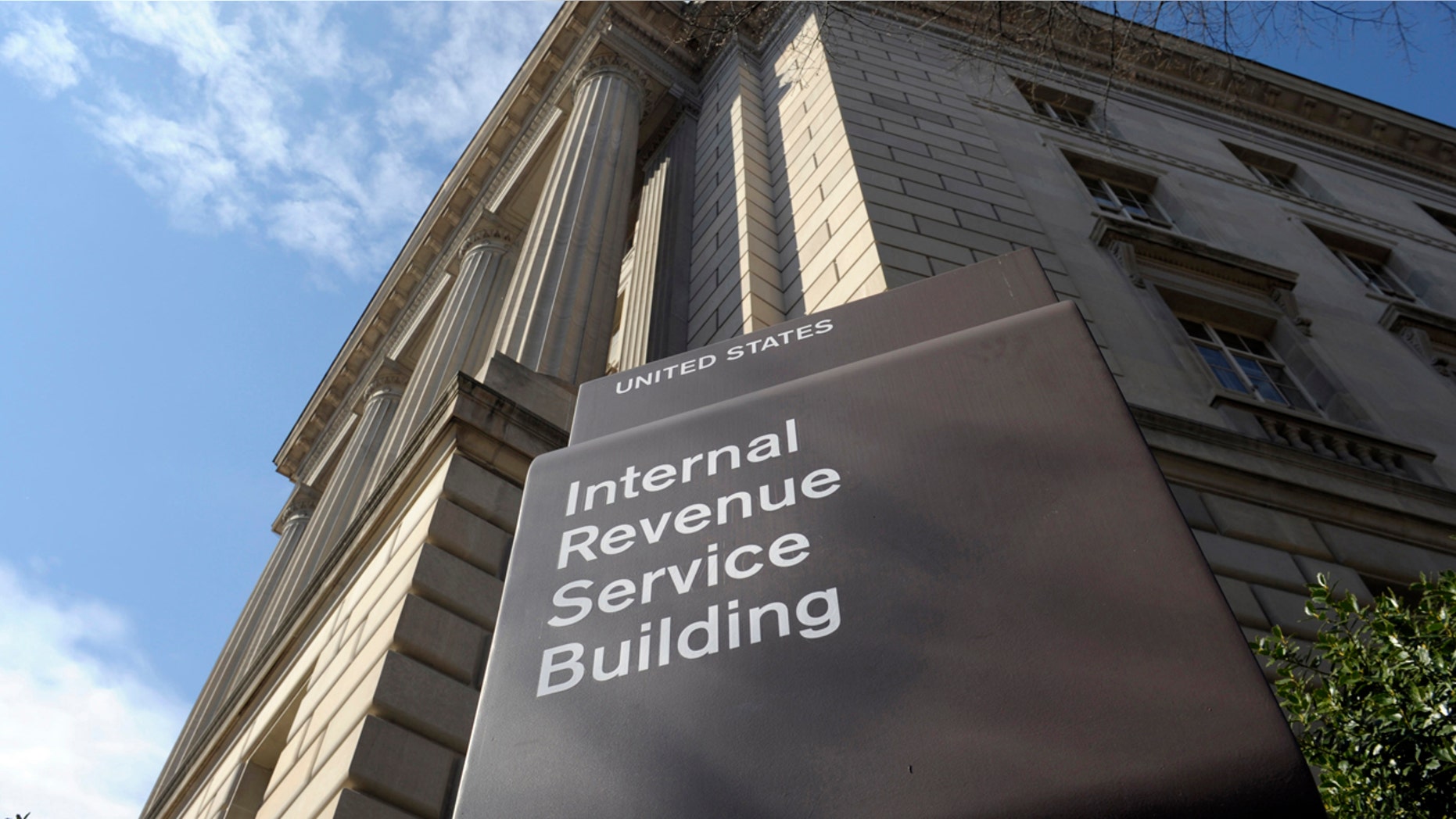 Republican efforts to tackle tax reform should be welcome news to voters, as the latest Fox News poll finds there's much in the nation's current system Americans want fixed.
A sizable 69 percent majority is upset about how much they pay personally, but that's not the top voter frustration.  Some 76 percent are very or somewhat frustrated with the complexity of the system and the forms, 78 percent feel that way about the wealthy paying too little, 85 percent don't like corporations using loopholes to avoid paying, and 85 percent are frustrated the middle class is paying too much.
Voters, however, save their biggest rebuke for Uncle Sam, as nearly 9-in-10 are frustrated with "the way the government spends our taxes" (89 percent).  That includes 56 percent who are "very" frustrated by how tax dollars are spent.
Only 38 percent are upset about the poor not paying anything in taxes.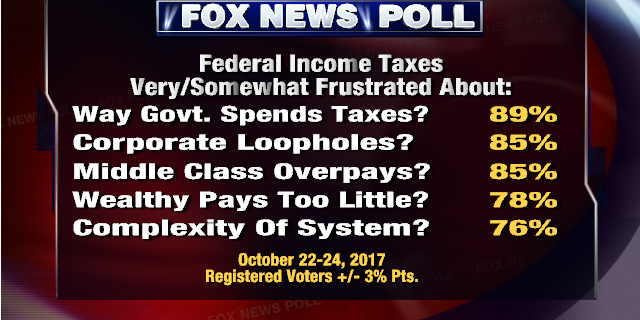 Republicans (88 percent) and Democrats (89 percent) are equally frustrated about the government's spending choices.  When it comes to their personal tax tab, however, more Republicans (75 percent) than Democrats (65 percent) are upset.
Sixty-three percent of those in households earning less than $50,000 annually are frustrated with the amount they pay in taxes, compared to 72 percent among those earning $50,000 or more.
More voters disapprove (51 percent) than approve (37 percent) of how President Trump is handling taxes.  That's a net negative by 14 points, which is better than his job rating on Iran (-21 points), North Korea (-24), and health care (-27).  For his handling of the economy, his best issue, he's underwater by just 5 points: 44 percent approve vs. 49 percent disapprove.
Pollpourri
By a 57-41 percent margin, voters say they don't feel hopeful about the direction of the country.  Since Republicans control the White House and both houses of Congress, that doesn't bode well for incumbents.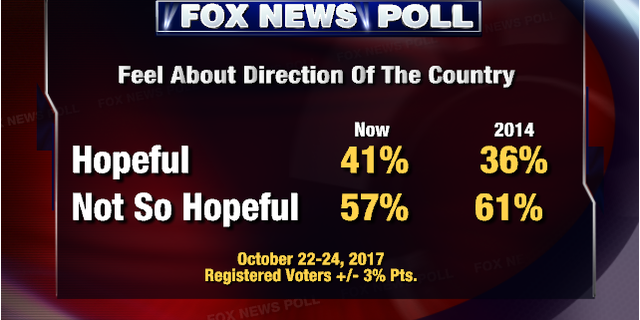 Here's some evidence of that: even though mid-term elections are more than a year away, voters were asked to pick between the Democratic and Republican candidates in their Congressional district.  The poll finds Democrats up by 15 points, 50-35 percent.  Democrats were up by six points at the end of June (47-41 percent).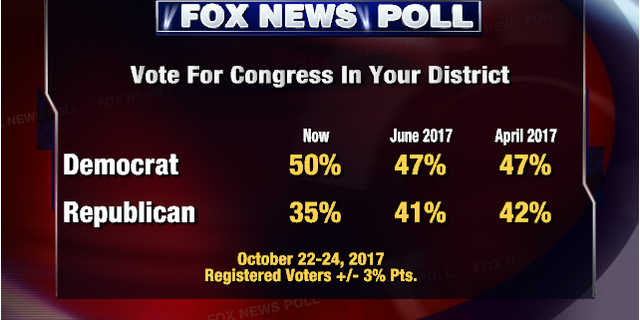 In addition, 51 percent of voters have a favorable opinion of the Democratic Party, while 40 percent have a positive view of the Republican Party.
Democrats typically have an edge over Republicans nationally in party identification.  For reference, self-identified Democrats have outnumbered self-identified Republicans by an average of six percentage points in Fox News polls this year -- that's up from a three-point advantage in 2016.
"Both knowledgeable consumers and practitioners are attentive to the distribution of party identification in a poll, and for good reason," says Daron Shaw, Republican pollster who conducts the Fox News poll with Democratic pollster Chris Anderson.
"Party ID influences a range of political opinions and preferences.  But it is an attitude, not a fixed demographic, and because of this we do not weight our polls by party the way we do for, say, gender, age, and race.  We're not saying that party ID is ephemeral, but the willingness of individuals to identify as a Democrat, Republican, or independent does fluctuate in response to political conditions and events."
Anderson adds, "Current events and the lack of hope about the direction of the country are causing unaffiliated voters to be increasingly critical of the party in power and, as a result, more of these voters now feel closer to Democrats than Republicans, where as in the past we've found them dividing more equally."
The Fox News poll is based on landline and cellphone interviews with 1,005 randomly chosen registered voters nationwide and was conducted under the joint direction of Anderson Robbins Research (D) and Shaw & Company Research (R) from October 22-24, 2017.  The poll has a margin of sampling error of plus or minus three percentage points for all registered voters.