Fox News Poll: Voters feeling safer but still expect major attack
Most voters think a terrorist attack is imminent and likely to kill many Americans, according to the latest Fox News Poll. At the same time, more voters than not feel the United States is safer than before 9/11.
By a 6-point margin, more voters feel the country is safer today (47 percent safer vs. 41 percent less safe).  That's a significant improvement from last August when a record 54 percent felt the country was less safe.  Not since March 2014 have more felt safer than before the September 11 attacks (49-39 percent).
CLICK HERE TO READ THE FULL POLL RESULTS
Terrorists exacted a bloody toll on the West this year.  The most recent major attack, in Barcelona and Cambrils, left 14 people dead, including one American.  The deadliest was in Manchester at an Ariana Grande concert in May, where 22 people were killed and over 100 injured.  And June 2016 saw the worst terrorist attack on U.S. soil since 9/11 when a gunman opened fire at a gay nightclub in Orlando, killing 49.  ISIS claimed responsibility for all three attacks.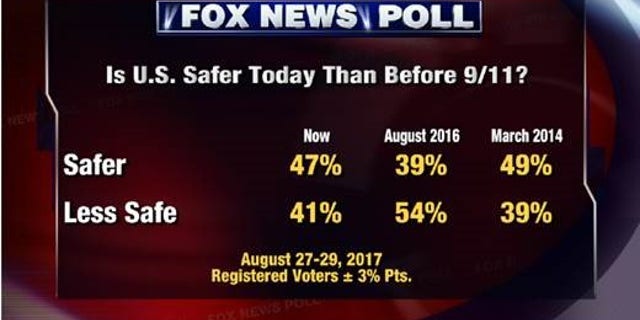 While voters overall feel safer, partisanship appears to be the biggest factor driving opinions:  Republicans (65 percent) and independents (48 percent) are more likely than Democrats (29 percent) to feel safer.  The exact opposite was true last August when more Democrats (52 percent) than Republicans (25 percent) and independents (41 percent) felt the U.S. was safer.
Veterans (52 percent) are more likely to feel the country is safer than those who haven't served in the military (46 percent).
Meanwhile, 71 percent think it is "very" or "somewhat" likely that a major terrorist attack will happen soon.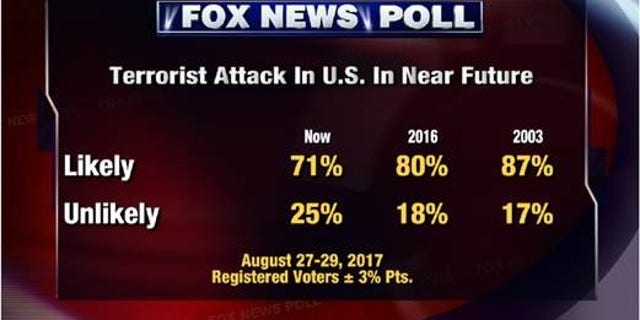 That's down from 80 percent who felt that way last year, and the record high 87 percent who said the same in January 2003 -- when the question was first asked on a Fox News Poll.
On this question, there's rare partisan agreement: about 7-in-10 Democrats (72 percent), Republicans (71 percent) and independents (69 percent) think a major attack is likely soon.
Voters are divided over how President Donald Trump is handling terrorism:  47 percent approve vs. 45 percent disapprove.  That's a net positive rating -- and better than his job ratings on foreign hot spots like Afghanistan (43 percent approve vs. 43 percent disapprove), North Korea (43-50 percent), and Russia (35-56 percent).
The Fox News poll is based on landline and cellphone interviews with 1,006 randomly chosen registered voters nationwide and was conducted under the joint direction of Anderson Robbins Research (D) and Shaw & Company Research (R) from August 27-29, 2017.  The poll has a margin of sampling error of plus or minus three percentage points for all registered voters.