Fox News Poll: Voters favor gun measures, doubt Congress will act
Voters prioritize protecting citizens from gun violence over protecting the rights of gun owners. And while majorities support a variety of gun control proposals, the latest Fox News poll also finds doubt Congress will act -- or that it would make any difference if it does.
By a 13-point margin, voters consider protecting against gun violence more important than protecting gun rights (53-40 percent).
In addition, there's substantial support for specific measures to reduce gun violence, including: requiring criminal background checks on all gun buyers (91 percent), requiring mental health checks on all gun buyers (84 percent), raising the age to buy all guns to 21 (72 percent), putting armed guards in schools (69 percent), and banning assault rifles and semi-automatic weapons (60 percent).
READ THE COMPLETE POLL RESULTS
The proposal a majority rejects is allowing teachers and school officials to carry guns on school grounds (57 percent oppose). That was also the case in 2013 (52 percent opposed.)
The Fox News poll asked about these measures in January 2013, a month after the Newtown Connecticut school shooting that killed 26.
Compared to that time, support for putting armed guards at schools is up nine points, a ban on assault weapons is up six, and requiring mental health checks is up one. Support for universal background checks is unchanged -- and about 9-in-10 Democrats, Republicans, and independents favor them.
Nearly half of those living in a gun-owner household favor banning assault weapons: 47 percent favor, 50 percent oppose.
The poll, released Sunday, was conducted March 18-21. Interviews were completed before Saturday's March for Our Lives rally in Washington led by survivors of the February 14 school shooting in Florida that left 17 dead. Just over half of the interviews were conducted prior to Tuesday's school shooting in Maryland that killed one student and injured another. The attack ended in seconds, after an armed school resource officer quickly engaged the gunman.
Some 38 percent say it is "extremely" important for Congress to pass gun legislation this year, but only 7 percent think that's "extremely" likely to happen.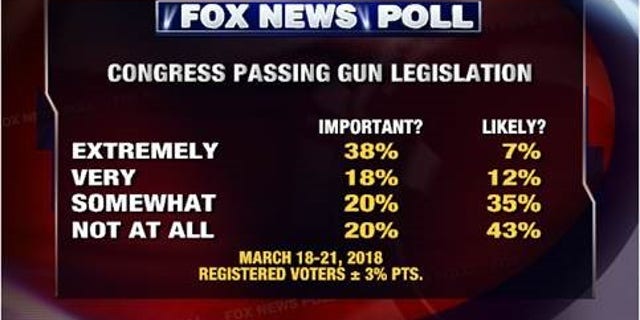 And if Congress takes action, more voters are concerned the changes it makes won't go far enough than it will go too far (50-36 percent).
Meanwhile, there's increasing ambivalence about stricter gun control laws: 42 percent say they won't make a difference, up from 20 percent two years ago. And while 44 percent think stricter laws would make the country safer, that's down eight points from 52 percent in 2016. Twelve percent think stricter laws would make the country less safe, down from 24 percent.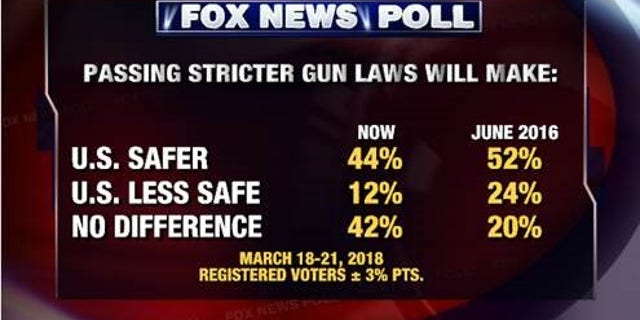 There is a significant party divide on the anticipated impact of stricter gun laws: 67 percent of Democrats think they would make the country safer, while only 23 percent of Republicans agree.
When asked about President Trump's positions on guns, 39 percent say they are "about right," yet almost as many, 34 percent, think he's too close to gun owners. Thirteen percent feel he goes too far in supporting gun control.
Voters give the president some of his worst ratings for the job he's doing on guns: 40 percent approve, while 54 percent disapprove. That puts him underwater by 14 points. He receives similar marks on immigration (-14 points) and the opioid crisis (-13).
Trump does better on North Korea (-8 points), international trade (-7), and taxes (+2).
His best ratings are on the economy, as 51 percent of voters approve and 44 percent disapprove.
Overall, 45 percent approve of the job Trump is doing as president, while 52 percent disapprove. That's hardly changed since last month (43-53 percent) or January (45-53 percent).
Among voters under age 30, some 53 percent disapprove of Trump's performance overall and 54 percent disapprove on guns.
Overall, 45 percent report someone in their household owns a gun, and those voters are more likely to think stricter laws won't make a difference to safety (50 percent) and worry new gun laws would "go too far" (53 percent). Voters in gun households are also more likely to be Republicans (59 percent), live in rural areas (57 percent), and be Southerners (55 percent).

Those most likely to prioritize protecting citizens against gun violence include Democrats (79 percent), non-whites, suburban women, and non-gun owners (each 70 percent), and voters under 30 (57 percent). Voters who say it's more important to protect the right to own guns include Republicans (67 percent), white men without a college degree (60 percent), white evangelical Christians (58 percent), and gun-owner households (57 percent).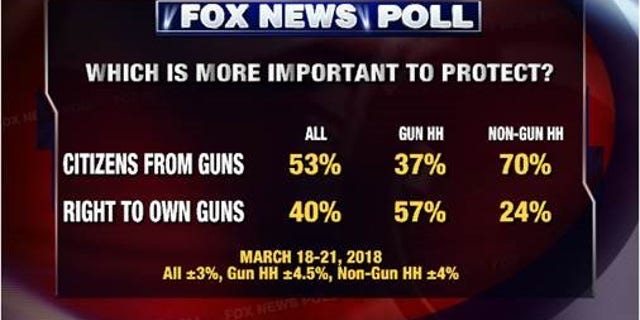 Pollpourri
The National Rifle Association's favorable rating among gun-owning households stands at 67 percent, down from 71 percent in 2013.
Among all voters, 49 percent have a positive opinion of the NRA, down from a high of 56 percent in January 2013. A record high 45 percent have a negative view of the organization.
For comparison, majorities have a favorable opinion of Planned Parenthood (58 percent) and labor unions (57 percent).
The Fox News poll is based on landline and cellphone interviews with 1,014 randomly chosen registered voters nationwide and was conducted under the joint direction of Anderson Robbins Research (D) and Shaw & Company Research (R) from March 18-21, 2018. The poll has a margin of sampling error of plus or minus three percentage points for all registered voters.