Fox News Poll: Views remain split over whether Trump coordinated with Russia
Majorities of voters think Russia interfered in the 2016 election, President Trump should sit for an interview with the special counsel -- and Congress should not impeach him.
The latest Fox News poll finds that by a 56-34 percent margin, voters think Russia meddled in the 2016 presidential election.  Another 60 percent are at least somewhat concerned Russian meddling will affect the outcomes of midterm elections this year.  A bipartisan report released by the Senate intelligence committee in May found Russia had attempted to interfere in 2016 and was likely to do so again in 2018.
READ THE COMPLETE POLL RESULTS.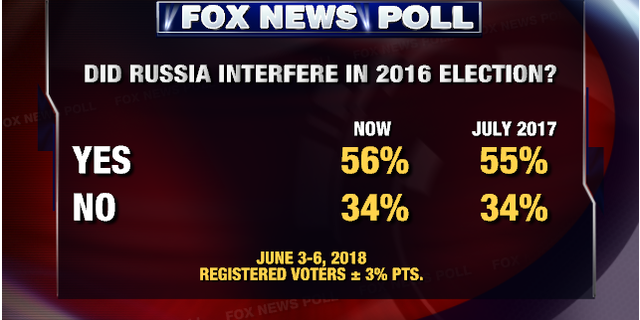 The numbers are fuzzier on whether the Trump campaign coordinated with the Russian government:  44 percent yes vs. 45 percent no.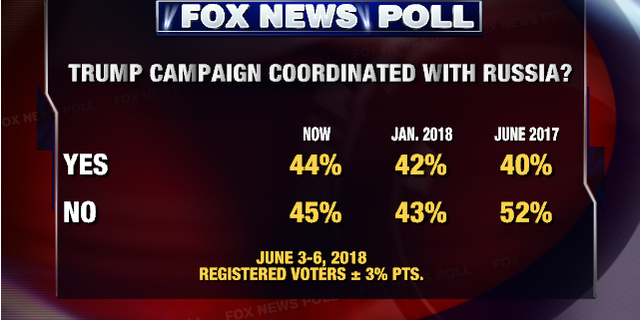 Even so, over half approve of the investigation being conducted by Special Counsel Robert Mueller (55 percent) and think the president should agree to be interviewed by Mueller (60 percent).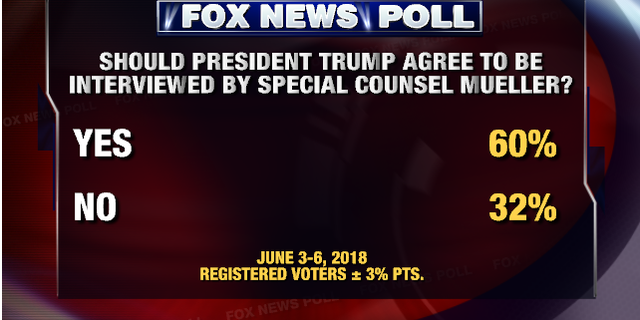 When asked if President Trump should be impeached and removed from office, voters say no by a 12-point margin (39 percent yes vs. 51 percent no).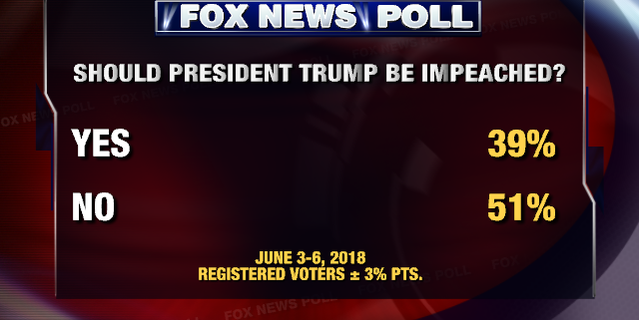 Views Among Partisans
Opinions on the Russia investigation and its significance have a distinctly partisan flavor.  Most Democrats say Trump should be impeached (69 percent), while almost all Republicans (88 percent) and over half of independents (59 percent) say he shouldn't.
The number of Republicans who believe Russia interfered in 2016 is fairly small -- and mostly holding steady.  It was 29 percent a year ago, and it's 27 percent today.  Among Democrats, it's 83 percent, mostly unchanged from last year.
Favorable Ratings
More voters have a favorable opinion of Trump (45 percent) than of Mueller (37 percent).  More also have a negative view of Trump (53 percent) than they do of Mueller (31 percent).  A third of voters (33 percent) are unable to rate Mueller.
Voters rate former New York City Mayor and current Trump attorney Rudy Giuliani negatively with a 34 percent favorable vs. 44 percent unfavorable rating.  Still, he's more popular than Attorney General Jeff Sessions, who garners 18 percent favorable vs. 51 percent unfavorable.  That's about the same as controversial comedian Roseanne Barr (24 percent favorable, 57 percent unfavorable).
The Fox News poll is based on landline and cellphone interviews with 1,001 randomly chosen registered voters nationwide and was conducted under the joint direction of Anderson Robbins Research (D) and Shaw & Company Research (R) from June 3-6, 2018.  The poll has a margin of sampling error of plus or minus three percentage points for all registered voters.