Fox News Poll: Trump tops Clinton, both seen as deeply flawed candidates
Donald Trump tops Hillary Clinton in a hypothetical head-to-head matchup, according to a new Fox News Poll that also finds majorities of voters feel both frontrunners lack strong moral values and will say anything to get elected.
Trump has a 45-42 percent edge over Clinton, if the presidential election were held today. That's within the poll's margin of sampling error. Last month, Clinton was up by 48-41 percent (April 2016).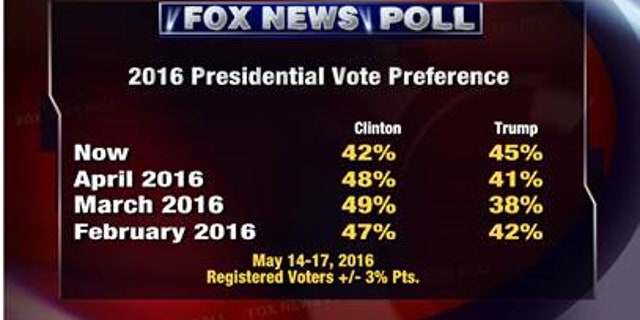 Clinton is ahead by 14 points among women (50-36 percent). Yet Trump leads by a larger 22 points among men (55-33 percent).
He also tops Clinton by 37 points (61-24 percent) among whites without a college degree (working-class whites).
CLICK HERE TO READ THE POLL RESULTS
Overall, Trump is preferred by 24 points among whites (55-31 percent). He's even ahead by nine among white women (47-38 percent).
Clinton has a commanding 83-point lead among blacks (90-7 percent), and is up by 39 among Hispanics (62-23 percent).
The poll includes an oversample of additional interviews among Hispanics/Latinos nationally. Watch for more on those results Friday on FoxNewsLatino.com.
In 2012, Republican presidential candidate Mitt Romney won by 20 points among whites, while President Barack Obama won blacks by 87 points and Hispanics by 44, according to the Fox News exit poll.
One reason for Trump's showing is there is parity on party unity, as 83 percent of Democrats back Clinton and 82 percent of Republicans support Trump.
Independents go for Trump by 46-30 percent, although one in five would vote for someone else or stay home (20 percent).
Enthusiasm is on the GOP's side, as more Republicans (74 percent) than Democrats (66 percent) say they are extremely or very interested in the presidential election.
The poll shows Bernie Sanders has a 46-42 percent advantage over Trump in a hypothetical matchup. Sanders was up by 53-39 percent in April. However, the Vermont senator trails Clinton in the Democratic nomination race by what is considered an insurmountable number of delegates.
The drawn-out nomination battle may hurt Clinton among the base, as 1 in 10 Sanders voters say they would pick Trump over her in November (11 percent).
Candidate Characteristics
Clinton and Trump have made quite an impression so far. Overall, voters feel the candidates lack honesty, empathy, and strong moral values, and that they'll say anything to win.
Clinton has a net negative honesty rating of -35 points. That's because a new low 31 percent say she's honest, while a record 66 percent say she isn't.
Trump does better on this measure, although he is still underwater by 17 points: 40 percent think he's honest and 57 percent say he's not.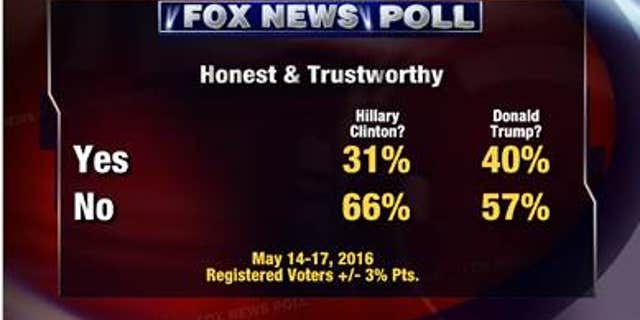 In addition, over half say the phrase "has strong moral values" does not describe Clinton (57 percent) or Trump (58 percent).
Many think "cares about people like me" doesn't fit Trump (55 percent).
More voters than not think the "cares" attribute doesn't work for Clinton either (46 percent yes vs. 51 percent no).
Clinton performs best on "is a strong leader," although the reviews are mixed: 49 percent say it applies to her, while 50 percent say it doesn't.
"Strong leader" is also Trump's best trait, as 59 percent feel it describes him (38 percent disagree).
Even so, half or better say "is a reliable leader" doesn't describe Clinton (55 percent) or Trump (50 percent).
Most think Clinton (71 percent) and Trump (65 percent) will "say anything to get elected." And majorities think the main reason the former secretary of state (57 percent) and businessman (56 percent) are running is for themselves -- rather than for the country.
Who is more corrupt? By a 49-37 percent margin, voters give that dubious distinction to Clinton.
Pollpourri
What about former Republican governor of New Mexico, Gary Johnson, who is favored to top the Libertarian Party ticket? He ran in 2012 and received almost one percent of the vote nationally.
The poll finds Johnson garners 10 percent in this hypothetical three-way matchup. But that wouldn't change the race, as Trump still holds the edge over Clinton: 42-39 percent.
The Fox News poll is based on landline and cellphone interviews with 1,021 randomly chosen registered voters nationwide and was conducted under the joint direction of Anderson Robbins Research (D) and Shaw & Company Research (R) from May 14-17, 2016. The poll has a margin of sampling error of plus or minus three percentage points for all registered voters.