Fox News Poll: Republican challenger ahead in North Dakota Senate race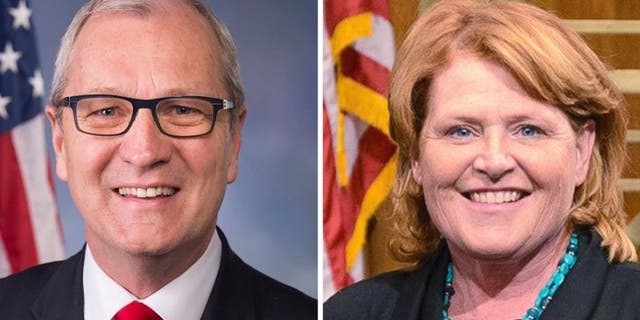 Republican Kevin Cramer tops incumbent Democrat Sen. Heidi Heitkamp among North Dakota likely voters by 48-44 percent, in a Fox News poll released Wednesday. Cramer's edge in the Senate race is within the poll's margin of sampling error.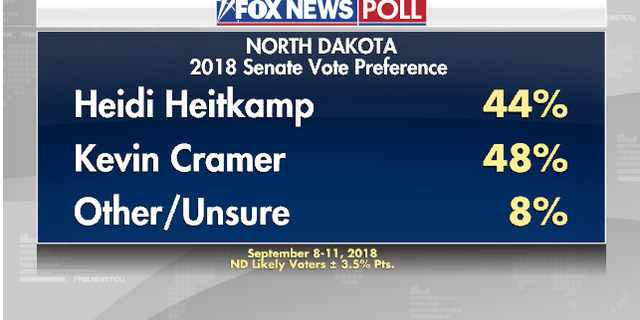 Both Heitkamp (85 percent) and Cramer supporters (84 percent) have a fairly high degree of vote certainty. Overall, 15 percent say they may change their mind before voting in November.
CLICK TO READ THE COMPLETE POLL RESULTS.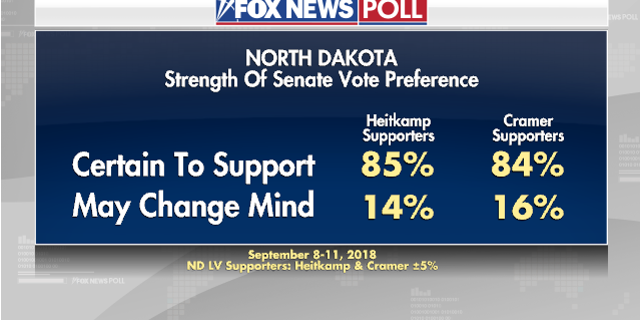 There's a wide gender gap, as women prefer Heitkamp by 7 points, and men back Cramer by 15 points. He also gets strong support from white evangelical Christians (+30) and voters prioritizing the economy (+36).
Heitkamp comes out on top by 49 points among health care voters. Health care is the top issue for North Dakota voters (30 percent), followed by the economy (18 percent).
Voting against Brett Kavanaugh's nomination to the Supreme Court might hurt Heitkamp. One in three voters who say they could change their mind before November say they would be less likely to vote for Heitkamp if she opposes Kavanaugh, while 21 percent would be more likely.
Heitkamp is seen as one of the most vulnerable Senate Democrats, along with Indiana Sen. Joe Donnelly and Missouri Sen. Claire McCaskill.
"North Dakota is an uphill fight for the Democrats," says Republican pollster Daron Shaw, who conducts the surveys with Democrat Chris Anderson. "It's a red state overall, and anti-Trump sentiment just isn't a rallying point here like it is in some other states."
President Trump carried North Dakota in a 36-point landslide, and a 54 percent majority approves of his job performance.
Meanwhile, 26 percent say they want their Senate vote to express support for him. Twenty-four percent say their vote will be to show opposition, and 46 percent say he won't be a factor. Trump campaigned in North Dakota for Cramer last Friday.
A majority, 53 percent, says their family's financial situation hasn't changed in the last two years. The rest are more likely to say things are better rather than worse by a 31-15 percent margin.
In the race for North Dakota's lone House seat (the seat Cramer is vacating to run for Senate), Republican Kelly Armstrong (48 percent) leads Democrat Mac Schneider (34 percent) by 14 points.
The Fox News Poll is conducted under the joint direction of Anderson Robbins Research (D) and Shaw & Company Research (R). The poll was conducted September 8-11, 2018 by telephone (landline and cellphone) with live interviewers among a random sample of 701 North Dakota likely voters and has a margin of sampling error of plus or minus 3.5 percentage points.