Fox News Poll: President Trump's approval at 44 percent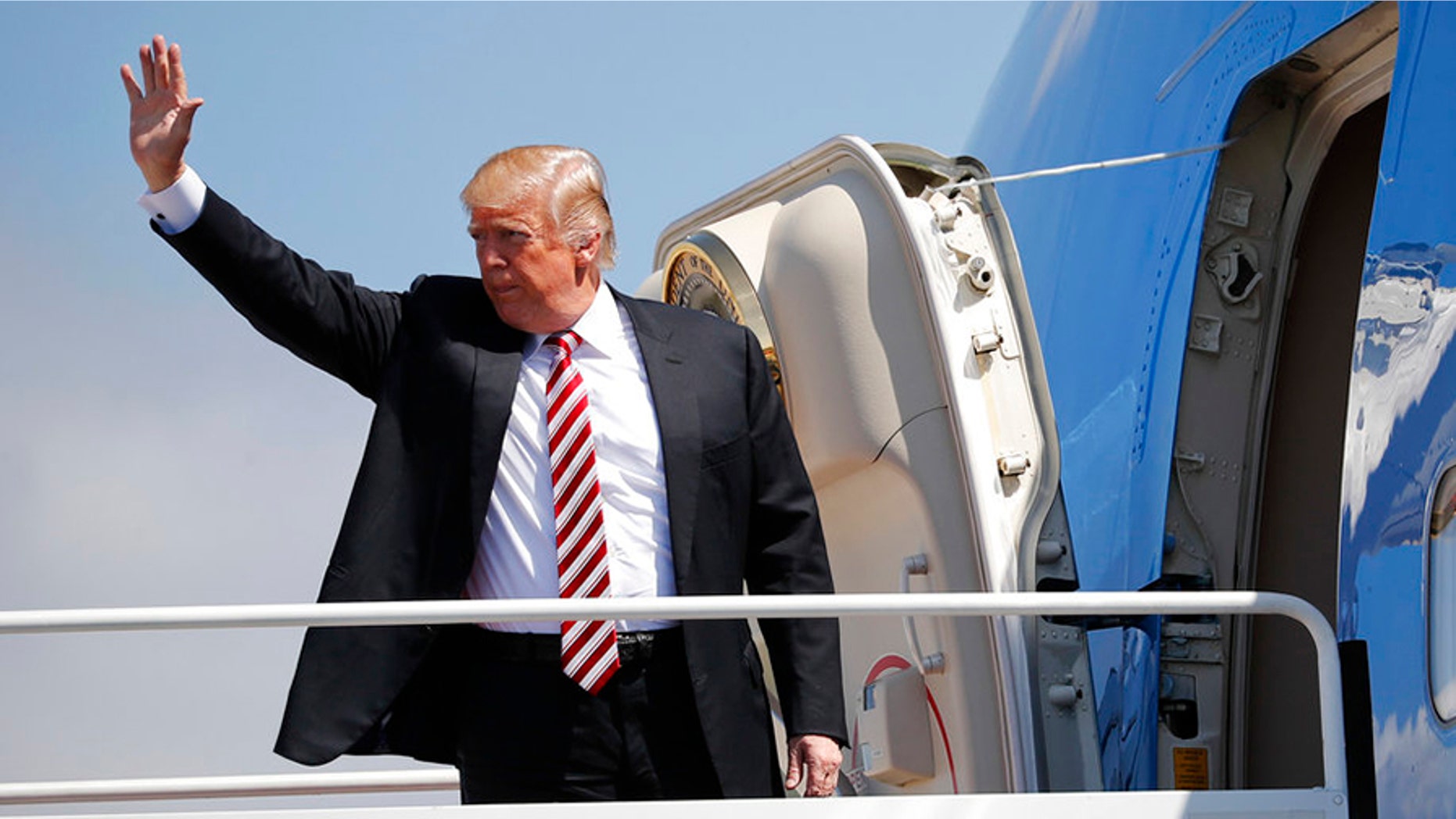 Over half of voters feel political leaders in Washington look down on them, and that feeling isn't unique to just certain groups, according to a Fox News poll released Wednesday.
The poll asks voters if political leaders in Washington look down on "people like you."  Fifty-five percent say yes, including roughly equal numbers of Republicans (56 percent), Democrats (54 percent), and independents (54 percent).  Whites (54 percent) and non-whites (57 percent) agree, as do those with a college degree (51 percent) and those without (57 percent).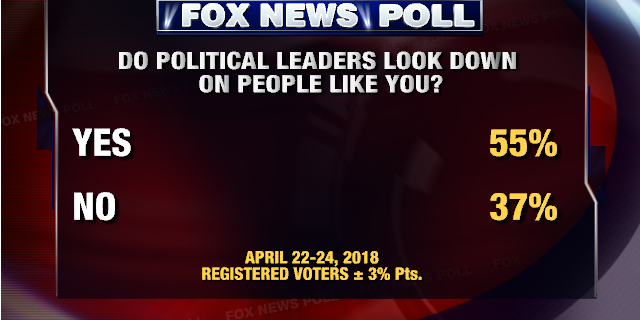 An even larger majority, 84 percent, says Washington leaders are out of touch with people like them.  There's also consensus on that across party, race, and education.  In addition, few voters feel "people like them" have benefitted from President Trump's economic policies.  More on that later.
Meanwhile, 43 percent are happy with the direction of the country.  That's about where it was on the 100-day mark of the Trump administration (45 percent in April 2017).  A 55 percent majority is dissatisfied with how things are going.
On the economy, 43 percent say it's in excellent (9 percent) or good (34 percent) shape.  While that's up from 33 percent last April, it's down from 49 percent in January, soon after the Republican tax cuts passed.  At that time, 17 percent, a record high, said economic conditions were excellent (January 2018).
Looking ahead, 32 percent think the economy will get better over the next year, but 27 percent see it getting worse.  Another 37 percent expect it will stay the same.
By a one-point margin, voters say Trump's policies are helping rather than hurting the economy (38 vs. 37 percent).  A year ago, they felt the policies were helping by a 12-point margin (37 helping vs. 25 hurting).  And the number saying the policies don't make a difference dropped from 35 percent last year to 23 percent now.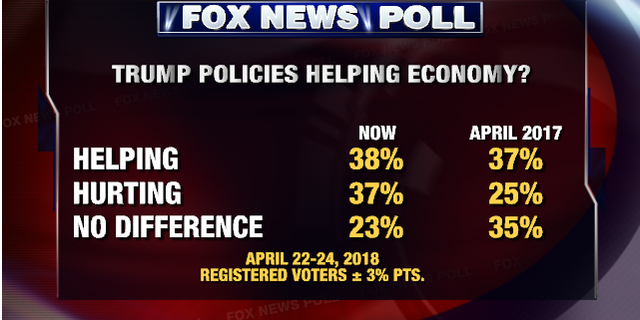 "The more people form opinions about Trump's policies, the less favorable the evaluations get," says Democratic pollster Chris Anderson who conducts the Fox News poll with Republican Daron Shaw.
Some 29 percent think everyone has benefitted under Trump's economic policies.  However, most, 64 percent, say only certain people have benefitted -- and just 5 percent feel included in that group.  That's pretty much how folks felt under President Obama's policies in 2015:  23 percent said everyone benefitted, 61 percent only some people (6 percent people like me).
Thirty percent said Obama's economic policies helped "people with more money."  For Trump, that's 57 percent.  Hardly any, 2 percent, feel "people with less money" have benefitted under Trump.  That was 25 percent under Obama.
The economy remains President Trump's best issue: 47 percent approve, and 47 percent disapprove.  Last month it was 51-44 percent.  He receives lower marks on North Korea (45 approve, 45 disapprove), immigration (43-52), Syria (39-49), and Russia (35-54).
Overall, 44 percent approve of the job Trump is doing as president, while 53 percent disapprove.  It was 45-52 percent last month, and a year ago it was 45-48 percent (April 2017).
Pollpourri
-- By a nine-point margin, more say the disruption Trump has brought to Washington is a bad thing (46 percent) rather than a good thing (37 percent).  That spread was 14 points last summer (51 bad vs. 37 good).  The shift comes mostly from a drop in the number of Democrats calling the disruption a bad thing -- from 85 percent last July to 75 percent today.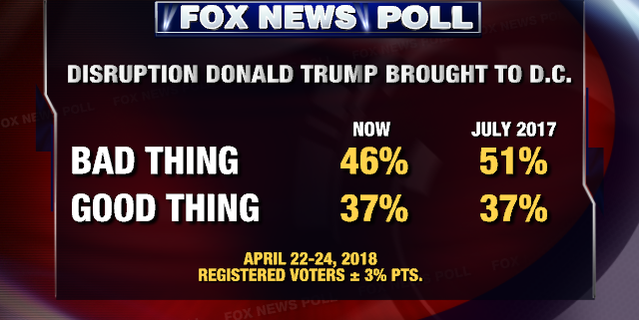 -- Ratings of Congress remain ugly: 19 percent approve, while 70 percent disapprove.
-- House Speaker Paul Ryan's favorable rating is under water by 12 points (36 percent favorable vs. 48 percent unfavorable) and House Minority Leader Nancy Pelosi's is a net negative 23 (31 -54 percent).  On the Senate side, Majority Leader Mitch McConnell is under water by 32 points (21-53 percent), as is Minority Leader Chuck Schumer by 9 (29-38 percent).
-- Less than half of voters have a positive opinion of the political parties, as 47 percent have a favorable view of the Democratic Party and 41 percent feel that way about the GOP.
"It is striking that the mood of the country has such a dark streak to it," says Shaw. "I don't know that it is anger, though; more like a deep exasperation with politics and political processes that seem disconnected from the problems of most Americans."
The Fox News poll is based on landline and cellphone interviews with 1,014 randomly chosen registered voters nationwide and was conducted under the joint direction of Anderson Robbins Research (D) and Shaw & Company Research (R) from April 22-24, 2018.  The poll has a margin of sampling error of plus or minus three percentage points for all registered voters.