Fox News Poll: Most voters glad they know Snowden secrets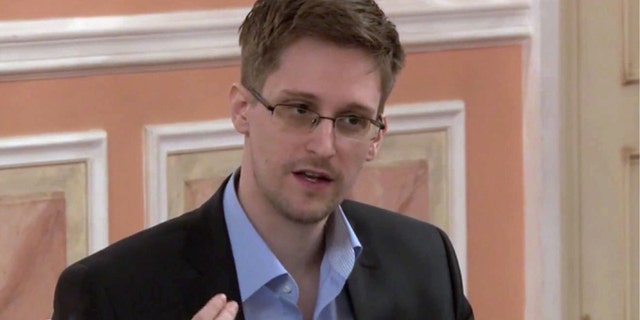 A sizable majority of voters are glad they now know the federal government's collecting phone and email records of everyday Americans -- a secret until National Security Agency leaker Edward Snowden gave classified agency documents to the media.
That's according to a new Fox News poll released Wednesday.
Click here for the poll results.
Snowden, a former NSA contractor, exposed the electronic surveillance program in June 2013. The poll asks voters to set aside how they feel about Snowden and his crime, and simply consider whether they are glad the information was made public. By a 68-25 percent margin, voters say yes, they are glad to know how these programs affect Americans like them.
Most Republicans (69 percent), independents (68 percent) and Democrats (68 percent) are pleased to be aware of the NSA's activities. Among those part of the tea party movement, 75 percent are glad.
A July 2013 Fox News poll found a 60-percent majority disapproved of Snowden leaking details of the NSA program.
On Friday, President Obama outlined changes to the NSA's surveillance program, including how it will use an outside organization to store the phone and Internet records it collects and new limitations on the government's access to those records. He also emphasized the need for the program to continue for national security purposes.
By a six percentage-point margin, more voters think the surveillance program does more to help catch terrorists than to hurt law-abiding Americans by misusing their private info (50-44 percent). That's a reversal from six months ago when more voters thought the domestic spying program did more to harm Americans (47 percent) than to help track down terrorist threats (41 percent) (July 2013).
By a two-to-one margin Democrats say the NSA program is more likely to help national security (63-31 percent). Just over half of Republicans (53 percent) and independents (51 percent) think the surveillance does more to hurt Americans.
Does the president's announcement that a third party would be responsible for holding the records collected by the program make Americans feel more comfortable? No.
In general, 61 percent don't trust the federal government to keep their personal information confidential, and 67 percent don't trust a third party to do so either -- even when rules are established to limit the government's access to it.
The Fox News poll is based on landline and cell phone interviews with 1,010 randomly chosen registered voters nationwide and was conducted under the joint direction of Anderson Robbins Research (D) and Shaw & Company Research (R) from January 19-21, 2014. The full poll has a margin of sampling error of plus or minus three percentage points.