Fox News Poll: As Obama starts sixth year, 74 percent say US still in recession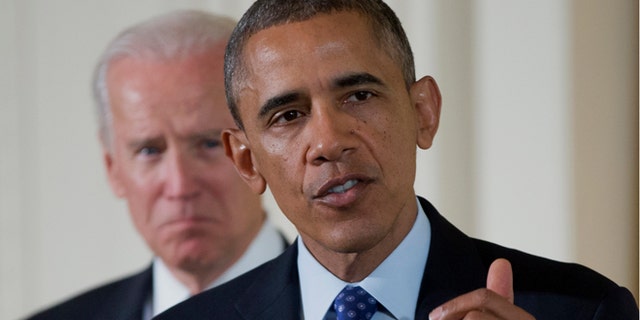 As President Obama starts his sixth year in office, his job ratings remain near record lows and more voters think his policies have hurt rather than helped the economy. And even as voters continue to hold mostly negative views on the economy and the direction of the country, a new Fox News poll finds they see some improvement.
A third of voters say they like both Obama and his policies -- a dramatic drop from 47 percent who felt that way in October 2012. In addition, 62 percent now say they dislike the president's policies, up from 51 percent the month before his re-election.
Voters aren't impressed with Obama's economic policies: while 27 percent think they've helped, a 40-percent plurality says they've hurt the economy. And another 33 percent don't think the president's policies have made much difference either way.
Click here for the poll results.
Most voters -- 74 percent -- say it still feels like the country is in a recession. The silver lining for the president is this is an improvement over the 86 percent who felt that way in September 2010.
A 62-percent majority is dissatisfied with the way things are going in the country today. Still, that's also an improvement: 73 percent were dissatisfied in October 2013.
Some 37 percent of voters are satisfied with conditions in the U.S., up from 26 percent in October. Democrats (61 percent) are more than three times as likely as Republicans (19 percent) to feel pleased.
Overall, 42 percent of voters approve of the job Obama is doing as president, while 53 percent disapprove. That's mostly unchanged from December when 41 percent approved and 53 percent disapproved.
Obama received his highest job approval rating at the beginning of his presidency. In January 2009, 65 percent of voters approved, 16 percent disapproved and 19 percent were unsure.
His worst job rating was just two months ago when 40 percent approved and 55 percent disapproved (November 2013).
On the issues, Obama receives his highest approval on income inequality (39 percent) and his lowest for handling of the federal deficit (28 percent).
Nearly half of voters (49 percent) say the economy is the most important problem for Congress and the president to work on right now. The only other issues to register in the double digits are health care (13 percent) and the federal deficit (12 percent).
When asked about the top economic issue, voters say jobs/unemployment (40 percent) and government spending (36 percent). Income inequality comes in far behind at 12 percent and 6 percent say taxes.
Other highlights from the poll:
-- By a three percentage-point margin, more voters now consider themselves "pro-life" (48 percent) than "pro-choice" (45 percent) on the issue of abortion. Current views represent a reversal from the last two years when more voters were pro-choice. Sentiment has been closely matched on this issue for years and which view is on top shifts back and forth. In 1997, the first time the question was asked on a Fox News poll, pro-choice voters outnumbered pro-life voters by 10 points.
-- Voters remain split on legalizing same-sex marriage: 47 percent favor legalizing it and 47 percent oppose it. About a year ago it was 46-46 percent (February 2013), and before the last general election voters divided 42 in favor and 44 percent opposed (October 2012).
-- Fifty percent of voters favor legalizing marijuana, while 43 percent oppose it. This is a shift from last year when 49 percent opposed it and 46 percent favored it (February 2013). A 63-percent majority of voters under age 30 supports legalizing marijuana, while a 58-percent majority of those ages 65+ opposes it. Recently Obama commented that he doesn't think marijuana is any more dangerous than alcohol. In a February 2013 Fox News poll, 51 percent said it was more dangerous to drive a car after drinking alcohol, while four percent said it was more dangerous after smoking marijuana (and 35 percent volunteered the response "both").
-- More than two-thirds of voters -- 68 percent -- favor a pathway to citizenship for illegal immigrants currently in the United States who pass background checks and pay back taxes. Some 13 percent back a guest worker program to allow illegal immigrants to work in the country for a limited time, while 15 percent favors deportation for all illegal immigrants. Views on this issue have held steady since 2011.
-- Feelings toward lawmakers remain extremely negative: 13 percent approve of the job Congress is doing, while 81 percent disapprove. Last month 16 percent approved and 79 percent disapproved.
The Fox News poll is based on landline and cell phone interviews with 1,010 randomly chosen registered voters nationwide and was conducted under the joint direction of Anderson Robbins Research (D) and Shaw & Company Research (R) from January 19-21, 2014. The full poll has a margin of sampling error of plus or minus three percentage points.