Fox News Poll: 64 percent say U.S. still in recession, yet 58 percent optimistic about economy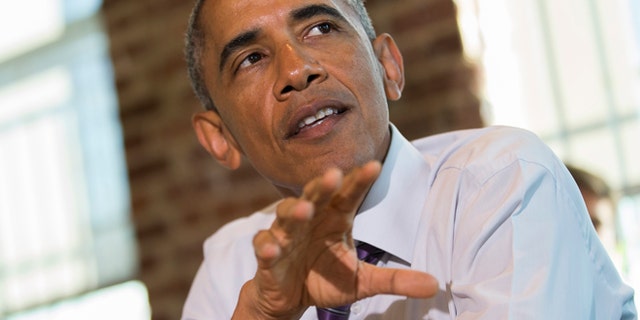 NEWYou can now listen to Fox News articles!
At the start of Barack Obama's seventh year as president, majorities of American voters disapprove of the job he's doing, think the country is still in a recession and are generally unhappy with the way things are going. Yet at the same time, there is optimism about the future, and ratings of the economy are the best of Obama's presidency, according to a Fox News poll released Thursday.
The poll reveals that a 64-percent majority of voters says it still feels like the country is in a recession. The good news is that's far less than the 74 percent who felt that way a year ago, and the 86 percent who said that in 2010.
Click here for the full results of the poll (pdf)
Despite receding recession fears, voter confidence in the country's health is low. As Obama's State of the Union speech approaches, the poll asks if the state of the country is "strong and confident." No, it isn't, according to 71 percent of voters. Only 27 percent say yes.
On the other hand, nearly six voters in 10 feel optimistic about the economy (58 percent). In addition, 25 percent rate economic conditions positively (3 percent "excellent" and 22 percent "good"), up from 18 percent in October. By contrast, just 5 percent gave the economy positive marks when President Obama took office in January 2009.
Nonetheless, 59 percent of voters are dissatisfied with the direction the country is taking. The silver lining is that's an improvement: 62 percent were dissatisfied last year, and a record-high 79 percent felt that way in January 2009.
On the positive side, 40 percent are happy with the way things are going. As is typical for the incumbent president's party, Democrats (65 percent) are much more likely than Republicans (16 percent) and independents (36 percent) to feel pleased.
Currently 42 percent of voters approve of Obama's performance, while 52 percent disapprove. That's almost exactly where things stood a year ago: 42 vs. 53 percent in January 2014.
At the start of his first term, voters approved of Obama by a 65-16 percent margin (January 2009). He hit a record-low in September 2014 when just 38 percent approved and 56 percent disapproved.
Obama gets his best marks on handling the economy: 45 percent approve, while 51 percent disapprove. While that's still in negative territory, it's a big jump from a year ago when it was 38-59 percent (January 2014).
Voters are even more disapproving of the job Obama's doing on other top issues such as health care (40 vs. 58 percent), foreign policy (34 vs. 57 percent) and immigration (33 vs. 60 percent).
Poll Pourri
Voters say the top economic problem facing "people like them" is rising prices (35 percent), followed by taxes (28 percent) and unemployment (21 percent). Housing trails far behind at 6 percent. The president has prioritized housing recently and is expected to announce new housing policies in his State of the Union speech January 20.
The poll asks whether President Obama has worked harder to improve the economy or his golf game. The results are mixed: 49 percent say he has worked harder to improve the economy, yet 43 percent say he's been more dedicated to improving his swing.
Not surprisingly, most Republicans say Obama's worked harder on his golf game (70-19 percent). One in six Democrats agrees with that (16 percent). Still, 79 percent of Democrats say he's done more for the economy. Independents see the economy over golf by a 50-41 percent margin.
The Fox News poll is based on landline and cell phone interviews with 1,018 randomly chosen registered voters nationwide and was conducted under the joint direction of Anderson Robbins Research (D) and Shaw & Company Research (R) from January 11-13, 2015. The full poll has a margin of sampling error of plus or minus three percentage points.