Fox News Poll: 39 percent of voters think President Trump will be re-elected
The midterms are over, and the 2020 presidential election begins in earnest.
How do things look for President Trump's re-election? Thirty-nine percent of voters think he will be re-elected, according to a new Fox News poll. For comparison, former President Obama's re-elect number was 29 percent at this same point in his presidency (December 2010).
CLICK TO READ THE FULL POLL RESULTS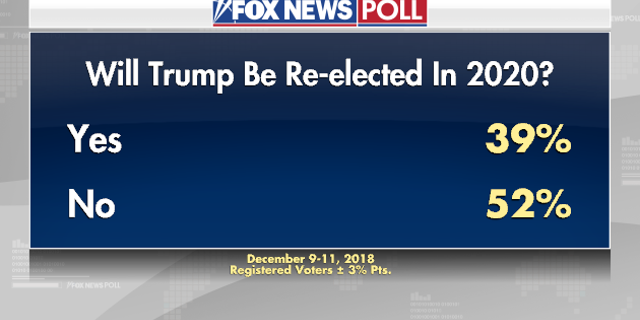 The survey also finds 38 percent would vote to re-elect President Trump if the election were today, up a touch from 35 percent who said the same in January.
In addition, 30 percent say they would definitely vote to re-elect Trump, up from 22 percent in January. At the other end of the spectrum, 47 percent say they will definitely vote for someone else. That was 48 percent at the beginning of the year.
That produces a net negative of 17 points on "definite" vote. Obama had a net negative of 13 points on the definitely re-elect question at around this stage of his presidency.
One notable difference: less than 1 in 10 voters gave the economy positive marks in late 2010, while five times as many (47 percent) rate it positively today.
"It's instructive to compare President Trump's numbers with those for President Obama," says Republican pollster Daron Shaw, who conducts the Fox News Poll along with Democrat Chris Anderson.
"Trump's economic handling numbers are decent and his base is there, but his re-elect numbers are about the same as Obama's from late 2010. He needs to expand his appeal and do better than break-even on the economy if he wants another four years."
Among Republicans, 72 percent think Trump will win in 2020, and 80 percent would vote to re-elect him.
Nearly two-thirds of Republicans, 64 percent, would "definitely" re-elect Trump, up 15 points from 49 percent in January.
The same is true among those who supported Trump in 2016: 67 percent say they would definitely vote for him again, up from 52 percent.
Overall, a majority, 55 percent, says they would vote for someone else over Trump. Democrats would back someone else by an 89-7 percent margin and independents by 59-22 percent.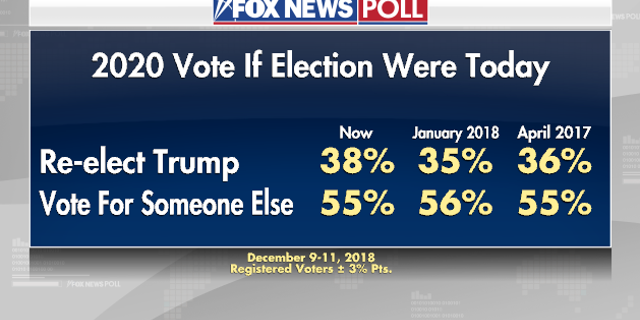 Who might that someone else be? The survey asks voters what kind of president several potential Democratic candidates would be: excellent, good, only fair, or poor. Voters are encouraged to say if they have never heard of someone, and that is certainly the case for many of those tested.
Two Democrats have officially announced their candidacy: Maryland Rep. John Delaney and former West Virginia State Sen. Richard Ojeda. They have some of the lowest name recognition of anyone included in the survey. About 7 in 10 voters overall and 7 in 10 Democrats are unable to rate either of them.
While the field is still undefined, it is no surprise better-known politicians currently rate higher. Most Democrats say former Vice President Joe Biden (70 percent excellent or good) and Vermont Sen. Bernie Sanders (63 percent) would be excellent or good as president.
Some 38 percent of Democrats feel that way about Massachusetts Sen. Elizabeth Warren, while about a third thinks Texas Rep. Beto O'Rourke (36 percent), New Jersey Sen. Cory Booker (34 percent), and California Sen. Kamala Harris (33 percent) would be excellent or good.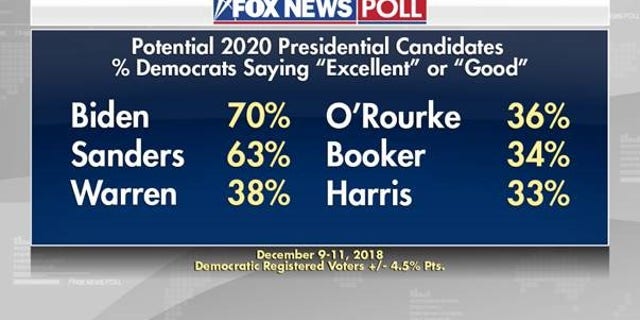 Former New York City Mayor Michael Bloomberg gets the largest number saying he would make an only fair or poor president: 38 percent of Democrats feel that way. Warren comes second at 33 percent only fair/poor.
Many other potential candidates receive slightly higher negative than positive ratings among Democrats, including New York Sen. Kirsten Gillibrand, Colorado Gov. John Hickenlooper, former Starbucks CEO Howard Shultz, and businessman Tom Steyer -- though these potential candidates are largely unknown to a majority of Democrats.
The Fox News poll is based on landline and cellphone interviews with 1,006 randomly chosen registered voters nationwide and was conducted under the joint direction of Anderson Robbins Research (D) and Shaw & Company Research (R) from December 9-11, 2018. The poll has a margin of sampling error of plus or minus three percentage points for all registered voters.