Fox News Latino Super Tuesday live blog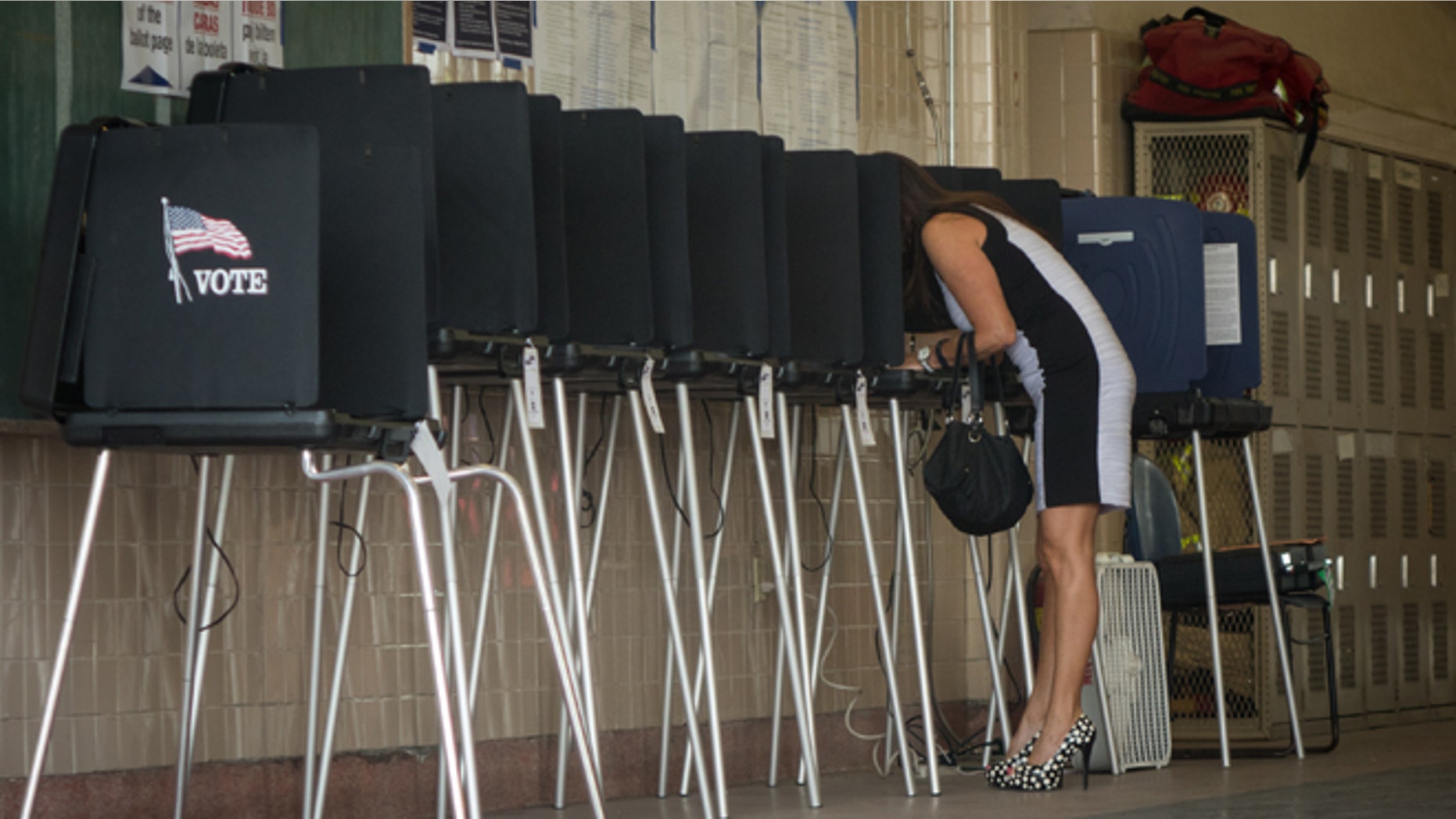 10 p.m.
Trump strikes conciliatory tone with GOP
Donald Trump had another big Super Tuesday after big wins in Florida, North Carolina, Illinois, but was unable to sweep the board as Ohio Gov. John Kasich took home his home states' 66 delegates.
The loss in the Buckeye state, however, did nothing to tone down Trump's celebratory spirit when he took the stage in Palm Beach, Florida on Tuesday night.
While the Republican front-runner did boast of his successes he also tried to strike a conciliatory tone with the Republican establishment. It is up in the air whether or not the billionaire businessman will have enough delegates going into this summer's convention.
"We've had such incredible support," Trump said. "The fact is we have to bring our party together… We have something that's made the Republican Party probably the biggest political story around the world."
Watch speech here:
9 p.m.
Clinton sweeps Super Tuesday II
Hillary Clinton rolled up primary victories in Florida, Ohio and North Carolina on Tuesday, dealing a severe blow to Bernie Sanders' bid to slow her march toward the Democratic presidential nomination.
"We are moving closer to securing the Democratic Party nomination and winning this election in November,"Clinton told cheering supporters in Florida, calling it "another Super Tuesday for our campaign."
Clinton also was competing against Sanders in two other Midwestern states, Missouri and Illinois. But her primary night trifecta strengthened her already formidable pledged delegate lead over Sanders and the former secretary of state said she expected to have a lead of more than 300 delegates by the end of the day.
Florida was the biggest delegate prize and Clinton's victories put her in a position to end the day with about two-thirds of the delegates needed to clinch the nomination.
- The Associated Press
8:40 p.m.
Marco Rubio quits race
Tuesday brought Rubio's presidential dreams a crushing blow – he lost the GOP primary in his own home state and announced he was dropping out, saying it was not God's plan for him to win the election this year.
Donald Trump and Hillary Clinton triumphed Tuesday in Florida's presidential primaries, capturing the biggest prize on a crucial day of voting and showcasing the strength of the two front-runners.
Rubio, 44, implicitly rebuked Trump throughout a speech announcing he was dropping out of the race, imploring Americans to "not give in to the fear, do not give in to the frustration."
"The fact that I've even come this far is evidence of how special America truly is," he said.
Watch his speech here:
7:15 p.m.
Empty arena for Marco Rubio
Shortly after polls closed across the Sunshine State at 7 p.m., about 100 diehard Marco Rubio supporters filed into the lobby of the Florida International University Arena, where a podium for the once promising Republican presidential contender was set up.
While Donald Trump continues to summon thousands of supporters to his events, Rubio couldn't muster an audience large enough to fill a college basketball gym. Still, Rubio supporters held out hope Rubio could work some of his past magic and hang on for the win.
When Fox News flashed returns showing Trump leading Florida with 45 percent and the senator in second place with 27 percent, about a dozen attendees began chanting, "Rubio! Rubio! Rubio!"
- Francisco Alvarado
7 p.m.
Update: White substance found at campaign HQ
The hazmat team determined the powder found in Marco Rubio's D.C. campaign headquarters was non-hazardous.
The building was never evacuated but the 9th floor was cleared out. All is now reopened.
- Fox News Producer Rita Chan
6:30 p.m.
Rubio is winning in Florida…at least among Latinos
While Republican front-runner Donald Trump is leading overall in Florida, challenger Marco Rubio has a clear advantage among Latino voters.
Exit polls conducted by Fox New shows Rubio garnering 51 percent of the Hispanic Republican vote, compared to Trump's 29 percent. Fellow Latino, Texas Sen. Ted Cruz is pulling in 15 percent, while Ohio Gov. John Kasich is getting only 2 percent of the Hispanic vote.
Overall, Trump is expected to win  big in Florida with some polls showing the billionaire businessman wining the state by as much as 24 points.
Rubio, who vowed to stay in the race whether or not he wins Florida, has called the polls "crazy," "out of control" and "way out of whack."
"I can't guarantee a win today. I'm telling you I expect to win tonight, but we are not 20 points behind. I mean, that's absurd," he said, according to Politico. "And I think we're going to prove that here in the next few hours."
- Andrew O'Reilly
6:05 p.m.
First Super Tuesday victory goes to Trump
Donald Trump got his first victory of the March 15 Super Tuesday elections – on the other side of the world.
He won the GOP caucus on the Northern Mariana Islands.
And where is chain of tiny islands, you ask? It's a U.S. territory located just northeast of Australia. So voters there were picking their favorite GOP candidate while back here, in the continental U.S., it was still Monday.
Trump won about 73 percent of the votes from the roughly 470 people who took part in the caucus, giving him all nine delegates. As with Puerto Rico, residents of this island chain cannot vote in the general presidential election.
Ted Cruz got 113 votes, John Kasich got 10 and Marco Rubio got 5 votes.
Turnout was significantly down from 2012, when 848 people voted, giving Mitt Romney the win.
5:40 p.m.
Suspicious substance in Rubio's campaign office
As the Florida primary was going into the home stretch on Tuesday afternoon, drama in the Marco Rubio campaign was unfolding hundreds of miles away in Washington D.C.
A suspicious white powder was found in Rubio's D.C. campaign office, spokesman Alex Conant told several media outlets.
Employees were evacuated to the roof, and hazmat crews moved into the office. The fire department also arrived there, and the FBI was on its way, according to Fox News.
The incident is under investigation.
5:35 p.m.
Ohio is a real battleground state
One poll worker in Ohio is really up in arms about these elections.
Police in Cleveland arrested an election worker after the man pulled a .380 pistol out of his backpack during an argument with a fellow poll worker.
The Cleveland Plain Dealer reported that while the unnamed man didn't point the gun at anyone, he did verbally threaten people at the polling place before fleeing from the scene. Cops tracked him a few blocks away and detained him.
The poll worker faces charges of aggravated menacing, carrying concealed weapon and having weapons under a disability.
Oh, he also could be hit with drug charges as cops found a small amount of marijuana in his pocket.
5:15 p.m.
Donald Trump leads in Miami-Dade County – at least in terms of poll watchers
Donald Trump is way ahead of his political opponents – at least in terms of the number of poll workers in Miami-Dade County on Election Day.
The real estate magnate has 46 registered poll watchers working on Tuesday, according to The Miami Herald, which cited figures from the Miami-Dade Elections Department. The other candidates have none.
Juan Fiol, Trump's campaign vice chairman in Miami-Dade, explains that they have a large number of poll watchers because they have so many supporters who want to volunteer in any way, shape or form to help their candidate.
"We have more volunteers than anybody else," Fiol said."A lot of people ask to volunteer."
Poll watchers are a commonly used during the general election to make sure the precincts are operating without any hiccups. They are rarely used during a primary race – though experts say it doesn't hurt to use them.
"Poll watching provides verification that the process is running smoothly," J.C. Planas, an adjunct professor of elections law at St. Thomas University told the Miami Herald. "I consider it an important part of any campaign's legal strategy to make sure that the process is fair."
5:10 p.m.
Hanging chad redux?
Florida Secretary of State Ken Detzner went on Twitter Tuesday to assure Donald Trump that he was indeed on the state's ballot.
The Republican front-runner aired his concerns earlier in the day on social media that he was hearing "a lot of complaints" from supporters that his name was not on the ballot handed out to some Florida voters. An image of a purported ballot without the businessman's name on it circulated on social media in the morning.
The Miami Herald reported that no local supervisors of elections overseeing voting in Florida's 67 counties reported that Trump's name was missing from the ballots.
One would think, however, that with 46 poll watchers across the state, Trump would have a better idea of if his name was on the ballot.
Like us on Facebook