Fox News Electoral Map: Clinton has 2016 edge, but many toss-ups in play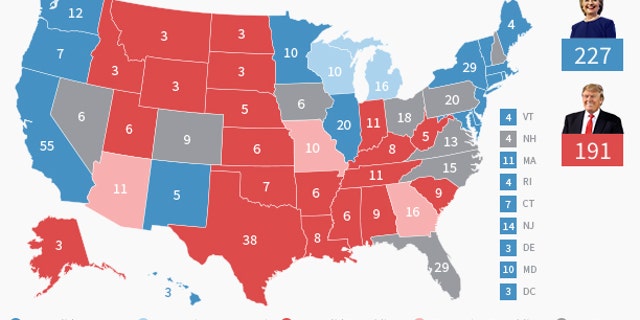 NEWYou can now listen to Fox News articles!
Hillary Clinton has the edge over Donald Trump on the 2016 electoral map, but over a dozen states could be in play and nobody is a lock, according to new Fox News projections released Thursday.
The Fox News AEHQ Electoral Map projections show Clinton with a projected 227 electoral votes in her corner, when states considered solidly Democratic and leaning Democratic in the November election are counted.
Trump has a projected 191 electoral votes when states considered solidly Republican and leaning Republican are counted.
But it takes 270 electoral votes to win the presidency – and neither candidate can get there without winning in toss-up territory.
"Hillary Clinton starts off with an advantage," said Daron Shaw, Fox News pollster and University of Texas political science professor. "But as always, if you look at the toss-up states, this thing is going to be much more competitive, I think, than maybe a lot of us thought."
According to the Fox News projections, 120 electoral votes are at stake across nine states considered pure toss-ups. These include traditional battlegrounds like Ohio and Florida, but also North Carolina, Virginia and Pennsylvania.
And several additional states could be brought into play. Wisconsin and Michigan, for instance, "lean" Democrat, but Shaw suggested Trump could put them in play given his appeal to union members and others. Likewise, Arizona and Georgia "lean" Republican, but Clinton enjoys "core Democratic constituencies" in those states, Shaw said.