Fort Hood shooter says he wants to become 'citizen' of Islamic State caliphate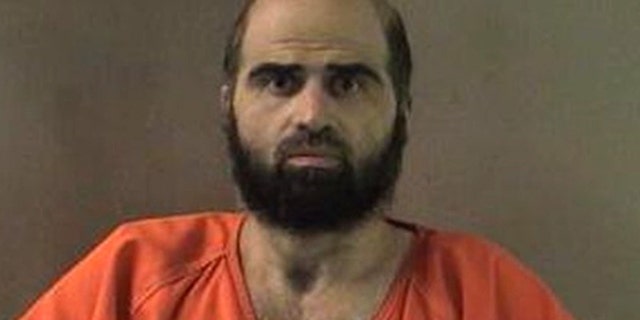 The convicted shooter in the Fort Hood massacre has written a letter to the leader of the Islamic State saying he wants to become a "citizen" of the caliphate, in the latest example of the terror group's reach inside the U.S.
The letter from Nidal Hasan, obtained by Fox News, comes after two Americans reportedly died fighting for ISIS in Syria. Sources late Wednesday identified the second as Abdirahmaan Muhumed, of Minneapolis. Fox affiliate KMSP-TV in Minneapolis reported that Muhumed was killed in the same battle as Douglas McArthur McCain, who grew up outside Minneapolis in the town of New Hope and most recently lived in San Diego.
The State Department said Thursday it could not confirm Muhumed's death and efforts to reach his family were unsuccessful.
In the undated letter, Hasan -- who fatally shot 13 people and injured more than 30 at Fort Hood in 2009 in what the Defense Department called "workplace violence"-- tells ISIS leader Abu Bakr al-Baghdadi that he wants to join the caliphate.
"I formally and humbly request to be made a citizen of the Islamic State,"Hasan says in the handwritten document addressed to "Ameer, Mujahid Dr. Abu Bakr al-Baghdadi."
"It would be an honor for any believer to be an obedient citizen soldier to a people and its leader who don't compromise the religion of All-Mighty Allah to get along with the disbelievers."
The two-page letter includes Hasan's signature and the abbreviation SoA for Soldier of Allah.
Hasan's attorney, John Galligan, said the letter "underscores how much of his life, actions and mental thought process are driven by religious zeal. And it also reinforces my belief that the military judge committed reversible error by prohibiting Major Hasan from both testifying and arguing…how his religious beliefs" motivated his actions during the shooting.
In the last year, the Department of Justice has brought at least five prosecutions against Americans -- in Florida, California, Virginia and North Carolina - for trying to help terrorists in Iraq and Syria.
Omar Jamal, who is well known in Minneapolis' Somali community, said at least 10 young men from there have been recruited to travel to Syria for ISIS.
"Douglas McCain wasn't the first one and unfortunately he won't be the last,"Jamal told KMSP-TV.
The former chairman of the House Homeland Security Committee that investigated radicalization in a series of congressional hearings said there is a pattern.
"It was clear and convincing evidence then, that there was a pipeline from Minneapolis to Islamic jihad overseas," said Peter King, R-N.Y. "And that people in the community knew about it and that people in the community were covering it up."