Former Va. Gov. Gilmore ends 2016 presidential bid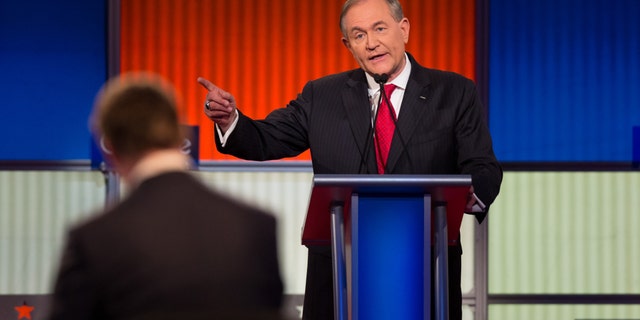 NEWYou can now listen to Fox News articles!
Former Virginia Gov. Jim Gilmore on Friday quietly suspended his quixotic presidential bid, formally bringing to an end a campaign that struggled to get off the ground.
The Republican candidate often was forgotten about in a primary brawl dominated by far more well-known and outspoken candidates. He barely registered in the polls and had only qualified for two debates since last year.
When the Iowa caucuses arrived, Gilmore received a total of 12 votes. He improved, only slightly, in New Hampshire, receiving 133. Yet he raised eyebrows by staying in the race even as far bigger names like Chris Christie, Carly Fiorina and Rand Paul dropped out – until Friday.
His campaign announced in a statement on Facebook Friday afternoon that he would suspend his bid, while supporting the eventual GOP nominee and continuing to speak out against Democratic candidates Hillary Clinton and Bernie Sanders.
"My campaign was intended to offer the gubernatorial experience, with the track record of a true conservative, experienced in national security, to unite the party," Gilmore said in a statement. "My goal was to focus on the importance of this election as a real turning point, and to emphasize the dangers of continuing on a road that will further undermine America's economy and weaken our national security.
"Nonetheless, I will continue to express my concerns about the dangers of electing someone who has pledged to continue Obama's disastrous policies," Gilmore said.
On paper, Gilmore had the resume of a mainstream presidential candidate: former governor, former state attorney general and former chairman of the Republican National Committee. And since December, he'd been positioning himself as the only veteran remaining in the race.
But his candidacy nevertheless was relegated to footnote status practically throughout the race, as the bigger personalities of Donald Trump, Ted Cruz and others drove the debate.
With Gilmore out, the number of candidates left on the once-crowded Republican presidential field is now down to six.
Christie and Fiorina dropped out earlier this week, after disappointing showings in the New Hampshire primary.