Former US congressman Melvin Jay Reynolds arrested in Zimbabwe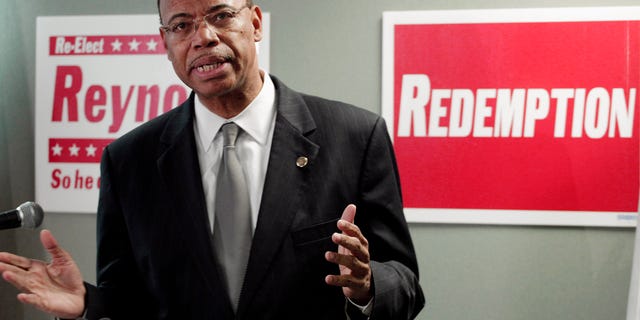 HARARE, Zimbabwe – Former U.S. Rep. Melvin Jay Reynolds, a once rising star in the Democratic Party who resigned from his seat after he was convicted of statutory rape, has been arrested in Zimbabwe on suspicion of possessing pornography, as well as on an immigration offense.
An immigration official told The Associated Press the 62-year-old former congressman from Illinois is in custody and is expected to appear in court. The Herald, a state-run newspaper in Zimbabwe, reported Reynolds was arrested Monday at a Harare hotel after he brought several Zimbabwean models and other women to his hotel room and took photos and videos.
As Reynolds was being escorted to a government vehicle, he demanded that officials give him his mobile phone and laptop computer, according to a reporter for the newspaper who arrived at the hotel as the arrest was taking place.
Reynolds complained that he was not expecting such treatment when he had brought investors to the country, according to the newspaper. He said he had been to Zimbabwe 17 times and had called for U.S. sanctions to be dropped against President Robert Mugabe and his top associates. Reynolds also has accumulated hotel bills worth $24,500 which he has not yet paid, according to The Herald.
This is the latest of several legal problems for Reynolds, who once was a Rhodes scholar. Reynolds resigned from his congressional seat in 1995 after he was convicted of 12 counts of statutory rape, obstruction of justice and solicitation of child pornography. While in prison he was also convicted of bank and campaign fraud. He was in jail until his sentence was commuted by President Bill Clinton in January 2001.
Regarding Reynolds' new arrest in Zimbabwe, a spokeswoman for the U.S. Embassy, Karen Kelley, said the embassy could not comment as it was a private matter and the embassy did not have a privacy waiver.
Reynolds could face up to two years' imprisonment or a hefty fine if found guilty of possessing pornographic material; he also could face deportation for breaching Zimbabwean immigration laws. It is illegal in Zimbabwe to possess any material of a sexual nature.
Before his arrest, Reynolds had gained prominence in Zimbabwe for being involved in attracting investment for the $145 million construction of a Hilton Hotel and office complex in Harare, reported The Herald. Construction is expected to begin in April and be finished in 2016, said the newspaper.
He toured the construction site back then in the company of government ministers Walter Mzembi, Webster Shamu and Ignatius Chombo, and businessman Mr Farai Jere, according to the paper.
A Harvard graduate, Reynolds unseated U.S. Rep. Gus Savage in 1992, two years after a House ethics committee determined that during an official trip to Africa Savage had made improper sexual advances to a female Peace Corps volunteer.
Savage's woes marked the beginning of decades of ethics issues for Illinois' 2nd Congressional District, as Reynolds and his successor Jesse Jackson Jr. both resigned in disgrace.
In fact, Reynolds tried to resurrect his political career by running for his old seat after it was vacated by Jackson. Jackson resigned from office and pleaded guilty to misusing campaign funds on personal items and is now serving a 2 1/2-year prison term.
Announcing his run in late 2012, Reynolds, who said he had his own consulting firm and some business in Africa, campaigned with posters that proclaimed "Redemption."
Reynolds was never really considered a serious candidate and that run ended in defeat, as did a 2004 run when he received just 6 percent of the vote in the Democratic primary.
Fox News' Chad Pergram and The Associated Press contributed to this report