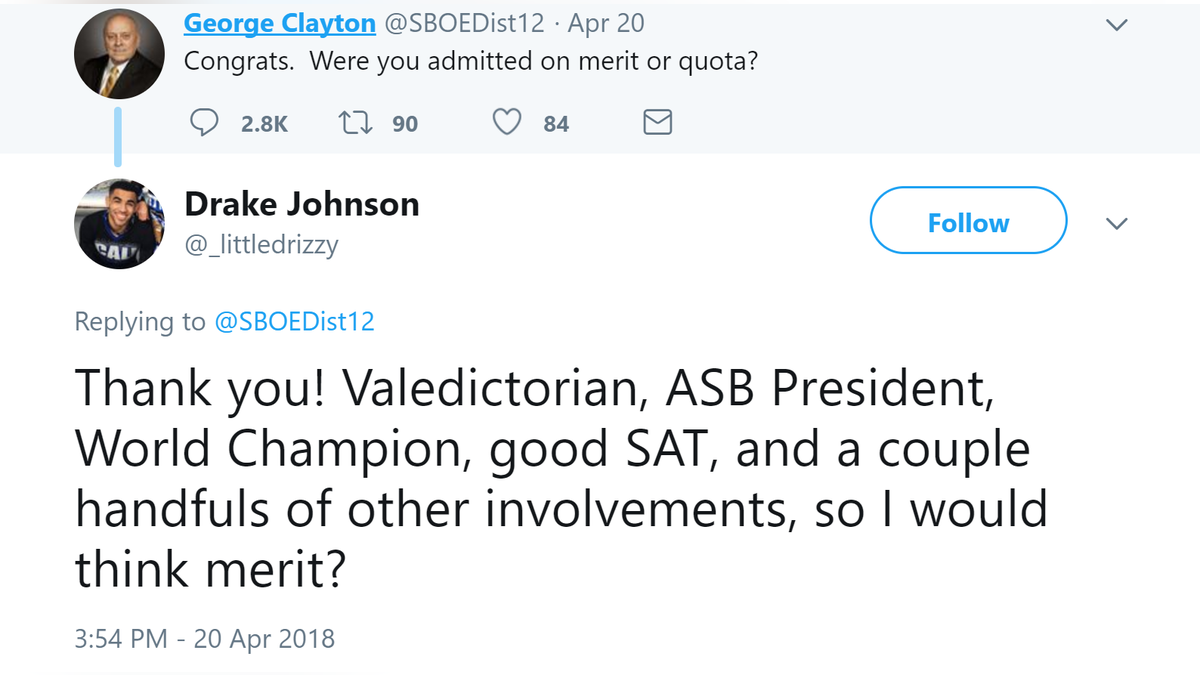 A former Texas education official asked a biracial teen accepted to an Ivy League school whether he was admitted based "on merit or quota."
George Clayton, a Republican who held the District 12 seat from 2010 to 2012, replied Friday to Drake Johnson's tweet celebrating his acceptance to Harvard University with the bizarre question.
"Congrats. Were you admitted on merit or quota?" asked Clayton.
Johnson, who was also accepted to 10 other schools including Cornell and Brown, fired back at the former official, detailing his achievements.
"Thank you! Valedictorian, ASB President, World Champion, good SAT, and a couple handfuls of other involvements, so I would think merit?" Johnson wrote.
Clayton's tweet sparked thousands of negative replies, criticizing the former education official for the question.
"George Clayton, that was disgusting and moronic and evil, and you owe Mr. Johnson an apology," wrote one Twitter user.
"Sad that someone who labels himself an educator would offer only spite, jealousy and envy to a talented college-bound student," wrote another.
Jeanie Johnson, the teen's mother, told The Dallas Morning News that she read Clayton's tweet as racist. ""Why do you care, and why are you asking that particular question to a kid who is clearly of some type of mixed race?" she asked. "That is just so frustrating."
Clayton apologized to Johnson.
"What I said in my remarks was totally wrong and hugely insensitive. My shame hangs heavy in my heart," he tweeted.
"It was totally out of character for me to make such a hateful comment. I am, of course humbled by my words and sincerely sorry for them."
The Associated Press contributed to this report.