Former Obama Adviser: Central America Exacerbating The Child Migration Crisis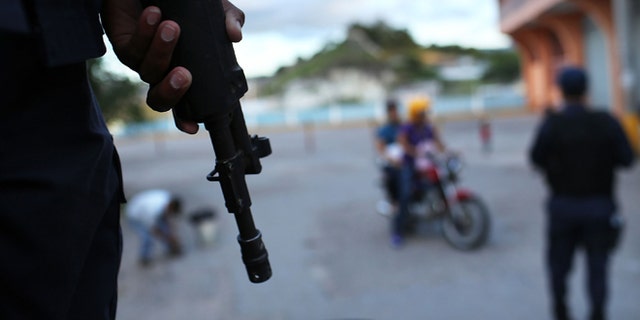 NEWYou can now listen to Fox News articles!
A former chief adviser to the Obama administration on Latin America says that political leaders and the wealthy in Honduras, Guatemala and El Salvador for years have put self-interest above the welfare of their nations, leading the least fortunate to flee to the United States in numbers that have reached a crisis point.
The adviser, Dan Restrepo, says that Honduras President Juan Orlando Hernandez was not adequately recognizing how his and other Central American nations were fueling the desperation of their citizens to leave when he placed significant blame on the United States last week for the upheaval in his nation.
Hernandez said the United States' weak drug laws and widespread drug use was fueling the illicit business in Honduras and the ruthless cartels that have made violence there soar.
"It's convenient when the president of Honduras blames the United States and our drug culture," Restrepo said in an interview with Fox News Latino. "The Honduran economic and political elite have systematically and historically failed the people of Honduras."
The same is true to varying degrees in Guatemala and El Salvador, said Restrepo, who served as principal adviser to Obama from 2008 to 2012 on Latin America, the Caribbean and Canada.
"These countries don't have the rule of law or policing situation to deal with transnational crime," said Restrepo, who is a senior fellow at Center for American Progress. "The wealthy families, a small number of economic classes, have enjoyed success, and have significant political influence. But they haven't gone about the hard work of working toward a state that functions."
Thousands of unaccompanied minors from Honduras, El Salvador and Guatemala have come to the United States illegally this year, creating a crisis at the U.S.-Mexico border. An estimated 60,000 children are expected to reach the U.S. this year.
To be sure, Restrepo said, drugs are a significant part of the persistent violence and desperation families feel in those nations.
But neglect by leaders and movers and shakers in those nations have meant poor education, lack of jobs and violence that claims numerous lives, experts say.
Richard Jones, a representative for Catholic Relief Services in El Salvador, said that Honduras in particular is "in an all-out war with the drug cartels."
Young people, he said, do not have many options.
Many are bullied into carrying drugs for gangs involved in lower-level drug trafficking.
Jones believes that the United States should redirect some of the aid it sends to Central America for security measures to efforts focused on job creation and ending street-level violence.
He pointed to a program with which he was involved in El Salvador that was funded by the United States Agency for International Development (USAid) and was aimed at getting young people to go back to school, find jobs or start businesses.
About 86 percent of the some 4,000 youths the program, which ran from 2011 to 2014,worked with returned to school, or got jobs or started their own ventures, he said.
The point, he said, is that there are solutions that address some of the so-called "push factors" underlying much of the child migration crisis. But there must be the will and the commitment of resources to resolving the problems that create a sense of chaos and desperation in those nations, he said.
"We know it's possible to work with the kids who are at risk," he said. "You can tighten security at the border, but if you're not taking care of the issues that cause people to migrate in the first place, it's a moot point."
Congress is weighing increasing aid to Central America, something Restrepo said was tried during his years with the Obama administration, but that, echoing Jones, he added can only do so much without the commitment of Central America's political leadership and wealthiest citizens to improve conditions for everyone in their countries.
He pointed to Colombia, once a country wrestling with a struggling economy, rampant violence, lawlessness and a populace desperate to flee.
"The Colombian elite, the political and economic elite," he said, "realized that for the long-term survival of their country, they needed to invest in the state, and create an environment where people wanted to invest."
The United States gave Colombia financial aid to improve conditions, but Colombia itself committed "ten times" more to the mission, Restrepo said.
"The decision was made in Colombia, by Colombians, to help Colombians," he added. "Today, Colombia has one of the fastest growing economies in Latin America, crimes is less than a fifth of what it used to be, and it happened in less than a decade."
In recent days, members of the Congressional Hispanic Caucus held a meeting with representatives of the Honduran, Salvadoran and Guatemalan governments and told them, in no uncertain terms, that they had to take control of conditions in their nations that have made life so difficult and prompted many to flee, according to published reports.
Vice President Joe Biden, who is traveling in Latin America, is scheduled to travel to Guatemala on Friday to speak with the president, Otto Perez Molina, as well as El Salvador President Dalvador Sánchez Cerén, and senior government officials of Honduras and Mexico.
While in Guatemala, officials said, Biden will speak out publicly to discourage parents from sending children north to the U.S., stressing the dangers of crossing the border.
Follow us on twitter.com/foxnewslatino
Like us at facebook.com/foxnewslatino