Former mayor of Pa. capital charged with 499 criminal counts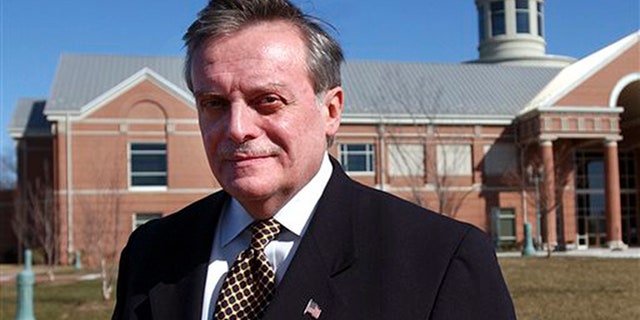 NEWYou can now listen to Fox News articles!
The former longtime mayor of Harrisburg, Pa., was arrested Tuesday and charged with nearly 500 criminal counts, in part stemming from allegations he illegally used hundreds of thousands of dollars from city agencies to purchase historical items, the Harrisburg Patriot-News reported.
Stephen R. Reed, 65, whose term as Democratic mayor of Pennsylvania's capital city spanned nearly three decades, was arraigned on 499 counts stemming from 17 criminal charges before Magisterial District Judge William Wenner.
At the brief hearing, Wenner read the charges against Reed, which included, in part, two counts of running a corrupt organization, 158 counts of misappropriation of entrusted property, two counts of theft by deception, 110 counts of misdemeanor theft by unlawful taking and seven counts of bribery, the Patriot-News reported.
If convicted on all counts and given consecutive maximum sentences, Reed could face up to 2,439 years in prison.
Following his arraignment, Reed insisted that he had served the city honorably and that he was "concerned that misperceptions and politics are very much intertwined in these accusations."
His attorney, Henry E. Hockeimer Jr., told the Associated Press the charges "may be inspired more by political agendas than by a search for justice."
Reed is accused of unlawfully using public money from city agencies, including the former Harrisburg Authority, which handled water and sewage for the city, to further his policy objectives, which included purchasing thousands of artifacts for what he claimed was a plan to open a Wild West museum and other historical attractions.
His actions involving the authority were classified as "a pattern of racketeering activity" spanning nearly 20 years, according to the affidavit of probable cause obtained by the paper.
"This diversion was actively hidden from investors and the city of Harrisburg," Attorney General Kathleen Kane said at a Capitol news conference.
Kane called the revelations one of the "most disturbing cases of public corruption this office has investigated," according to the Patriot-News.
Reed faces hundreds of counts of theft and misapplication of government property, as well as charges of criminal solicitation, bribery and evidence-tampering. Reed said he will fight the charges.
On his felony charges of theft by deception, Reed is accused of illegally obtaining $500,000 from the Harrisburg School District and diverting another $500,000 from the parking authority between 2000 and 2010; depositing the latter in a special fund, the Patriot-News reported.
The paper likened Reed's alleged abuse of the former Harrisburg Authority to that of a 'political ATM machine,' from which he used hundreds of thousands of dollars to fund various planned museum projects.
Prosecutors said the former mayor is accused of using more than $200 million borrowed for the renovation of the city's aging and polluting municipal trash incinerator to purchase thousands of what Kane's office called "artifacts and curiosities." The purchases included a life-size sarcophagus, antique firearms, a full suit of armor and a vampire hunting kit.
The project contributed heavily to the near-financial collapse of the Susquehanna River city of about 49,000, where one-third of the residents live below the poverty line.
In 2004, $18 million worth of bonds were issued to finance renovations to the Harrisburg Senators' minor league baseball stadium. The grand jury in the case said the city-controlled Harrisburg Authority received $70,000 from that issuance, which was deposited in a separate fund, the Patriot-News reported.
The alleged incident coincided with Reed's purchasing of sports memorabilia for an envisioned sports museum, the paper reported.
When Reed became Harrisburg's mayor in 1982, the shrinking, decaying city was near total collapse — its department stores, theaters and trolleys were gone, replaced by vacant buildings and streets devoid of nightlife.
His dream was to transform it into a cultural "city of light." Under Reed, hotels and restaurants sprouted in downtown and a minor-league baseball team began playing in a park that rose from a trash dump.
In 2001, Reed opened the National Civil War Museum on an abandoned reservoir overlooking the Capitol — even though none of the war's major battles occurred in the city.
His aim of building the National Museum of the Old West next to it stalled in 2004 after City Council members found out about his practice of taking taxpayer-paid trips to antique shops around the county to amass the collection.
News of the purchases was met with derision — Harrisburg is 1,500 miles from Buffalo Bill's grave in Golden, Colorado — and concern that the city was already staggering under the incinerator debt.
The Associated Press contributed to this report.