Former campaign manager to New Mexico governor pleads guilty in email hack case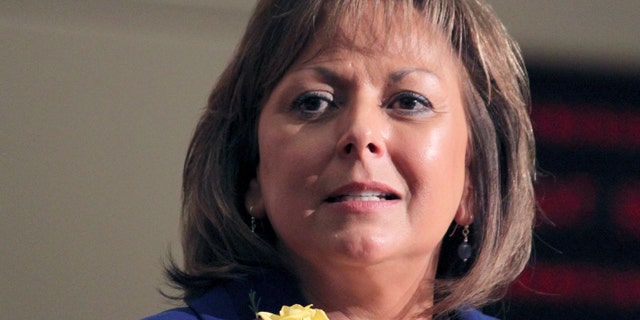 ALBUQUERQUE, N.M. – Gov. Susana Martinez's former campaign manager pleaded guilty Monday to two felony counts in a case that accused him of intercepting her email.
As part of an agreement with federal prosecutors, Jamie Estrada agreed to plead guilty to one count of unlawful interception of electronic communication and one count of lying to FBI agents.
The 41-year-old previously pleaded not guilty to charges of intercepting email in the campaign account and making false statements to federal investigators. He had faced a dozen felony charges of intercepting email and four charges of making false statements to federal agents during their investigation.
"When an individual sends out an email, that individual has a right to expect that email will remain private," U.S. Attorney Damon Martinez said after the agreement was announced. He would not say if more indictments would come down in the case.
Estrada and his attorney, Zach Ives, declined to comment.
Estrada briefly served as campaign manager in 2009 as Martinez, a Republican, was starting her bid for New Mexico governor. An FBI affidavit in the case says he was fired, but Estrada says he left the campaign to run for a seat on the Public Regulation Commission.
Prosecutors alleged that Estrada used password and username information to change the computer account for the governor's 2010 campaign organization after Martinez took office as governor.
Electronic messages sent through the campaign email system by Martinez and her aides were directed to a computer account controlled by Estrada, according to the indictment.
Martinez said the email thefts were part of a "revenge scheme" after Estrada wasn't given a state job.
The governor's office asked for a federal investigation of possible hacking after emails were leaked by Martinez critics. Some of the messages showed Martinez and top aides used private email accounts to discuss government business.
Martinez was elected in 2010 and took office in January 2011. She is running for re-election this year.
In pretrial requests for information, Estrada's lawyers contended Martinez and her allies pressed for the federal prosecution of Estrada to deflect attention from possible corruption in the handling of a fairgrounds casino deal and to minimize any political fallout for the governor, a rising star in national GOP circles.
Under the plea agreement, Estrada faces up to one year in jail for intercepting email from Martinez's campaign account and for making false statements to federal investigators.
In a statement, Martinez said the guilty plea vindicates her belief that the personal and private emails were stolen.
"This is a case about a fired former employee who wasn't given a state job and then sought to get even by illegally intercepting personal emails from numerous individuals," the governor said, "including personal bank account statements and my personal undergarment orders, all of which were made public in a misguided effort to harm me and others in a revenge scheme."