Former Attorney General Gonzales says Trump has right to question judge's objectivity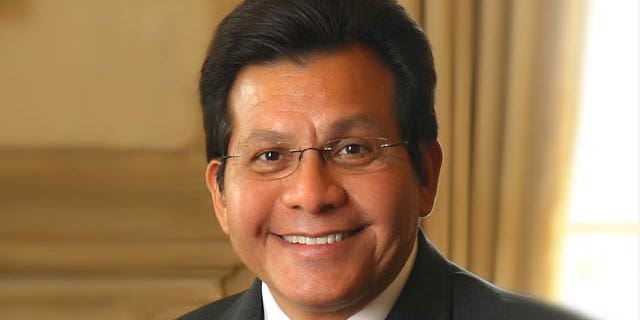 NEWYou can now listen to Fox News articles!
Former Attorney General Alberto Gonzales says that Donald Trump should not be criticized for raising questions about a Latino judge's impartiality in a lawsuit accusing the mogul of fraud in his Trump University program.
Gonzales, who served as White House counsel and U.S. attorney general in the George W. Bush administration, said that while a judge should not be questioned about his ability or integrity based on race or ethnicity alone, Trump does have basis for concern about Judge Gonzalo Curiel's ability to treat him fairly.
Unlike many other prominent Republicans who have denounced Trup's comments about Curiel, in a recent Washington Post op-ed, Gonzales said the California-based federal judge has had ties to organizations that appear to have taken clear positions on immigration and even on Trump himself.
Trump has argued that Curiel is Mexican and that, because of his ethnicity, he would not be fair in the court case against the real estate tycoon, whose presidential campaign has revolved on cracking down on illegal immigration and building a wall along the U.S.-Mexico border.
Curiel was born in Indiana to Mexican parents. His defenders have said he has a distinguished record in the judicial system and never has exhibited any bias against Trump. They also say that Trump's focus on the judge's ethnic heritage is nothing short of bigotry.
Gonzales on Monday tried to explain his defense of Trump's raising questions about the judge, saying he did not condone the focus on the judge's Latino origin.
"I'm not supporting Donald Trump's comments," he said Monday on CNN. "I didn't write what I wrote in support of his comments. I didn't write what I wrote in support of the notion that the judge should be recused solely on his race."
Gonzales added, "I wrote to say Donald Trump, like every litigant in the United States, has the right to a fair trial before an impartial judge."
In his op-ed, Gonzales wrote about Trump's critics, "These voices have, quite rightly, emphasized the importance of upholding our independent judiciary from baseless attacks by high-level persons from other branches of government."
By the same token, Gonzales said, Trump has the right as any other American to raise concerns about the appearance of unfairness or bias.
"Equally important, if not more important from my perspective as a former judge and U.S. attorney general, is a litigant's right to a fair trial," Gonzales wrote. "If judges and the trials over which they preside are not perceived as being impartial, the public will quickly lose confidence in the rule of law upon which our nation is based."
Trump has said that Curiel belongs to various Latino organizations, including La Raza Lawyers of San Diego, that are affiliated with other groups that oppose Trump as well as strict immigration policies.
"These circumstances, while not necessarily conclusive, at least raise a legitimate question to be considered," wrote Gonzales, who had endorsed John Kasich in the GOP primary before the Ohio governor dropped out of the race.
Meanwhile, presumptive Democratic presidential nominee Hillary Clinton used the newest Trump controversy for her latest campaign video.
On Monday, the Clinton campaign unveiled an ad that featured criticism of Trump's attacks on Curiel from prominent members of his own party.
Like us on Facebook
Follow us on Twitter & Instagram